Looking at camera features in Cyanogen OS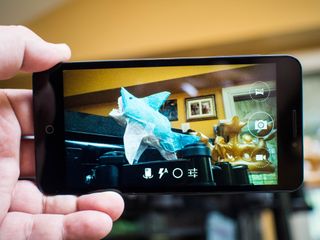 Camera apps need to be all about getting the right shot as quickly as possible, which means there's a lot more to these apps than just a shutter button. The mission critical features need to be something you can access quickly, and those camera functions need to not get in the way of the shot being taken. It's something every manufacturer does a little differently, and while there are plenty of alternatives in the Google Play Store it's important for the OEM offerings to get the job done.
Cyanogen OS is a little different from an OEM, since their version of Android exists across multiple manufacturers, but their camera app needs to follow those same basic principles. Let's take a look and see how their version of a digital picture taker works out.
The first thing you'll notice about the Cyanogen OS Camera is how little there is to the interface at first. The app is almost too good at getting out of the way of the photo, leaving you with three basic capture buttons and a small column of settings icons. These settings icons aren't labeled in any way, so if you don't recognize the function from the icon there's a slight learning curve, but once you've familiarized yourself with the setup it's fairly easy to jump from setting to setting, should you decide the auto settings aren't what you are looking for.
Like most smartphone camera apps, Cyanogen OS offers quick access to basics like HDR and action shot modes alongside a list of filters for getting a little creative with your shots. The settings panel for this is transparent, so you can see what is happening to the photo as you activate and disable these scenes.
Alongside this you have simple toggles for auto lighting controls, which allow you to adjust perceived temperature and brightness. You'll also find a location toggle and a countdown timer in this quick settings launcher, but the real settings are for those who demand something a little more specific.
The actual settings menu has three pages of options for photo and video, with everything from left or right hand icon placement to the codecs you want to use while recording. ISO controls, face detection for the font-facing camera, and controls for the volume key and how you want the autofocus to behave can be found across these three pages, and the whole time you're looking through these settings the transparent menu assures you never lose sight of the image you are trying to capture. Depending on which device you are using, the ability to capture RAW photos can be found and enabled as well.
It may not be the most powerful camera interface out there for Android, but the Cyanogen OS camera app is flexible, clean, and get the job done quickly. As long as your Cyanogen OS device has a decent camera sensor on it, good photos should be easy to come by.
Android Central Newsletter
Get instant access to breaking news, the hottest reviews, great deals and helpful tips
could i put Cyanogen OS on my Nexus 6 to get the slowmotion camera?

I don't know want a decent t camera on it? Sent via carrier duck. They were out of pigeons

You could put CyanogenMod on it: http://wiki.cyanogenmod.org/w/Shamu_Info

Yeah you can use the camera apk from Google Play

So many articles lately, asides from Google I/O, seem to be focused only on Samsung and Cyanogenmod. "Reset a S6; backup a S6" "Cyanogenmod Gallery; Cyanogenmod Camera" I've heard a lot about this but haven't really heard much from Android Central on other OEMs though. Might be nice to see some diversity again. Posted via the Android Central App

It's been all LG and Samsung lately because the S6 is the most notable flagship on the market right now, and the G4 is the biggest challenger. AC's been doing extended series of articles on different individual topics this year, and the Cyanogen posts are just the latest part of that. They'll switch it up soon.

+1 Posted via the Android Central App

Individual (sponsored) topics ...That they forgot to mark them as sponsored.
But Cyanogen really needs some good PR after all the s**t they've come out with lately.

Just read Android Police if these articles bother you. This has turned into more of a beginners guide to Android. AP doesn't have these types of articles. Both sites, however, have the big news so you don't miss out.

They've been on a campaign for Cyan for awhile, most recently since KM made his ridiculous little announcement. Trying to improve the image or "mind share" I guess by pushing a lot of Cyan apps that mostly are meh..I still use AC, but have been looking to other apps recently to get some diversity from the new Cyanogen Central here. (May be an exaggeration, but still..) Android Authority and Android Police are good choices too, but can read them all and tons more on Appy. Becoming my favorite fast. https://www.androidcentral.com/e?link=https2F2F... Dude. What if the word "NEWS" on the AC widget actually linked to the news page? #nopecuzthatwouldbecrazy.

Cyanogen lmao. Posted via the Android Central App

The camera freezes sometimes on my One and I have to force quit it to get it to work..... And then I miss my shot Posted via the Android Central App

I used to not care about smartphone cameras, but the amount of noise I get on my OPO camera is frustrating. I'm starting to take more pictures, so I think I might pick up a G4 when it comes out in Canada, and use my OPO as backup. Posted via Oneplus One.. For now.

Download the coloros camera apk and the plugins that go with it. The coloros camera is optimized for the OPO hardware. It is worlds better than the Cyanogen camera apk http://www.mediafire.com/download/8niqyqjuxt8gxoa/OppoCamera_1.8.apk
https://drive.google.com/folderview?id=0B_lYhbWo3pojR2ZIUXNsbzE3MzQ&usp=...

I'm using oppo camera on my One. Posted via the Android Central App

Is the Cyanogen Camera available for all devices, or just on CyanogenMod OS? Posted via the Android Central App

You can get it from the Play store for any phone

I appreciate the articles that russell has been writing on cyanogen mod. Being a 1 + 1 owner it's kinda nice to keep updated. thanks for the great articles russell! Posted via the Android Central App
Android Central Newsletter
Get instant access to breaking news, the hottest reviews, great deals and helpful tips
Thank you for signing up to Android Central. You will receive a verification email shortly.
There was a problem. Please refresh the page and try again.