Looking at camera features in Cyanogen OS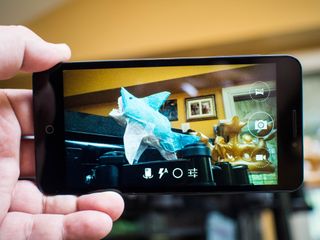 Camera apps need to be all about getting the right shot as quickly as possible, which means there's a lot more to these apps than just a shutter button. The mission critical features need to be something you can access quickly, and those camera functions need to not get in the way of the shot being taken. It's something every manufacturer does a little differently, and while there are plenty of alternatives in the Google Play Store it's important for the OEM offerings to get the job done.
Cyanogen OS is a little different from an OEM, since their version of Android exists across multiple manufacturers, but their camera app needs to follow those same basic principles. Let's take a look and see how their version of a digital picture taker works out.
The first thing you'll notice about the Cyanogen OS Camera is how little there is to the interface at first. The app is almost too good at getting out of the way of the photo, leaving you with three basic capture buttons and a small column of settings icons. These settings icons aren't labeled in any way, so if you don't recognize the function from the icon there's a slight learning curve, but once you've familiarized yourself with the setup it's fairly easy to jump from setting to setting, should you decide the auto settings aren't what you are looking for.
Like most smartphone camera apps, Cyanogen OS offers quick access to basics like HDR and action shot modes alongside a list of filters for getting a little creative with your shots. The settings panel for this is transparent, so you can see what is happening to the photo as you activate and disable these scenes.
Alongside this you have simple toggles for auto lighting controls, which allow you to adjust perceived temperature and brightness. You'll also find a location toggle and a countdown timer in this quick settings launcher, but the real settings are for those who demand something a little more specific.
The actual settings menu has three pages of options for photo and video, with everything from left or right hand icon placement to the codecs you want to use while recording. ISO controls, face detection for the font-facing camera, and controls for the volume key and how you want the autofocus to behave can be found across these three pages, and the whole time you're looking through these settings the transparent menu assures you never lose sight of the image you are trying to capture. Depending on which device you are using, the ability to capture RAW photos can be found and enabled as well.
It may not be the most powerful camera interface out there for Android, but the Cyanogen OS camera app is flexible, clean, and get the job done quickly. As long as your Cyanogen OS device has a decent camera sensor on it, good photos should be easy to come by.
Be an expert in 5 minutes
Get the latest news from Android Central, your trusted companion in the world of Android