Android Theme Review: Ice Cream Sandwich CM7 Theme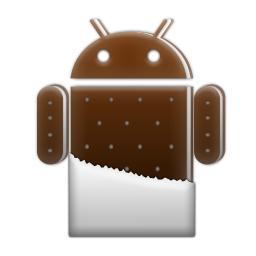 YouTube link for mobile viewing
Ed. note: This theme requires use of the Theme Chooser.
When Google finally unveiledIce Cream Sandwich to the world, we all knew it was going to be the new hotness. How much it changed things, though, I'm not sure anyone could have really predicted. Fortunately, it didn't matter. Once the event was over, I knew I wanted it, period.
Thanks to one enterprising developer, there's a wicked theme for CM7 that gives you all the aesthetic polish of ICS on your current-gen, non-ICS phone. It's done by the same guy who made Tangerine and Arctic Green (to name a few), and as good as those were, Ice Cream Sandwich CM7 Theme rules the roost in terms of look and quality.
For starters, all of the system apps we've come to know and love have had their icons updated to their Ice Cream Sandwich counterparts. That means Calendar, Camera, and the like have fresh, new looks, while Gmail is finally the icon we've become accustomed to from Honeycomb.
The notification bar and its respective icons have been all TRON'd out, as they're sporting the new blue color that was first introduced in Honeycomb and is being carried over into Ice Cream Sandwich. The text in the pulldown bar (such as your carrier, the date, and the word 'Notifications') are similarly colored.
Text on your actual notifications is a bright white, which stands out nicely compared to the darkness of the pulldown and makes everything easy to read. Instead of a 'Clear' button, there's just a blue X, but its purpose is obvious. It also looks much sleeker than the button of Android's yesteryear.
The dialer is sporting Roboto Light (or something close to it) and looks all the better for it. The numbers are in blue and the letters are in grey, but it all comes together nicely.
Check boxes inside menus have also been rendered blue, with a subtle glow to them. (No, it doesn't pulse.) Anything highlighted is the same blue, and the force field that appears when a list hits the top of bottom of the screen is colored the same, too.
For anyone else who can't wait for Ice Cream Sandwich to officially drop (and has a rooted phone running CM7), I'd pick this theme up, posthaste. It's clean, works like a charm, and best of all, it's free. Plus, if you use LauncherPro Plus, there's an additional app you can download that themes your widgets to look all Ice Cream Sandwichy, too.
We've got a few pictures and download links after the break.
Android Central Newsletter
Get instant access to breaking news, the hottest reviews, great deals and helpful tips
Looks nice. I'm going to check it out.

My keyboard didn't look correct the last time I tried v. 1.4. It wouldn't show the shift key and had go instead of the delete symbol

I've been using it since the Alpha stage, but the one problem is the Google Music widget isn't themed properly. Other than that its great.

Why do i keep seeing drocap in screenshots all the time? You guys know that screen capture is baked in to cm7.....dont you? (Long press lock button)

Certain menus (like the notification pulldown bar, in particular) don't stay put when you long press the power button, so you can't take a screenshot using CM7's built-in method. I use Drocap when I need to use Drocap.

Is "let me learn you something" really called for? No need to chastise your readers. Actually, you don't need DroCap to take pics of notification menus. When you take a picture with CM7's built-in method, you're allowed about a 1-2 second delay before it takes the screenshot. Giving you enough time to quickly pull down the notification bar. Case in point: https://lh6.googleusercontent.com/-G10N5ti4wYc/Tq6L2-VW9KI/AAAAAAAAAvI/m...

Good call on the pulldown bar. I still can't get menus to pop up in that delay space. I can tap menu, the phone vibrates, but the menu won't pop up until after the screenshot is taken (using the CM7 method).

It tells me "Sorry, this theme is missing assets for your device's screen size" on my Droid Incredible. What's that all about?

just hit use anyway or apply anyway or whatever.

Ok, after seeing this on his EVO 3D, I think it's time to switch over to Cyanogenmod. I guess I need to figure out what isn't fully functional first though. One thing is for sure. I'll be updating my wife's EVO tonight with this. She's been complaining about her phone lately, so it's time to go back to CM7 for her (been using that 3vo rom on it, but it's slow).

This theme is so amazing. With the ADWex icon pack and theme, and an ICS lockscreen mod from XDA, my motorola triumph is lookin slick!

Don't even need a lockscreen mod from XDA if you use WidgetLocker. They bundled it into their latest update.

Laucher Pro Plus can use this theme? Really?

No, like I said, there's a LauncherPro Plus theme that themes your widgets.

In your app drawer does google search have an icon with this theme?

I just downloaded the theme and tried to apply it to my Inspire. Got this message: "Sorry, this theme is missing assets for your device's screen size." I find that kind of odd considering tin the video it's being used on an HTC EVO 3D which has a 4.3" screen like my Inspire. Anyone else have the issue?

You can just hit apply anyway. The dev even tells you to in the description.

What clock is that and how did you get the lock screen like that?

I think he means the clock widget on the home screen, not the lock screen.

Uh he asked for the lockscreen itself also

That's not WidgetLocker, I know because I bought it and it doesn't have options to configure the clock or a widget for your home screen. It looks like simplified text but I have no idea about the configuration of it.

It's SiMi, but the lockscreen is Widgetlocker

He has replaced Clockopia.ttf with AndroidClock.ttf from the ICS dump/SDK. I have done the same thing myself. Make sure you change the permissions after renaming the font otherwise you will throw yourself into a bootloop.

If you buy widget locker you can use that lockscreen. I am sure there are free methods as well but widget locker is nice. It actually allows you to use various lockscreen designs if you want from Stock Android, motorolla, iPhone, HTC Sense, and a couple more I am probably missing.

How do you install the theme?

nevermind watched the video

Was there an image dump done for that ICS wallpaper? Also do I need to be running Launcher Pro for that dock?

Yeah, the dock seems to be the only thing that I'm having trouble with :/

CM7 uses ADW launcher and in the settings you can change it to display 5 icons instead of 3. Then you can just long press each icon and add whichever app you want.

I've never been able to use this theme. I just keep getting a "This theme was not compiled correctly" error when I try to apply it.

This theme is awesome! Been running it since he was in "alpha" stages. LOVE it!

What clock is that on your non locked homescreen? Beautiful widgets? If so what skin is that?

Found it online. SiMi Clock Widget. In case anyone else wanted to know.

I just need a developer to get the real ICS launcher like they did with the gingebread launcher, but once they had those assetes availabe, CM9 probably wouldnt be that much off, month or two maybe.

I got that assets missing message but after rebooting the phone the theme turns out right.

I cant get this to display properly on my htc thunderbolt running CM7.1.1

Should I be using launcher pro for the dock? If so where is the applications icon? I can get everything to load except the dock. Droid Incredible CM7.1.0

I am using this theme with the ICS theme for ADWLauncher and Roboto system font. It's keeping me hanging on until the real thing comes out. Oh yes, it will be mine!

I am really liking this theme. However, for some reason I am completely unable to get the app drawer icon right. It won't change from the adw launcher default icon no matter how many times I switch themes or mess with the settings and its really bothering me.

I had the same issue, but if you long press on the launcher icon in the dock, then press 'edit' on the pop up, it will pop up another box where you can edit the action and text, but if you click on the image and then choose theme images (I think that's the option)and select the correct ICS launcher icon. PS I also have the ADW ICS theme from the market so I don't know exactly where the theme icon originates from but it works..

Force Close ADW Launcher. It will reload icons then.

I got the theme download and applied, I used launcher pro before and now I half launcher pro and other half of the ICS theme. How do i changed everything so it looks like in the video ? Because i have the app drawer and the lock screen still like i did before

The lockscreen is WidgetLocker and the app drawer is an option in ADW EX.

My notification drop down power controls wont theme.

How or where would be the best place to find out how to root my DroidX2 successfully with the easiest steps to follow from my PC and what will I need to do it because I would like to have this application but phone needs to be rooted I know it may sound like a dumb question but I am a newbie and I live on my phone all but 24/7(lol) ?
Android Central Newsletter
Get instant access to breaking news, the hottest reviews, great deals and helpful tips
Thank you for signing up to Android Central. You will receive a verification email shortly.
There was a problem. Please refresh the page and try again.