Android Central theme review: Synergy for CyanogenMod 7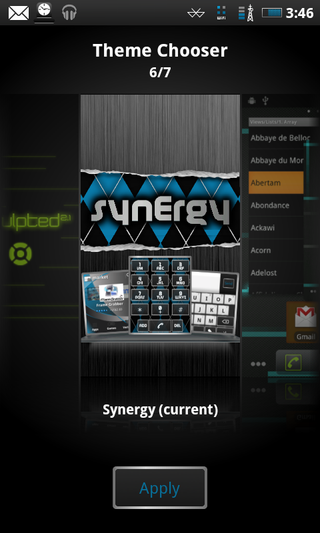 This week we wanted to cover a slick theme for devices running CyanogenMod 7. Synergy is a theme built using the T-Mobile Theme Engine, a nifty piece of software that allows you to quickly change the feel of your device without having to flash something through recovery. Instead, themes can be found in the market and downloaded like any other application. There are dozens of themes available, but Synergy is quickly becoming a staff favorite.
Want to write a ROM review for Android Central? We'd love to hear from you! Look here for details. Now head past the break for the review.
Synergy Theme for CyanogenMod 7
Synergy is a dark theme with cobalt blue accents that are deeply baked into your phone. Every system application and many popular third party applications are re-skinned to create a cohesive theme. All told, the theme uses over 1800 custom images to change the look of your phone, and it shows. This isn't just a "Minimal Blue" theme either. the developer customized icons, fonts, and widget skins to make this feel like a whole other ROM, and not just a color theme.
Thanks to the theme engine, installing this theme was a breeze. I simply downloaded the file from the market, and then went to the theme engine app and hit "apply." Most of the changes showed up right away, but the phone did require a restart for certain items (such as the notification bar control options) to theme properly, but this is because of an issue with the theme engine and not the theme itself.
One thing I really liked about this theme (beyond how amazing it looks) is that it skinned several apps that I use everyday (Plume, FlexT9) that most themes don't bother changing. It's this attention to detail that helps Synergy outshine other "minimalistic" theme. The developers clearly had an idea of how they wanted everything to look and not just a favorite color.
Synergy is easily the best themes I've used, and one of the best looks (ROMS or Themes) I've tried on any of my devices. Best of all, the theme is completely free, so if you're rooted and have CyanogenMod 7 installed, there's no reason not to give it a try, unless you hate the color blue.
If you want to give Synergy a try, just click the app link below. The developers also have a Donate version of the theme, which includes the same features. While donating doesn't unlock any additional features, this is the kind of work I'm glad to pay for.
Android Central Newsletter
Get instant access to breaking news, the hottest reviews, great deals and helpful tips
Did they ever fix the theme engine breaking Widgetlocker?

Sorry, I don't use Widgetlocker. Perhaps check over at cyanogenmod.com?

It looks better than some of the ones I've seen but why do so many Android themes look like they were created by someone who just learned how to add bevel, emboss, and other effects in Photoshop? The fonts seem to be mixed (between system font and that weird dialer font) but otherwise I guess it's OK. One of the only third party CM themes I've seen that is tasteful and professional looking is Mattedblues. Obviously only my opinion but the coherent theme, simple color scheme, and lack of unnecessary gradients, drop shadows, and other bling make it look very professional. https://market.android.com/details?id=com.jabbawalkee.theme.MattedBlues

I do know that the theme engine can't change everything. It still doesn't fully replace what metamorph can do because of that. Also, don't count what my Clock and icons look like. They don't have a set skin for Beautiful Widgets or ADW yet.

Downloaded and looks great, but my adw didn't change.

ADW doesn't change. They are working on a skin for it, but it's not public yet. For the skin I used, check my comment down below.

The icons in the first screen shots look awesome but I noticed that it didn't change any of my icons. Is that only available in the paid version?

They don't have an ADW theme yet. The ADW theme I am using is DarkEdge Blue. The Dock is from Eyefold theme

I see. I'm going to have to check that out then cause I really like those icons. Thanks for the info!!

I dl'd the ADW theme. Do you have to dl that separately? I don't have Cyan installed just ADW and so far looks great on my phone.

Sorry for the confusion everyone. The icons I am using are from ADW Dark Edge Blue pack, with a dock from Eyefold. They are working on a really nice ADW theme to match SynErgy, but it's not out yet. You can see it in their market screenshots. I didn't want to include this in the review because it wasn't part of the theme proper.

There is an ADW theme for synergy but it looks like it's also called Creative Black. I installed it as I'm not running Cyan and while it looks nice doesn't match the screen shots in this review. Edit: Hence why you said you didn't want to include it I suppose :P

This theme looks great!! I like the SMS notification in the status bar, and the whole status bar for that matter. I'm extra excited to see that there's no percentage with the battery icon!!

Where is the wallpaper from, I can't find it. Thanls

It was posted when the theme launched.. let me see if I can find it. Let's see if this works: http://i56.tinypic.com/2my910i.jpg I'll also post it on my twitter if the spam filter eats it. @Mennomobile

Thanks, got it and love it.
Android Central Newsletter
Get instant access to breaking news, the hottest reviews, great deals and helpful tips
Thank you for signing up to Android Central. You will receive a verification email shortly.
There was a problem. Please refresh the page and try again.