Best wallet cases for Samsung Galaxy Note 5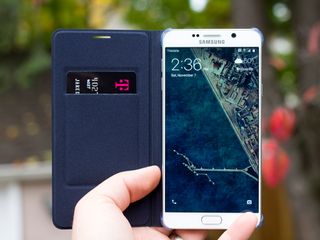 Whether you need to take every card with you or just some cash and your ID, a wallet case for your Samsung Galaxy Note 5 is a perfect way to merge all of your necessities into one convenient case that's functional and fashionable.
IZENGATE Classic Series wallet case
This PU leather wallet case from IZENGATE comes in four colors: black, purple, turquoise, and mint. Just snap your Samsung Galaxy Note 5 into place and load up to four cards, as well as some cash in its own pocket, and head out on the town.
The detachable wristlet lets you use the wallet as a clutch; no worries about dropping it when it's connected to your wrist. The case also folds easily into a kickstand for hands-free viewing or talking. The snap closure isn't magnetic but it holds the wallet securely closed.
Well-reviewed, well-made, good looking; tough to pass up the IZENGATE Classic Series wallet case.
See at Amazon (opens in new tab)
TabPow wallet flip case
With room for up to seven cards and a special spot for a few bills, the wallet flip case from TabPow has a unique design. The two-fold system is surprisingly not bulky and it comes in black, white, or brown.
The magnetic closure holds everything in place and TabPow even sends along a screen protector for your Samsung Galaxy Note 5 for a little extra scratch protection. The actual phone case within the wallet is removable for the times when you don't want to use the full wallet.
For a full-sized bill fold and a little extra room, the TabPow wallet flip case is an excellent choice.
See at Amazon (opens in new tab)
iNNEXT wallet case
If you have 10 or more cards that you absolutely can't leave the house without and you're the kind who tends to carry pockets full of coins, the wallet case from iNNEXT is exactly what you need. You also get to choose from eight lovely colors to go with your Samsung Galaxy Note 5.
The zippered pouch is perfect for cash and even a house key. The PU leather is manufactured to look like cowhide, and that gives the wallet a nice textured, grippy feel. The interior phone case is held in place with strong magnets and the whole wallet is secured on one side with a magnetic clasp and on the other with a snap closure.
The only issue here is that there's no back cutout for the camera, which means you have to take your phone out in order to snap a photo. Considering how much you get to take along with you and how secure everything is, that's not a bad trade-off at all.
See at Amazon (opens in new tab)
Verus Layered Dandy slim fit wallet
The Verus Layered Dandy slim fit wallet is about as slim as they come if you're looking to avoid any kind of extra size or bulk at all. Your Samsung Galaxy Note 5 will fit nicely inside along with three cards and a little cash.
The faux leather is dyed to look and feel aged, while the PC interior protects your phone against drops and bumps. The precise cutouts on the back allow you to use the camera without removing the case, and the magnetic clasp closure won't fly open on you after you've snapped it shut.
The wallet comes in black, coffee brown, and the wine red that's pictured here.
See at Amazon (opens in new tab)
Abacus24-7 wallet case
Abacus24-7 is a popular brand in the world of wallet cases and for good reason. Like many of its wallet offerings, this one converts easily into a kickstand, while keeping a good hold on the three cards and cash that it stores in addition to your Samsung Galaxy Note 5.
The synthetic leather exterior comes in six different colors and the protective TPU interior protects against bumps and shocks that can't be avoided. Ports, buttons, and access to the S Pen remain open, and the strong magnetic closure keeps everything in its place.
For a popular brand that does the job and then some, Abacus24-7 is a good choice.
See at Amazon (opens in new tab)
Starry Day genuine leather wallet
If you're prepared to spend just a little more, you can get your hands on a genuine leather wallet from Starry Day in the beautiful olive green pictured here; alternate colors include light and dark brown, black, and pink.
Two oversized interior pockets store several cards and a little cash while the snap closure secures everything under the cover of a stylish brass button. The removable wristlet turns the wallet into the perfect clutch for an evening out.
Starry Day will even customize your wallet with a monogram, making it a fantastic gift for the Samsung Galaxy Note 5 owner in your life, or a treat for yourself to go with your new favorite phone from Samsung.
See at Etsy (opens in new tab)
Grab everything and go!
Which wallet case are you using right now for your Samsung Galaxy Note 5? Tell us all about it in the comments below.
No need for a wallet case, you have Samsung Pay :) Posted via the Android Central App

Exactly! I can't even remember the last time I used a card. S7 edge...Soon to be Note 7 edge

Samsung Pay is fantastic..... when it works....for me it'***** and miss ....I have to try it a couple of times to get it to work sometimes. ...So I never feel confident about whether the first time will work or not. .. Posted via the Android Central App

How do you deal with places that the terminal isn't accessible? IE behind the counter or at a restaurant?

I've reached over the counter a few times. The look they have me was priceless. Just glad it worked lol S7 edge...Soon to be Note 7 edge

Samsung Pay doesn't hold your ID, Sam's Club card, emergency cash, etc Posted via the Android Central App

Yeah but samsung pay sure makes your wallet a whole lot thinner , love samsung pay Posted via my note 5 are gs7 edge
Android Central Newsletter
Get the best of Android Central in in your inbox, every day!
Thank you for signing up to Android Central. You will receive a verification email shortly.
There was a problem. Please refresh the page and try again.