Cheap Chromecast Speakers: Best Under $35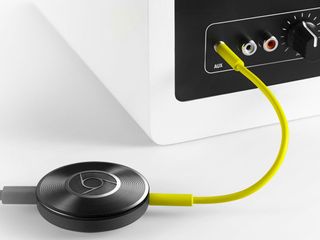 Chromecast Audio provides us with an easy way to stream media from our mobile devices to our favorite speakers, whether they feature Bluetooth, Wi-Fi, or neither. We've selected five of the best portable speakers that go great with this audio accessory and cost no more than the Chromecast Audio itself. Keep one in your bedroom, living room, kitchen, or bathroom — these speakers will give you the superior sound you crave without breaking the bank.
Cambridge Soundworks OontZ Angle 3
Why you can trust Android Central Our expert reviewers spend hours testing and comparing products and services so you can choose the best for you. Find out more about how we test.
While the Chromecast Audio may not be waterproof, the OontZ Angle 3 from Cambridge SoundWorks certainly is. This 5-inch speaker speaker has an IPX5 rating, making it completely splashproof for any setting. Inside is a long lasting 2200mAh battery that provides up to 15 hours of music through its dual drivers for a total of 10W of stereo sound. The OontZ Angle 3 sounds great on every level — mids, highs, and even bass are clear thanks to the passive subwoofer design. If you're after a speaker that's built for a tougher environment, this is a great option for you.
You can pick one up for around $25.
Photive Hydra
The Photive Hydra is perfect for people that want a cheap speaker and are more concerned about sound quality than convenience. Sporting a passive subwoofer and two 40mm drivers, the Hydra delivers a fuller-sounding low end, while still providing pleasing, clear treble.
Its IP66 rating means it can get wet, but not submerged. Obviously, your Chromecast Audio is not water-resistant at all, but its a nice feature to have if you ever choose to use it away from the tether of your Chromecast Audio. For about $35, the Photive Hydra could be yours.
AYL Portable Mini Speaker
For something a bit more compact, but surprisingly loud, the AYL portable mini speaker is definitely one to check out. The 3W speaker on top provides quality sound that jams for up to 10 hours on a full charge. The unique design of this speaker makes it ideal for travel, quickly collapsing into a smaller size when needed. There's even a built-in 3.5mm headphone cable on the bottom for hooking up your Chromecast Audio, along with an extension cable if you need a little extra length. Priced around $15, you can't go wrong with this mini speaker.
Read our review of the AYL Mini
Anker Classic Portable Speaker
Anker's Classic Portable Speaker, a box design that uses a single 2-inch, 4W driver and bass port to deliver its amazing quality sound. Powering the unit is a 2100mAh Li-ion battery that will keep the music going for up to 20 hours. The built-in mic allows you to use the Anker Classic as a speakerphone, but for keeping things simple just plug in your Chromecast Audio to the 3.5mm port on the side and enjoy what this crafty speaker has to offer. Included is a longer auxiliary cable, travel pouch, microUSB charging cable, and an 18-month warranty. You can grab one in black, blue, or white for around $30.
Read our review of the Anker Classic
VTIN Outdoor Speaker
If you want a Bluetooth speaker that can withstand a few bumps and bruises, the VTIN Outdoor Speaker is a great value at only $30.
While its IPX4 rating won't let you submerge the speaker, it should be able to withstand the occasional splash of water or light rain. Plus, the speaker is protected by the rugged rubberized chassis of the VTIN Outdoor Speaker, meaning it should be able to take almost any environment you throw at it.
This speaker gets pretty loud. It's got two 10W speakers on either side of the device that can pump up any party and full volume. Oh, and did I mention it has a 4,400 mAh? You can listen to music for roughly 30 hours on the Vtin outdoor speaker without having to charge up. Plus, if you want to venture away from your Chromecast you can always use it with standard Bluetooth.
What speakers are you using with Chromecast Audio?
Those are our top picks for an affordable speaker to use with Chromecast Audio. Which speakers are you using or looking into getting for yours? Sound off in the comments!
Updated May 2018: Added the VTIN Outdoor Speaker to our list.
Get the Android Central Newsletter
Instant access to breaking news, the hottest reviews, great deals and helpful tips.