The best music gifts to amp up the holiday season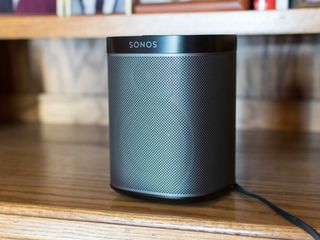 With so much music available right at our fingertips there's never been a better time to listen to our favorite artists and songs from any smartphone, tablet, or computer. Amazing quality audio isn't as easy to come by, however, especially when you're trying to sift through thousands of portable speakers and headphones to find what sounds best and fits comfortably. We've highlighted a handful of products that are definitely worth considering as a gift for yourself or even your fellow audiophile. And, if your search expands beyond the realm of audio, check out our extensive 2015 Holiday Gift Guide for plenty more exciting gifts for the holiday season.
Sonos Play Speakers
These top of the line speakers are super-simple to set up and provide excellent quality for any genre of music or media. The smallest of the bunch is the Play:1 (opens in new tab), but you can step it up to the next level with the Play:3 (opens in new tab) or the brand-new Play:5 (opens in new tab) that's just been released in time for the holidays. Although slightly different in design, what they all have in common is superior sound. Whether you just want one as a gift or a couple to pair together for a full spectrum of awesomeness, Sonos Wireless Speakers are a safe bet for any audiophile.
From $200 at Amazon (opens in new tab)
Chromecast Audio
If you have a favorite speaker at home that doesn't use any Bluetooth or Wi-Fi, but wish it did — Chromecast Audio grants that wish. This little puck connects to any standard speaker via the 3.5mm auxiliary cable on the side and is powered by a Micro-USB charger. While this audio accessory is connected it grants Wi-Fi access to your speaker, allowing you to cast your favorite music apps, whether it be Spotify, Pandora, or Google Play Music. You also have the benefit of utilizing your smartphone without interrupting your cast, unlike traditional Bluetooth speakers.
Bose QuietComfort 20 Headphones
Bose has crafted these amazing noise cancelling in-ear headphones that allow you to enjoy uninterrupted music that surpasses the quality of many other headphones in its price range. Using TriPort technology and Active EQ to deliver digital quality audio, there's no genre of music that sounds weak on any level. Bose's Stay Hear+ tips are comfortable and stable for long-term use and the inline microphone makes it quick and simple to manage your calls in between your playlists. With the QuietComfort 20 Headphones you get 3 pairs of tips in different sizes, clothing clip, USB charging cable, and a nice carrying case for travel.
$299 at Amazon (opens in new tab)
Sony SRS-X88 Premium Bluetooth Speaker
The SRS-X88 pumps serious sound for its portable size using 5 speakers: 2 super tweeters, 2 magnetic fluid mid-range drivers, and a subwoofer with dual passive radiators. This speaker is Google Cast-ready for streaming music from your favorite apps and can also be connected via Bluetooth, NFC, or streamed over Wi-Fi with DLNA and AirPlay support. With 90W of amazing sound you can rock it in any room of your home, even throwing additional speakers in the mix using the SongPAL App. If you're after incredible audio without the bulk of a large speaker, the SRS-X88 is a great one to roll with.
$349 at Amazon (opens in new tab)
Samsung Level On Wireless Headphones
Ideal for comfort and superior sound quality are the Level On Wireless Headphones from Samsung. Using intuitive touch controls on the headphone you can slide your finger up and down to adjust volume levels or forward and backwards to jump between tracks. The ear cushions are super-soft, allowing long listening sessions without discomfort. With Active Noise Cancellation turned on you get about 11 hours off a full charge, which can be extended up to 23 hours if you don't need to completely block out your surroundings. The free Samsung Level App provides an easy way to fine tune your audio levels, whether it be bass, treble, or vocals. The high quality construction and impressive sound of these wireless headphones make it a no-brainer for any music lover.
$250 at Amazon (opens in new tab)
Grain Audio PWS.01 Bluetooth Speaker
While there are thousands of Bluetooth speakers that lack style and sound quality, this is one exception that sounds as good as it looks. The PWS.01 from Grain Audio packs two 2-inch loudspeakers and a passive radiator that uses a bass isolation system to keep the overall mix crisp, thick, and most importantly — clear. Its beautiful walnut enclosure is matched with a rubber edging that keeps the speaker from sliding around while rocking out. On a full charge the PWS.01 is good for up to 8 hours and even includes a handy mesh carrying bag for travel.
$210 at Amazon (opens in new tab)
Skullcandy Hesh 2.0 Bluetooth Headphones
These over-the-ear wireless headphones provide a comfortable way to enjoy music and media for an extended period of time without fatigue. The noise-isolating fit with Skullcandy's soft leather seal lets the powerful 50mm drivers push audio the way it's meant to be heard. The Hesh 2.0 Headphones connect via Bluetooth to your smartphone, tablet, or TV and will stay powered up to 12 hours off a complete charge. There's even a built-in microphone if you need to manage your calls while enjoying your playlist.
From $80 at Amazon (opens in new tab)
Google Play Gift Card
Sometimes the best gift is letting them pick for themselves. They know exactly what they want, and you don't want to be the one that asks them, right? Luckily you can always opt for a Google Play Gift Card. These cards can be used to purchase music, movies, books, apps, and more, redeemable on the web or straight from a smartphone. It's a great last-minute gift that you simply can't go wrong with.
From $20 at Google (opens in new tab)
Android Central Newsletter
Get the best of Android Central in in your inbox, every day!
Thank you for signing up to Android Central. You will receive a verification email shortly.
There was a problem. Please refresh the page and try again.