Best Headphones for Swimmers 2022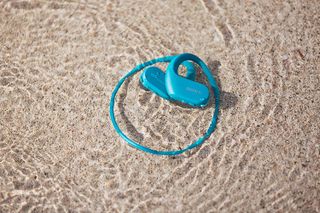 (Image credit: Sony)
Technology and water don't usually mix very well. Still, with more and more devices getting sealed and protected against water, we as consumers are reaping the benefits, and finding the best swimming headphones has never been easier. While there are tons of headphones for everyday use, if you're a swimmer who likes to listen to music, a regular pair of headphones can't follow you into the pool. The best swimming headphones will have a high IP rating, meaning they can be submerged underwater for some time. Here are the best swimming headphones that can stay in your ears while you're swimming laps.
You need a high IP rating
You can't just bring any pair of headphones into the water; if you want the best swimming headphones, you need to make sure the pair you purchase is explicitly designed with a high water-resistance rating. Don't try to swim with anything that has less than an IPX7 rating. It's the lowest rating that is safe to be submerged.
The Plantonics BackBeat Fit 2100 (opens in new tab) is one of the best swimming headphones you can buy. Its 100-foot Bluetooth range should let you keep your phone away from the water when you're swimming laps, and the neckband and earhook design will keep them in place on your head as you swim.
If you'd rather not rely on Bluetooth from your phone (which may not be the most reliable connection while swimming), the Sony NW-WS413LM (opens in new tab) gives you the option of storing music. This eliminates the worry about getting your phone wet at the beach or the pool. You'll be able to swim your laps with confidence that your phone is safe.
If you don't swim super often and don't want to spend a ton of money on a water-resistant headphone, the Mpow D7 (opens in new tab) a great way to listen to your tunes in the water.
Android Central Newsletter
Get the best of Android Central in in your inbox, every day!
Thank you for signing up to Android Central. You will receive a verification email shortly.
There was a problem. Please refresh the page and try again.