Android 5.0.1 shows up on AOSP, factory images also released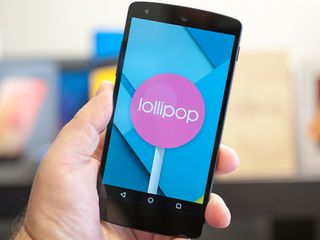 Google has pushed out a new build of Android Lollipop to the Android Open Source Project. Android 5.0.1 release 1 is now showing up on AOSP with a build number LRX22C. We'll need some time to look and see what's changed in Google's Lollipop recipe, naturally, but the small version bump isn't likely to change anything monumental. Helping us see what's new are complete factory images, which have arrived for a few Nexus devices.
Google has published factory images for the Nexus 9 (Wifi), Nexus 7 2013 (Wifi) and Nexus 10. You can grab the factory images from Google, and if you need help using those images you can check out our comprehensive update guide.
Source: Android
Get the Android Central Newsletter
Instant access to breaking news, the hottest reviews, great deals and helpful tips.
Wow and I still haven't gotten the 2013 Nexus 7 5.0 OTA Posted via the Android Central App

I downloaded the factory image and flashed my nexus 7 2013 its running really smooth

That may be exactly why. Posted via Android Central App

Neither have I for N7-12, and I'm guessing they will push 5.0.1 instead of 5.0. So, a little longer wait to fix bugs....

Same here. I'd like to hope this is update fixing bugs is the reason why. If not then wow Google, great job with making sure your Nexus devices get updated right away. They try and sell the Nexus line to be like Apple devices yet Apple doesn't make people wait a month to get the latest OS version. I've bought both Nexus 7s and recently upgraded to the Galaxy tab S 8.4 and can say with certainty it is clearly superior to the Nexus 7s (as it should be given it cost a lot more) and going forward I have no desire to buy another Nexus device unless the hardware is flat out superior to the competing tablets. Using a launcher like Nova makes not having stock Android not that big a deal (I prefer some things with Touchwiz over vanilla like the settings menu and the amount of selections as you have far more things to tweak than with vanilla) and as we are seeing right now, having a Nexus device doesn't mean much for getting the newest OS right away. Android is a solid OS but Google is absolutely horrible when it comes to distributing new versions and pushing other companies to get their tweaked versions out ASAP.

You are worried about Android updates so you buy a Samsung tablet? Makes sense.

You complained about updates not getting pushed but you chose to go for a Samsung tablet. Also, since when 'costly' started meaning 'better'? With that definition, iPad gotta be better than most Android tablets.

Well.. iPads ARE better than most Android tablets. XD I am fully engaged in the Android ecosystem, now.. But if I could go back 5 years from now, and had a lot of money..

bet in that respects, beats are the best headphone brand!

What? Illogical statement is illogical. Posted via the Android Central App

Honestly .. Google doesn't OWE you a damn thing. They will release it when it's baked to their satisfaction. And I don't know that you know what ASAP means. It doesn't mean when you think it should be released .. as soon as POSSIBLE. #troll

How about Google's commitment to updating their Nexus line? They have failed to do that so far. Part of buying a nexus is that promise of support and I feel like I'm not getting what I paid for. At least when you buy a Samsung part of their sales pitch isn't about getting the newest updates. Posted via the Android Central App

You will still get the update far sooner than like 99% of all the other manufacturers... hell, you can be lucky if you have a Android device that'll get lollipop. Posted via the Android Central App

So the Z Ultra already has it, both editions of the moto x, the moto freaking g is about to get it. I mean wth? Being a nexus owner use to mean being the first consumer to get the new update. Posted via the Android Central App

Those all run stock android though Posted via Android Central App

If you want a half baked update you can always sideload the OTA.

What Nexus devices have not been updated as far as the hardware will actually allow? Aside from the Galaxy Nexus (Google had no way of knowing TI was going to stop supporting the hardware)

So don't buy a Nexus. Problem solved. Posted via the Android Central App

No, Google owes you nothing. Just be a happy little beta tester and be quite. Posted via the Android Central App

Well if the first release of KK and LP were 'to their satisfaction' then Google have low standards, so whatever state the missing updates are its surprising they haven't released them anyway.

That is bullshit. I've got my nexus just because they promise for priority updates. Not to mention that my nexus 2013 are came with laggish screen even after"repair" @ asus. I just bought galaxy tab pro 8.4 and is so much better experience after nexus.

"(I prefer some things with Touchwiz over vanilla like the settings menu and the amount of selections as you have far more things to tweak than with vanilla)" We call that bloatware

While I sit on your side of the fence in the argument, let the guy have his own damn opinion. What is bloatware to you or I is an enhanced user experience to others.

No. It's bloatware. Posted via the Android Central App

If you have the WiFi model sideload Android Lollipop. Way easier than waiting for OTA. If you have LTE model, good luck.

Nope. I'm still waiting. Nexus 2013 WiFi. Posted via Android Central App (Moto X - U.S. Cellular)

Great! My N7 has been less than stellar since the 5.0 update. Posted via the Android Central App

yah my nexus 5 has been a hunk of shit since the update. I wanna say its crashing. Where it has to reload the launcher and gets super slow switching between apps. Hopefully the fix comes soon, theres no phone Im interested in right now for an upgrade.

Hello Danny, did you install the OTA? Mine was running a bit slow, I went the OTA route. I then decided to do a factory reset after installing the OTA and now it's running great.

That is why I always install the factory image for big updates. You get the update immediately and don't have to deal with bugs from updating OTA. There is a reason it is called "dirty flashing" in the ROM world.

Same. christophrrb - Working on his HTC One Max in the Nexus Lab

It bricked my mom's Gen 1 N7. I booted once after the OS upgraded...shut itself down about 20 minutes into her using it after the upgrade and won't turn back on. Called Google for support...they spent 10 minutes with her on the phone and said they would "call her back". That was almost a week ago.

Some factory images are up already - Nexus 7, Nexus 9 and Nexus 10.

cool, I'll just flash using the factory image again when that drops.

Let's hope this fixes the Android video bug. The one where YouTube keeps saying can't play video, retry or something like that. The other bugs where after a few days everything gets sluggish unless you reboot and also those Long pauses when you press the recent apps button or when switching app, your left waiting for a few seconds before anything happens. Posted via the Android Central App

Disable NuPlayer from developer options, or disable developer options completely. Your YouTube should work again. Posted via the Android Central App

Yep disable that, seems to have fixed it for the most part. Before it would happen to me every single day and the only way to fix it was rebooting. After disabling nuplayer it didn't happen for over a week until today. Posted via the Android Central App

I had this issue, and the only thing that fixed it was this: 1) log in as primary user
2) settings->apps->youtube->clear cache
3) clear data
4) don't open youtube yet
5) repeat 2-4 for every other user on the tablet
6) reboot This was the only thing that fixed the issue on my N7.

access and change a hidden developer only setting -> complains stuff doesn't work.... Love the interwetz!

Looks like it's at least supposed to fix the N7 video bug, judging from this commit message:
https://android.googlesource.com/device/asus/flo/+/1ae9de5534ad43714e133...

Sure wish they'd hurry up and update the Nexus 7 LTE (2013).

You said it. Still sitting on Android 4.4.4 aka "Frying Pan" on my Nexus 7 LTE as well. And no, KitKat were versions 4.4 till 4.4.3, 4.4.4 is "Frying Pan" because of what it does to Nexus devices. My tablet was never so hot running daily tasks before :/

Yes, also waiting for a few LTE N7's to get Lolipop. Posted via the Android Central App

Yes finally fucc yeaaaaa I'll been waiting for some ram usage fix Posted via the Android Central App

Hopefully they fixed their scripts for flashing the images using the flash all bat file. Those no sig and system errors are annoying.

Google must put back silent mode on the next release. I don't know what went through their mind so that they removed it! Posted via Android Central App

silent mode is on lollipop. Putting the notifications to NONE will silent the phone and you will still receive all notifications.

No, it will still vibrate. That is not the silent mode that everyone is wanting.

User error homedog, my buddy and I just sat here with our Nexus 5's and sent test text's and emails and no vibration just to be 100% sure.

But you won't be able to wake up in the morning ;-)

That's not true. I could put my phone on silent. But the alarm volume would still be on so it would still wake me up in the morning. I don't want to have my phone always on vibrate that's really annoying man Posted via Android Central App

Guy is right, you're just using it wrong. It's not really your fault though as Google didn't really explain it. Alarms are ALWAYS priority and will work just fine while everything else is silent in priority mode.

Is not Priority mode = the old Silent mode + new options? If you turn off all the priority interruptions then you have the same thing as the old silent mode.

Kind of but it won't silence system sounds like camera, lock screen, etc. and some apps don't honor the priority mode and will make noise anyway like Google's new messenger app if you're reading a message from someone and you get a new message from that same person the notification will sound..

Okay, I didn't see any deal breaking bugs. The most annoying of which was the multitasking bug where it would leave cards even after you restarted the phone. I find more fault in the devs that don't get their apps updated ... Posted via the Android Central App

I'm pretty sure that's a feature, not a bug. It lets you continue where you left off.

That's weird and annoying. I expect my overview list to be empty upon restarting. Posted via the Android Central App

Am I the only one who clears my apps immediately after exiting them? I only keep my SMS app open. Everything else is insta-closed. Posted from my Motorola Moto G

Thats not how google works. Posted via the Android Central App

I don't know what you mean. Posted from my Motorola Moto G

I think the cards staying after reboot is intended as a feature, not a bug. Posted via the Android Central App

Then that's a really bad feature Posted via Android Central App

It's intended and stupid. Posted via the Android Central App

My Nexus 6 (and a few others over at XDA) are having random reboot issues. No rhyme or reason to them. Crossing my fingers this might fix that, but I doubt it. Posted via the Android Central App

It's redundant from the response but I am going to add in so no one else adds on.. That IS actually a feature if lollipop, and I hate it, along with tbhe chrome tabs showing up in the overview Posted via the Android Central App

The chrome tabs you can at least turn back to normal tabs inside the app. Posted via Android Central App

Thank god for 5.0.1
5.0 is buggy. The launcher is full of stutters and so are apps. Posted via Android Central App

I never used the stock launcher but Nova functions the same + customization and zero stutters anywhere. My buddy was actually ready to throw his Nexus 2013 7 against a wall after 5.0 update until I had him try Nova and now he says its totally smooth.

I seem to be the only person that hasn't experienced problems with Lollipop. It's flawless on my Nexus 4. My battery longevity has at least doubled since upgrading. Perhaps the problems are with the Nexus 5 and other devices.

+1 Posted via the Android Central App

Fst get moto g013 .... 5.0 dude...ltr.... U guys work on...... What ever it may bhi... Posted via the Android Central App

I installed 5.0 and all I can say is it sucks so far! It broke half the apps, some won't even load, its not as snappy as 4.4 was. I'm thinking of uninstalling!

Try clearing cache and rebooting Posted via the Android Central App

Which apps are broken for you? Sent from my Nexus 5, behind six proxies

Fox Sports go launches and then shuts down. Slotomania did the same until they either updated it or it was me clearing the cache and data and forcing it to stop and rebooting. The keyboard is so funky if you miss type and hit the back arrow it duplicates what you want to erase. The other night I tried to comment on Fb and just gave up. Just now I had the same problem here.

Perhaps this is the update manufacturers were waiting for? Really hoping for that lollipop update soon. Posted via the Android Central App

Hopefully this makes a huge difference . Posted via Android Central App

Typical crap Google. Still no lollipop factory image for my 2013 nexus 7 LTE when the WiFi version is already onto its 2nd. Why the hell did I fork out the extra cash for the LTE version when it's not even treated like a nexus device. Fu$# you Google.

I have a nexus 7 LTE also, and the wait has been a bummer, but on the other hand: https://www.youtube.com/watch?v=uEY58fiSK8E&feature=youtu.be

Haven't even received 5.0 for my N7 2013 so if I could just go straight to 5.0.1 that would be fine! lol. Google needs to push updates faster though. Seriously.

If they pushed them faster, they'd have huge breaking bugs like Apple did with 8.1 on its first try. They couldn't make calls on their iPhones. Google does slow rolls out so the least amount of people are affected if there's a huge bug. Posted via the Android Central App

What about the countless bugs in Lollipop? Posted via the Android Central App

I have a nexus 4,5,7, and now 6. They all run 5.0 and I really don't have any issues on any of the devices. I guess I lucked out?

No issues on my 5 and 7 either. I had the YouTube bug for a day, but it went away. Posted via the Android Central App

You guys are lucky, Some of my friends and are running on 250mb free on our nexus 7, I'm guessing it might be location based....

I also have a 5 and a 7, and 5.0 has been great in all respects. I'm not sure what all the whining is about. I think people just like to complain.

not every update is the same man.... yours may be running great but i have only 250 mb free

When 5.0 came out I did a full wipe including SD partition and flashed the factory image if that helped? I haven't checked RAM because I haven't had any reason to so I dunno how much is free.

I haven't even gotten the 5.0 update on my Nexus 7 2013 32 GB yet. Wth Google! I understand that the way Google updates is totally different than apple so I won't compare but this is just dragging on. Posted via One+1

Still not received 5.0 on N7 2013. Starting to loose patience Posted via the Android Central App

My Nexus 5 has had a crippling battery problem since 5.0, even after a factory reset. It can be at 50% and just die, then when it boots up tell me the battery is at 5%, then slowly goes back up to about 30% even when not on the charger. I'm not sure if it is lollipop or the battery itself. I ordered a replacement battery but might just wait for 5.0.1 before I attempt surgery.

My nexus 5 doesn't Ru. As smooth as with KitKat. Posted via Android Central App

Try nova launcher or wait for 5.0.1 and then try Nova if you are still having problems. It will fix the stutter.

Hell yes. I knew it was coming. This is why I haven't rushed lollipop. I have a feeling this will be a faster rollout. Hoping, at least Posted via Android Central App

I really hope they fixed the charging bug that occurs when you set your system language to " French Canada" (Francais Canada). Here up north, Telus delayed Nexus 6 release because of this bug! I don't know what they could have fixed if it is not this bug! Posted via the Android Central App

Yep, looks like it's been fixed. The issue was that a percent sign in the string "100 %" wasn't escaped in fr-CA; this was fixed in commit 17cc44f on frameworks/base.

Hopefully this new update takes care of the few bugs I've been experiencing on my Nexus 5.

These Nexus fanboys... Face it. Owning a Nexus makes you a Google beta testers. I have a Nexus 7 2013. I use it for baby TV for my 7 month old. It's too boring for normal use. Posted via the Android Central App

How is it boring, one uses and does the same carp on any tablet whether it have stock or feature rich of Samsung products. And a 7 month, seriously? Posted via the Android Central App

Same old story every year. "Wahh where's my update???" *Gets update* "Wahh this update broke everything!" This is why they do rolling updates. Posted via the Android Central App

This marks second android release (after 4.4.3 and 4.4.4, but that delay was only Nexus 7 LTE related) when not all Nexus devices receive new version at the same time. Previously owning Nexus device was a guarantee that you receive new Android versions first. Now - i don't know what does Nexus line stands for looking at Nexus 6 and 9.

So any news on when this new version might be come ota? Posted via the Android Central App

Hopefully this fixes the strange lag and Bluetooth hiccups I get on my N7 2013... Posted via Android Central App

Loving it on my lg g3 cm12 Posted via the Android Central App

With all of the negative comments swirling around about the Android 5.0 OTA update from owners of various Nexus devices, I am really starting to think that I dodged a bullet by not being able to install it manually like I attempted to do. Instead I ended up flashing the factory image and so far my Nexus 5 has been perfect with this update. I have not had any lag, bugs, or weirdness. If anything it is way nicer and runs smoother than ever. I was furious at the time that my computer would not let me push the OTA update to my phone but I guess it may have been for the best after all. In any case I am not going through that process again with the new factory images. Since my Phone is already running like a top I will gladly wait for it to get pushed out through the normal channels this time.

Still no update for my nexus 7 2012 Wi-Fi only Posted via Android Central App

I have also been waiting these past few weeks for Lollipop on my Nexus 7 2013 WIFI, but, after hearing about the many issues that have been encountered, I'm somewhat happy to NOT be on the bleeding edge of the rollout. I am also kind of amazed at how heated this discussion has gotten. Is there something truly life-altering with Lollipop that just isn't there with KitKat? As a Nexus owner/user, I also understand that we Nexus folks have a right to expect to be first in line for updates, but, seriously, is this update just THAT important that we should become so indignant and outright hostile towards Google? Obviously, there were some major problems, and rather than throw the floodgates open for everyone at once and trashing literally millions of devices (looking at you, iOS 8.0), Google slowly rolls out the update to make sure only a small percentage of devices are affected by any problems instead of the entire Google-verse. As a support engineer for a VERY large company, I think their approach is sound. Let the flaming begin, I guess, but I had to put this out here after reading some of the posts above.

Maybe they should have gotten it right in the first place. Posted via the Android Central App

hurry up and fix your phone Google, this update has been a huge fail in my experience.

Hey, that's all well and good but I don't even have 5.0 on my Droid Turbo yet!

I don't think anyone has...

When can we expect a new OTA update? Posted via Android Central App on The Nexus 5

2016 Posted via the Android Central App

Love the comments! Lol. I have both Nexus 5+ 7. Reasoning is the unlockable bootloader, always! Think that's why it sales to the probably 1% tinkering Joe. If we're not "updating" things ourselves, go "nom, nom,nom" somewhere else. Posted via the Android Central App

Better fix the bug on nexus 7 2012, I'm running on 250 mb! 250!

Updates have been received for the Nexus 7 2012/2013 and Nexus 5 here in the office. Just don't see them yet for the Google Edition devices which I was hoping to see.

I've owned two nexus phones and one nexus tablet. All this whining by Nexus owners because they didn't get the update in the first couple weeks is sickening. Updates are becoming faster across the board. Be happy for that. No other os has to account for being compatible for so many devises. Apple can't even push out a good update for one devise. Ask iPhone 6 owners what there update to ios8 was like. Bunch of ungrateful whiners.

Got 5.01 just now for my Nexus 7 (2913) and all is well.

Just now got 5.0.1 while reading the comments, I'm actually a bit nervous to install it lol Posted via Android Central App

I never even got the 5 update. Today I received the OTA to go from 4.4.4 to 5.0.1 (2013 Nexus 7). 12/04/2014

I'd rather like it, but why I'd not update to 5.0 before I'd updated to 5.0.1? I still had 4.4 then google shown me to update to 5.0.1 . Then my menu botton still same as 4.4, it didn't change. Why?? Or I have to update to 5.0 1st?

What's new on this version? Which bugs fixes were made?

I am waiting for lollipop for my htc but company is not giving the updates. Please give the updates for this sooner..