TikTok 'smash and grab' won't be taken lying down, says China state media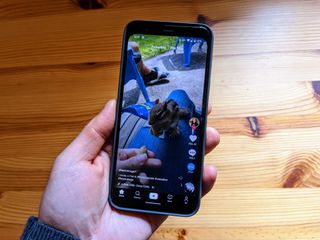 (Image credit: Android Central)
What you need to know
Chinese media has hit back at the U.S. over the ongoing TikTok saga.
It said the "smash and grab" would not be taken lying down.
It said unfounded claims against Chinese companies would persist simply because they were Chinese.
State-backed Chinese media has hit out at the U.S. and its "smash and grab" attempt to "steal" TikTok from ByteDance, stating the move would not be taken lying down.
In an editorial, China Daily stated:
The report criticized President Trump for "promising punishment for some perceived wrongdoing" and noted that recent comments by Secretary of State Mike Pompeo would "heighten the concerns of Chinese companies."
The report further states:
The report does note that selling its U.S. operations to Microsoft might be preferable for TikTok's parent company ByteDance. On Pompeo's comments the outlet stated:
The report also highlights that the U.S. seems aware that U.S. investment in China is far more valuable than Chinese investment in the U.S., emboldening Washington.
The report concludes:
The report follows comments from ByteDance CEO Zhang Yiming, claiming that President Trump's primary goal is not to force the sale of TikTok but to ban the app outright. ByteDance has been given 45 days to organize a sale of its U.S. operations to Microsoft.
The China Daily rhetoric is toned exactly as expected for a state-backed media outlet, but Washington may take note of the threatened retribution.
I think both governments are equally treacherous, i think this is just the beginning. No good guys here.

Uh, thanks for passing along the Chinese Communist Party propaganda AC....

Oh, wow! So now China knows how the rest of the World feels about China! Well China, is at least, learning something in all this. Just ban it in the U.S. like China does apps they don't like and they will change their tune.

But they are plenty fine with the "theft" of other companies and their intellectual IP.
Android Central Newsletter
Get the best of Android Central in in your inbox, every day!
Thank you for signing up to Android Central. You will receive a verification email shortly.
There was a problem. Please refresh the page and try again.