There's no way Verizon's VDay Confessions contest could get risque, is there?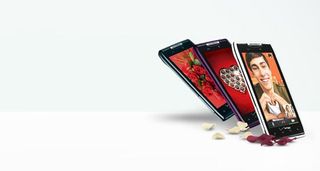 Oh, this could get good. Verizon's cooking up a little Valentine's Day contest, wherein you can win a Motorola DROID RAZR. (Not a new RAZR MAXX? Lame.) The contest kicks off Feb. 13 and runs through Valentine's Day. To enter, you'll have tweet a "creative" Valentine's Day confession -- poems and pics are suggested -- and tag the stories with #tweetheart.
So, ya know, you could say something nice about your sweetie, something about along romantic dinner, maybe a walk through the park. Or we could well see sordid tales from the Red Light District. Because this is, after all, the Internet.
Find out next week, we suppose.
More: @vdayconfessions
Wonder if I'd win if I posted "for Valentines 2009 my wife gave me a confession she'd been cheating on me for 5 1/2 years"

Who runs their marketing department? Jerry Springer?

Well they have to get rid of the non-MAXX stock somehow. Expect more lame give-a-ways.

Just wondering if you win the phone do they make you add it to a line and sign a new 2 year contract.

And if you have to agree to a new contract, then would you need to be eligible for an upgrade if you don't want to add a line?

So it starts on Feb 13 and runs through Valentine's Day, Feb 14? That's - one day? Nice.
Android Central Newsletter
Get the best of Android Central in in your inbox, every day!
Thank you for signing up to Android Central. You will receive a verification email shortly.
There was a problem. Please refresh the page and try again.