SCOSCHE announces a plethora of new USB-C accessories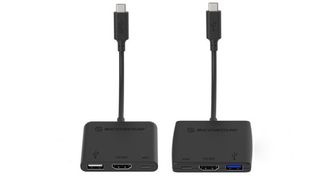 Accessory maker SCOSCHE has announced a new lineup of USB-C products, including new adapters, port hubs, and cables. These new product lines give you several options for connecting, syncing, and charging your devices over USB-C connections like those found on the Chromebook Pixel.
First up, there are a couple of new accessories that help you charge using more traditional USB ports. The strikeLINE is a USB-C to USB-A adapter, which lets you connect a device with a USB-A cable to a USB-C port. There are also the strikeLINE USB-C Charge & Sync cables, which come in two varieties: one is a USB-C to USB-A cable, while the other is USB-C to reversable Micro USB.
SCOSCHE is also introducing the strikePORT adapters, which expand port options through USB-C. The adapters feature ports for USB-A, HDMI, and USB-C (for charging), and are meant to help connect you to an external monitor.
Finally, SCOSCHE is also introducing a new accessory for drivers. The strikeDRIVE is a USB-C car adapter, which lets you charge your USB-C device while you drive. The adapter features two 12-watt ports to let you charge multiple devices on the go.
All of these accessories are set for a Spring 2016 arrival. While SCOSCHE didn't announce exact pricing, it did say that these products would fall in the range of $19.99-$79.99.
Hell yeah. Go to Best buy so I can get super cheap discounts.... Posted via the Android Central App

Would be nice if you could do a write up on USB C. It's mentioned a lot in reviews now, but not really justified other than being reversible. Posted via the Android Central App

Como puedo ó donde puedo adquirir uno accesorio como este ?? Alguien que pueda ayudar gracias Posted via the Android Central App
Android Central Newsletter
Thank you for signing up to Android Central. You will receive a verification email shortly.
There was a problem. Please refresh the page and try again.