Save your Smurf friends and become the hero of the village in Smurfs Epic Run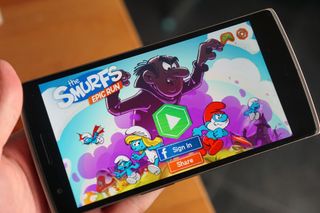 Join the Smurfs in their brand new adventure on Android. Smurfs Epic Run sees the player tasked with playing as their favorite characters to run away from the evil fog spell, journeying across various lads and gathering powerful magical artefacts to save their Smurf friends and become the hero of the village.
You'll be able to play as Papa Smurf, Smurfette, Handy Smurf, as well as a dozen more. Each character has unique powers that can be boosted by trinkets, companions and power-ups. Various game modes will keep you entertained, while Smurfy activities will earn you prizes each day for collecting golden keys and completing Para Smurf's daily missions.
It looks to be an epic platformer for those who enjoy watching the Smurfs, or for people who require something new to try out on their smartphone. Smurfs Epic Run is available on the Google Play Store (opens in new tab) for free, so there's really no reason not to try it out. Will you become the hero the Smurfs so desperately seek?
Just because http://www.iamlost.com/features/smurfs/commies.shtml Pants
Android Central Newsletter
Thank you for signing up to Android Central. You will receive a verification email shortly.
There was a problem. Please refresh the page and try again.