Rogers now taking reservations for 4G LTE devices, including the Galaxy S II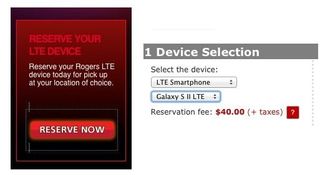 Rogers for the past little while has been taking pre-orders for new devices through online accounts services and now with the announcement of their 4G LTE expansion coming this month, they've started taking online reservations for LTE devices as well.
As of now, you'll find the Samsung Galaxy S II LTE listed along with Rogers LTE Rocketstick (Sierra Wireless AirCard 754S). Reservation will set you back $40 per device but that's cheaper then pre-ordering from Best Buy which typically costs you a $50 deposit.
Rogers 4G LTE is already live in Ottawa but come September 28 they will be lighting up the largest city in Canada - Toronto. Pricing for the LTE equipped devices hasn't been announced as of yet but, if you're wishing to be among the first with an LTE Samsung Galaxy S II you can now get your reservation in.
Source: Rogers
Android Central Newsletter
Get the best of Android Central in in your inbox, every day!
Thank you for signing up to Android Central. You will receive a verification email shortly.
There was a problem. Please refresh the page and try again.