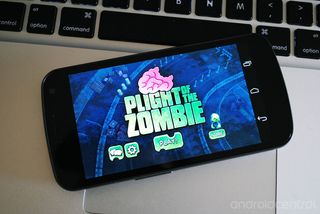 Although I'm not normally a fan of games that require me to think a lot, a new puzzle game named Plight of the Zombie has me rather engaged at the moment. In it, you must figure out how to collect as many brains as possible all while trying to avoid getting killed by those blasted uninfected humans.
Play over 30 deliciously brainy puzzles
Support a savory cause by helping end zombie hunger
Appetizing store with plenty of tasteful accessories for your zombies
It's free! Some people say there's no such thing as a free lunch. We beg to differ...
Plan your route, grab some brains and move on to the next level. If you get stuck, you can optionally purchase items to help get you past the harder levels but it's more fun trying to get past them the old school way. Plight of the Zombie is available now for free in the Google Play Store. You can jump below to check out the game trailer and grab the download.
Download: Plight of the Zombie
Be an expert in 5 minutes
Get the latest news from Android Central, your trusted companion in the world of Android