Picture perfect holiday gifts for the photographer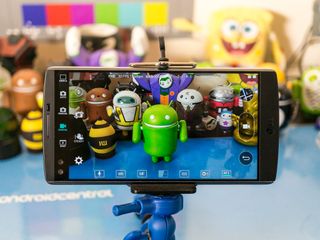 Taking amazing quality photos and video is easier than ever with the cameras found on today's high end smartphones. There are devices available beyond the stock smartphone shooter that meet the needs for every photographer, whether they be a professional or ameteur. It's up to you to choose what suits your skills. For even more gift ideas for the holiday season, feel free to check out our extensive 2015 Holiday Gift Guide.
LG V10
The LG V10 has one of the nicest cameras we've seen on a smartphone in 2015, featuring a 16MP shooter on the back and dual 5MP (80/120 degree) front-facing cameras to get crazy with those selfies. When shooting video, the V10's manual mode allows a traditional 30 or 60 frames per second, but you can also switch to a more cinematic 24 FPS. Along with the V10's automatic modes for snapping shots with its rear camera it's even capable of switching to manual mode and shooting RAW. Camera perks aside, the LG V10 is a great smartphone with impressive specs and plenty of features that easily make it one of the best devices of this year.
AT&T (opens in new tab) T-Mobile (opens in new tab) Verizon (opens in new tab)
GoPro HERO4 Session Starter Bundle
GoPro's new HERO 4 Session is its smallest and lightest camera yet. Not only does it capture professional quality video at up to 1440p, it can snap 8-megapixel photos with a 10FPS burst. Its durable, waterproof design is built to handle every environment without extra housing. Even for a novice the HERO 4 Session is simple to use with its one-button control. This starter bundle includes everything needed to jump right into the action: the HERO 4 Session Camera, headstrap mount with quick clip, and a 32GB MicroSDHC card.
$199 at Amazon (opens in new tab)
Olympus OM-D E-M10 II
This compact and lightweight mirrorless digital camera is great for a variety of different style shots and features a 3-inch OLED display and built-in Wi-Fi for sharing your shots to your smartphone instantly. The included 14-42mm EZ lens is a good starting point, but there's also a vast selection of other great lenses that won't break the bank. Its 16MP Live MOS sensor features a new 5-axis image stabilization system usable for both still and video shooting. This camera doesn't capture 4K video, topping out at 1080/60p, but its images and video still look amazing for beginner and intermediate photographers.
$699 at Amazon (opens in new tab)
Case Logic Hybrid Camera Case
If you're using a respectable camera you should have a way to protect it when traveling. Sized for easy portability, this compact camera case provides a safe and efficient way to travel with your high zoom camera. With plenty of zippered storage inside and out, there's ample room for memory cards, USB cables, lens caps, batteries, your go-to lens and camera. The integrated belt loop, padded handle, and removable shoulder strap provides multiple carrying options to meet your needs. These Case Logic hybrid cases come in an assortment of sizes (opens in new tab) as well if you need extra room.
$11 at Amazon (opens in new tab)
HTC RE Waterproof Digital Camera
A more portable and affordable option that takes great quality photo and video is the HTC RE Camera. The ultra-wide angle lens on this 16-megapixel shooter provides an impressive 146-degree view with automatic image stabilization. Recognizing your grip as soon as you're ready to record, the HTC RE Camera automatically kicks on, eliminating the need for a power switch. There's only one button to manage on this device and you can store all your shots on a MicroSD card. It's even waterproof, so you can take underwater shots without worrying about damage — just don't go too far overboard.
$73 at Amazon (opens in new tab)
Nikon D3200 DSLR Camera (Lenses Bundle)
An excellent entry-level camera to consider for the aspiring photographer is the Nikon D3200 DSLR. Its 24-megapixel sensor produces low noise images at a high resolution using a user-friendly interface. Whether you're using RAW or JPEG modes, images taken with the D3200 are of an outstanding quality for its price range. When it comes to shooting video, the dedicated record button makes it quick and simple while you capture amazing Full HD 1080p video. Nikon's Autofocus Technology packs a bunch of built-in features that manage the best shots for environment. Included with this bundle are 18-55mm and 55-200mm lenses.
$500 at Amazon (opens in new tab)
Joby Gorillapod Tripod
Much more flexible and versatile than the average tripod, the Gorillapod is designed to attach to cameras with a 1/4-inch or 3/8-inch tripod thread and features flexible joints that bend and rotate 360-degrees for the optimal position — whether that's setting up on a flat surface or wrapping around a pole for stability. This tripod is built tough and supports an overall weight of 6.6 pounds, and uses ring/foot grips that enhance its stability and grip. Adding this camera accessory to your arsenal will allow you to capture unique shots in all sorts of environments.
Android Central Newsletter
Get the best of Android Central in in your inbox, every day!
Thank you for signing up to Android Central. You will receive a verification email shortly.
There was a problem. Please refresh the page and try again.