Netflix now available on 24 devices -- most tablets still excluded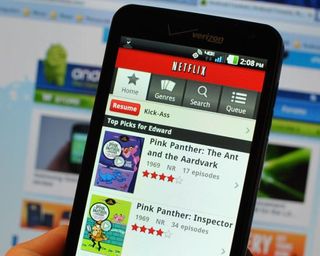 So, the good: Netflix has quietly added support for a slew of Android phones, bringing the total to 24. That's two dozen devices on which to stream movies to your heart's content -- including the upcoming Motorola Droid Bionic.
And, now, the bad: Except for the Lenovo K1 IdeaPad -- which kinda sorta isn't really on sale yet -- tablets are still nowhere to be found. No Motorola Xoom. No Galaxy Tab 10.1. Heck, no Galaxy Tab 7, either. No ASUS Transformer. No Toshiba Thrive. Odd, to say the least.
But, we'll take what we can get, we suppose. We've got download links for Netflix, plus the full list of supported devices, after the break.
Currently Netflix playback is supported on the following devices:
Casio G'zOne Commando C771 with Android 2.2
HTC Doubleshot
HTC Droid Incredible
HTC Droid Incredible 2
HTC EVO
HTC EVO 3D
HTC G2
HTC Thunderbolt
Lenovo IdeaPad Tablet
LG Revolution
Motorola Atrix
Motorola Droid
Motorola Droid X
Motorola Droid X2
Motorola Droid 2
Motorola Droid 3
Motorola Droid Bionic
Samsung Droid Charge
Samsung Epic 4G
Samsung Galaxy S
Samsung Galaxy S 4G
Samsung Fascinate
Samsung Nexus S
Samsung Nexus S 4G
WHEN THE F#&% IS IT GOING TO BE AVAILABLE FOR THE SENSATION!!!!!!!! How the hell is it going to be available on the Bionic, when it seems to be discontinued cause of the Dinara, even the cheap G2 has it. Damn you Netflix with your price hikes and zero availability!

I think you can just go search online for the EVO version of it. Buddy of mine did that and it installed just fine on his Sensation. He watches movies on it every day during his lunch break. That device compatibility thing is kind of bull... just google it and get the .apk for yourself.

I have it working on my Sensation. I had a Titanium Backup from my HD2 running a Nexus One build. When I did the restore apps/data on my Sensation I figured I'd give it a shot, and installed the Netflix app and tried it out.

I have the sensation and I wanted to see if it would play on mine so I downloaded it from the market and it does work...so far

i think you missed something there phil DROID BIONIC.... kind of a big one

lol. What's so big about it being on a phone you can't yet have?

Uh..you card no read good.
"Motorola Droid Bionic"

Does it not work in Canada? Wont let me download on my Bell Atrix :(

Cool! Glad to see this. . .

Doesn't work on Tbolt, quits right after it almost starts to play

Same here. I'm running stock ..tried a reboot. DRM license error. Bummer.

Same on Droid 2.
Gah! And no moto xoom support still??

Same problem here on stock Tbolt.

same issue on the Charge – rooted stock rom.

Doesn't work on the Droid 3 either, maybe that's why it was quiet, they don't want to people to notice yet...

Does not work on the thunderbolt. DRM issue.

Sigh, still no Infuse.. That phone was made for netflix...

Quits right after log in on the Charge

I'm reading in forums that the new version hasn't quite been pushed out yet, and thats why these new phones are having issues.

If it works on the Thunderbolt, it should work on the HTC Inspire 4G. Get on that, Netflix/AT&T. This is getting ridiculous.

I somehow had it working on my sprint galaxy tab on wifi a few days ago.

False/Premature advertising that it works on the Samsung Fascinate

Works on the fascinate if you're running gingerbread (cm7)

I just downloaded the app from the market and checked the version. They're still serving version 1.2.2 which doesn't work with the new phones yet. Try again later on in the day and see if you have more success.

Strange that the galaxy tab 7 isn't supported, as I've been using it for months now and it runs perfectly, even looks full res.

Come on, they couldn't put the Samsung Captivate along with all the other Samsung phones. Damn it I still have to wait.

i just double-checked in the market, and it said it was compatible, so i'm gonna install it... hope you can do the same

Yeah just checked the compatibility on the android market for the web and it is compatible. Unfortunately the app doesn't get past the login screen just like the other phones on this post.

think we'll ever see gingerbread on samsung captivate?

Its already out http://forum.xda-developers.com/showthread.php?t=1126704

I mean the one from samsung or at&t.I'm not a experiminter

Its not working for the thunderbolt .... :(

No EVO Shift yet? But they have EVO and EVO 3D?

Does anyone know if this Netflix works on EVO 3D with 3G? There is a modded version on xda developers site that rotates and works with 3g. Also, they use the hd resolution like iphone, supposedly. Also, there is a version for the Galaxy tab 7. XDA site, too. Basically if you have Gingerbread you should be good. Let me know about the 3D version of anyone knows. WCM

I downloaded the moded Netflix for my Evo 3D and it runs fine over 3G.

I guess Netflix completely forgot about the Great White North! Can't download/install here in Canada! COME ON NETFLIX!!! :-( Have an SGS and I'm not even allowed to install it....

Closes after sign in on Epic 4G running EC05 2.2

Having same problem on my epic

I'm seeing the same thing on my Epic with 2.2. Way to get my hopes up Netflix...

That company has been a total let down, it doesn't work on my 2.2 Epic either. Lame.

No Epic love here either!!! Why would they even announce support for this phone as the official Gingerbread update isn't even available yet.

Ditto! NOT working on my Epic 4G with 2.2. Just closes out after attempting login.

Same problem on my rooted Epic running ACE ROM.

Problem here as well. Epic 2.2 = no go.

Same here, running EB13 2.2. Yes I have EB13. I don't want that Sprint ID crap tainting my phone.

don't work with AT&T samsung captivate. lets me do the signin then quits!!!

EVO 3d , working perfect :). No root .

Can't believe it still doesn't support tablets! I don't know about anyone else but I don't sit there and watch movies on my phone. That's what a tablet is for!

It all has to do with money and licensing. Many entertainment/content providers still don't know how to get with the technology. They want to be paid for ANY screen that their content is shown on (be it computer, smartphone, tablet, set-top box, game console, big-screen TV, or movie theater). And they want it per license, per device. They work deals with each cable/distribution company to provide content to them. They don't see Google/Android as a distribution company (like Comcast, Verizon FiOS, or Direct TV). They only see device-makers (HTC, Samsung, etc.) and want to make deals with each of THEM (per device). Netflix has to accommodate them one way or another in order to distribute their content. Until they work out a deal for EACH tablet/smartphone, it will be held up. It would be wonderful if a deal could be struck with Google so that it would be a blanket license within Android, but that's not going to happen because everyone wants their own piece of the pie.

White screen with audio playback on DROID Incredible 2 :-(

Why is there still no support for the myTouch 4G?
The market will install it but it still won't play.

TMO doesn't get that much love. It's on MT4G Slide but not MT4G or Sensation both of which are great phones especially with MT4G getting 2.3.

Incredible 2 White screen!!

I have the Samsung Droid Charge and the app is not working. I called Netflix customer service this morning and they verified that the Samsung Droid Charge is not one of the phones supported by Netflix. What is going on here?

The version that works with the charge, 1.3, is still not loading from the market. They are on 1.2.2 or something. Let the market update.

Can someone post it somewhere where us Canadians can get it?

Doesn't matter if you install it, when you try to start streaming, it tells you it only supports iphones.

Yeah not working on my stock bolt. Licence error.

Add the Samsung Captivate to the list!! The only issue is that it won't let you get past the sign-in screen lol ...... So close (2.2)

Anyone else have a Thunderbolt, and is unable to play? As soon as the movie starts the player closes and returns to the movie listings... HTC THUNDERBOLT, stock/unrooted

Yep. If you simply look at the comments here, multiple have stated that.

Another reason I kinda miss my Epic. Moreover, sad Galaxy Tab 7 user is sad.

So it looks like the market will let me download it onto my Thunderbolt but it probably won't work. Well that's pretty stupid. I could do the same thing with the leaked version so I wonder why they would send out an official version that craps out due to DRM issues. I'll give it a whirl I guess and wait for an update to the app in the coming days, weeks, months, years.

Yeah, my Thunderbolt won't play either... When movie is about to start it goes back to listings... Man, that B-LOWS

Wow from all the errors people are having with the Thunderbolt and Droid 3 this might actually be a issue with Verizon not Netflix. Also why in the hell do they have it for the 3D and not the Sensation :-(

Wow from all the errors people are having with the Thunderbolt and Droid 3 this might actually be a issue with Verizon not Netflix. Also why in the hell do they have it for the 3D and not the Sensation :-(

I don't understand why this is such a FICKLE application... I mean, really, it is *basically just a video player*, so why the Hell is it so much trouble to make it work on so many phones?? Don't say "fragmentation" because there are tons of video players that work great on nearly ALL DEVICES!

If it works for Fascinate will it work for Mesmerize?

I have an EVO 4G Unrevoked/rooted, Netflix works great over 3G, gets a 1009 error when attempting to go over wifi though, anyone know what that is all about?

Boy was I excited when I saw that my Samsung Fascinate was now supported for Netflix. Boy was I extremely disappointed when, after installing Netflix, it would not open up after logging in. Tried turning off the phone and logging in again but no dice. Finally had to uninstall. Will try again if they get their act together.
P.S. It would be easier to type in my log in info if they allowed screen rotation so I could use the landscape mode.

anyone aware of a Silverlight plug-in for Android? At least I could play through the browser...

Well it's definitely working on my Asus Transformer and my EVO 4G to for that matter. I also agree with what others have said earlier - Android Market DOES in fact list the Asus Transformer as compatible. Go Figure! Everytime I use Netflix or Google Video one of the most frustrating things happens - the damn browser in Honeycomb 3.1 (running the latest version since the update last week) stops working and crashes. The damn thing either hangs and I have to wait for the "force close" or "wait" pop-up or it will just close altogether. It ALWAYS happens at the juicy parts! I hate it when that happens...

Count me in the ThunderBolt FAIL group. Great quality control Netflix.

The problem is with the version. Its still downloading 1.2.2 instead of 1.3. Oh well, and I thought I might get to watch something on my SGS. :(

I do the login and it shut down or gives me a white screen. Samsung Fascinate

Failing on my TBolt as well, rooted with stock rom

Works fine on my Samsung Galaxy S 2... and thats not on the list.

Downloaded but does not work on the Samsung Charge :( I go to log in and the app closes out. Patch today??? please

Same thing happens on my Charge.....log in and closes app....Rooted but no Roms

Won't play on my Thunderbolt either... does this actually work on any phone??? This time when I tried playing something it logged me out and is frozen on the login screen, instead of just not playing and getting DRM messages...

Not working on my TBolt. I wonder if this has to do with sideloading the .apk when Netflix first came out? I'm going to clear data/uninstall/reinstall and see if that helps. Has anyone with a TBolt gotten Netflix to work?

No such luck -- this time it started playing for a split second but then I got the DRM notification. (Like what happened with the original .apk) I'd be more upset if this was only affecting TBolt owners, but it sounds like everyone is being affected.

It works great on my TBolt running CM7. I believe you have to be on GB ROMs for it to work! :)

Ok I downloaded on my Samsung Galaxy S ( Tmobile Vibrant 2.2 ) and everything so far so good but is not allowing me to sign in, please fix

Tmobile's Vibrant. Just downloaded. Can sign in, then it just closes. How disappointing!!! Come on Netflix. Raise prices, then this???

Works great on my G2 with stock Froyo.

Currently watching "1000 Ways To Died" on Netflix App. Evo 3D!!!! cheahhh!!!!!

Maybe they are releasing it in anticipation of many of these devices receiving Gingerbread in the coming weeks...

I like your optimism and am gonna cross my fingers!

I am a Fascinate owner. Optimism is actually embedded in my device. ;-)

We need the link to version 1.3 for the new handsets to work according to the market description.

Anybody have the apk download link for this? Wanna check and see if it's working on my Droid Pro yet.

Tally another Netflix-not-working-on-stock-TBolt. Tried 3G, WiFi, then realized it's a DRM error. Bah Humbug (but getting closer!!!)

I have the Droid 2 global.. It finally let me DL the app, Login, but when i go to play a show, it loads it and then right when its about to play it kicks back and doesnt start. Tried it many times, not working.. Greast I was all excited for nothing.

I'm having the same problem on my Droid 2 Global.

no SENSATION??? the evo 3d and sensation is basically the same device!

The EVO View 4G actually officially supports it, you can download it from the market and everything (once you update it officially to 2.3.4). So consider it the tablet winner. :)

Works great on my Epic running stock leaked GB (EF10).

I have had mine on my Evo for a while now and it only seems to work on WiFi. Sprint seems to be having a lot of problems with the network since I keep getting network errors with more than just the Netflix app. Netflix so far is a FAIL.

Considering GB has been running as a leaked ROM since day 1 on Thunderbolt I can't see why they haven't been able to release it officially to the stock crowd.

Based on comments in Lenovo's announcement of their new tablets, I smell a contractual agreement between Netflix and Lenovo that is delaying the implementation of streaming on all other tablets, at least until the first Lenovo tablet is officially released for sale. I'm hoping once that is out of the way, I can shortly expect to start enjoying Netflix on my ASUS TF.

check your market for Netflix. I found it in new apps. I can log in, unlike with me fascinate, and do everything but when I try to watch a, movie it says error has accurd. The app wasnt in the market just yesterday. The tf isn't supposed to have it but I do, it just doesnt work all the way. I was wondering if everyone had it in the market.

Anyone else getting a green line on the bottom of the screen for the Atrix? Edit: that was quick. Lastest update fixed the problem.

I called Netflix customer service and let them know of the version problem. We'll see if it helps.

I just checked the market again, they updated the app to 1.3. I updated it and now its working!!!!!! Time to start watching more Top Gear! Edit: using thunderbolt, stock, unrooted.

No go with my Verizon Galaxy S Fascinate on stock Rom. Crashes after clicking the "sign in" button.

No go with my Verizon Galaxy S Fascinate on stock Rom. Crashes after clicking the "sign in" button.

The app in the market has been updated to 1.3!!

I see the update, but the marketplace is not giving me the option to update. Rebooting.

Got the update. All good on my Fascinate.

Got the update. All good on my Fascinate.

Update fixes thunderbolt issues for me.

I downloaded Netflix 1.3 for stock TB and it still doesn't work..I get as far as the movie starting to play then it kicks me back out to the qeue. (update): As I posted that, an update for Netfix came through..works fine now.

Confirmed that the new 1.3 update in the market now makes it work for my Droid2. Everyone should go get the update ASAP and try using again before filing any more complaints. I think Netflix heard us.

When I used the Market Place app and downloaded netflix it had ver 1.2.2, but going through netflix.com and installing the app worked and was 1.3. Why the difference?

why is it in market for my transformer? It wasn't there until today. I can open it and do everything expect watch a movie. It won't even let me log in on my fascinate. Any other tablets see it in the market?

OK, wtf Netflix? I can't update my facsinate app but my transformer and see the update but it won't let me do the update. Wtf is going on with shitty app?

If you can't load the update. Reboot the phone, you should be able to updated after without any issues.

i still dont get it why dont they put HTC sensation 4G lol cuz i have the app n i see it thro the fone wit no problems

Awesome! Working fine. Droid Charge stock.

Nothing on Stock Epic but it just put up a sign that site is temporarly down...

UPDATE: EPIC is RUNNING!!! Come on Galaxy Tab!

And figure out something for the Galaxy 10.1 I need some Honeycomb love!
Android Central Newsletter
Get the best of Android Central in in your inbox, every day!
Thank you for signing up to Android Central. You will receive a verification email shortly.
There was a problem. Please refresh the page and try again.