Mophie's new Powerstation Hub is a jack-of-all-trades wireless charger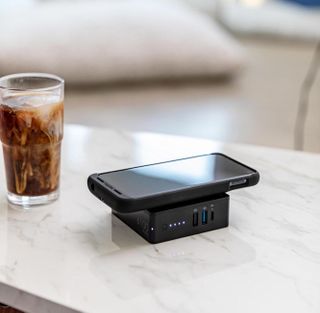 What you need to know
Mophie unveiled its new Powerstation Hub multi-faceted charger.
It can serve as a plug-in wall charger at home or charge your devices at home via wireless charging.
It comes with two USB-A ports, one USB-C port, and a Qi-enabled wireless charger that works through the built-in 6,100mAh battery.
Mophie today unveiled its latest portable charger, the Powerstation Hub, which is a two-for-one proposition. Not only is it a portable charger that can charge your devices wirelessly (or wired if you're still into that), it also comes with an AC prong to hook up directly to your outlet and serve as a charging brick.
That's a lot of functionality in a charger that is a perfect traveling companion. On the outside, it looks like a standard wall plug with a rectangular design outfitted with two USB-A ports—one is a QuickCharge 3.0 at 15W and the second is a standard 5W port—and a USB-C PD port that support charging speeds up to 18W.
Moving over to the side lives the Qi-enabled wireless charger at 5W that will be powered by the 6,100mAh internal battery.
At the bottom front end lives the a battery button, four-LED battery indicator and an LED light that glows when it's plugged in through the AC prong. Speaking of which, that lives on the back and can be removed.
All told, this is a pretty nifty charging device. It's just 84mm x 84mm x 29.5mm, which also makes it super compact to fit in a bag.
Mophie's new Powerstation Hub is now available for $99.95.
Charge whenever
Charge with wires or without, it's your call
Mophie's new Powerstation Hub is a jack-of-all-trades charger that can charge your devices at home as a wall plug, or on the go through its Qi wireless charger. It has two USB-A ports, one USB-C port, and a built-in 6,100mAh battery. It's the an ingenious charging solution.
WOW, that's expensive! Just buy the Anker without USB C and wireless charging for less than $30 and be done with it. MoneyGrab at its finest.

Needs at least 2-3 more USB ports for me. Although with wireless maybe just 1-2 more would work. Using 5 port USB charger from Anker now. 1 for home and 1 for work with a 4 port for traveling
Android Central Newsletter
Get the best of Android Central in in your inbox, every day!
Thank you for signing up to Android Central. You will receive a verification email shortly.
There was a problem. Please refresh the page and try again.