How to claim your free copy of the Moss soundtrack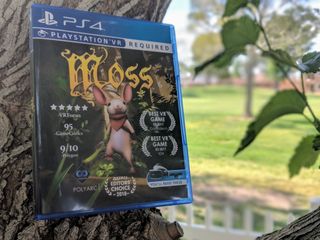 Since its launch, Polyarc games have continued to expand the availability of its brilliant VR game Moss and today, they are adding even more incentive to buy.
Anyone who has purchased Moss on any of the platforms it is available on — which currently includes PlayStation VR, Oculus Rift, HTC Vive, and Windows Mixed Reality — can now download the entire soundtrack for free. In case you are one of those people who doesn't listen to the music when playing, the Moss soundtrack is simply wonderful and would be a calming playlist for any day.
How to claim the soundtrack.
The process is slightly different on each system but Polyarc has made it as easy as possible to do, just follow these instructions and you should be good to go.
Note: The free download is only available for people who buy the game before August 17th 2018. Polyarc will be offering the game as a bundle with the Soundtrack for $29.99 until August 17th, rising to $34.99 after that.
PlayStation VR
Gamers can go to the Moss Soundtrack page in the PlayStation Store to download it directly from there. At the time of writing the soundtrack isn't available but we will update this post when it does arrive, possibly on August 3rd to coincide with the steam release.
Steam
Gamers will find the soundtrack in the DLC section of Moss as part of the game update hitting August 3, 2018. Players have until August 17, 2018 to download the MP3 files before the soundtrack is removed from the DLC section of the single-game purchase.
VivePort
HTC will send gamers an email with a code allowing them to redeem and download the soundtrack from Bandcamp after August 17, 2018.
Oculus Rift, Gamestop, and Physical Purchase
Polyarc will send gamers a code allowing them to redeem and download the soundtrack from Bandcamp after August 17, 2018. Note: gamers need to send soundtrack@polyarcgames.com proof of purchase by August 18, 2018 to be eligible for the free copy of the soundtrack.
Let us know what you think.
So there we go, some simple ways to get the soundtrack, and some more convoluted but hey, free stuff is free stuff. Did you get your free copy? what do you think of the soundtrack and of moss? Let us know in the Comment section.
Get the Android Central Newsletter
Instant access to breaking news, the hottest reviews, great deals and helpful tips.
Since the days of the HTC Hero James has had two or three Android phones stuffed into pockets. James is always on hand to offer advice on phones, apps and most recently, PlayStation, especially VR, It's now something of an obsession. Find him @keridel wherever Media Socials itself.