How to change languages on the Samsung Galaxy S5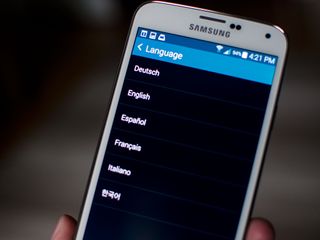 The Samsung Galaxy S5 supports a handful of languages right out of the box. You can apply them not only as your system language, but as the keyboard language as well. So if whatever language came pre-selected on your Galaxy S5 isn't your native language, you can easily change it within settings.
How to change the system language on your Galaxy S5
Tap on the Settings icon. Alternately you can access settings from the Notification Shade if you'd like.
Tap on Language and input under the System section. It's quite a ways down on the Settings page.
Tap on Language at the top.
Tap on the language you'd like your Samsung Galaxy S5 to use.
That's it. The Samsung Galaxy S5 should instantly start using your chosen language, no reboot required.
How to change the keyboard language on your Galaxy S5
Tap on the Settings icon. Alternately you can access settings from the Notification Shade if you'd like.
Tap on Language and input under the System section. It's quite a ways down on the Settings page.
Tap on the gear icon next to the keyboard you're using and want to change the language on.
Tap on the checkmark box next to the language you'd like to keyboard to use. Uncheck any ones you don't want to use. You can have multiple keyboards enabled at once.
When using the keyboard swipe sideways on the space bar in order to swipe between keyboards if you've got multiple ones selected. This will quickly toggle between them.
What if my language isn't supported?
If the language you want isn't supported on the Samsung Galaxy S5 out of the box, it doesn't mean you can't get it, it just may be a little more complicated. Here's one thing to try, and if your locale is supported you'll be set after a bit of tinkering with the software:
Then download MoreLocale 2
Run MoreLocale 2 and tap custom locale, near the top.
Tap the ISO639 and ISO3166 buttons to pick your country and language from the list, and tap Set.
on S4 I wanted to change it to Polish for someone I had to go into adb and do some sort of pm.command for it to work in Polish. He is now in Poland (has verizon s4) and after kitkat update the language is mixed half english half polish any easy way to change it?

Don't feel like trolling, but directions how to change language for someone who can read are superfluous. That's probably the easiest thing to set up on any device - unless you don't speak the default language of the device at the time of the purchase. In that case this article would be beyond the reach to begin with.
Then again, who am I to question how helpful someone can find this. To my knowledge, if one does speak English and finds this hard, has to be mentally challenged. So, in a way, it is nice to have someone taking care of those in need. And I object, your honor!" :)
I take it back. There are def many people I know (my parent's age) that are simply scared of messing with gadgets and they don't have always someone around to guide through. My friend's dad (who is an Architect) came to us and said -can you just show me how to make a call and turn it off".
Big apology to AC. P.S. try to do these helpful tips for other Android devices too :p

What if she's trolling all GS5 buyers by assuming they're morons. And here we're thinking, she's trying to help them out on legitimate problems they may be facing.

Wow, awesome. I bet the writer is posting these articles as she discovers these stuff on her new phone. First the change in wallpaper, then the language setting.. An article worthy of android central standards. Posted via Android Central App

I was able to Root my Samsung S5, however Morelocale 2 did not fully install a new language, it only partially changed the names of some apps and adjusted the date and time into the new language. (Portuguese).

I have several languages set up on my Galaxy. The only problem is that the dictionary spellchecks for more than one at a time, so as I start typing I get French and Spanish words popping up!

How did you set up multiple languages? Mine seems to only allow one at a time. Same auto-correct problem... even my BlackBerry was smart enough to figure out which language I was typing in.

From a week ago, my galaxy s5 keyboard does not change the language from english or korean.(or vice versa)
I followd all the advices above, but does not work.
I do not know what to do.

My new G5phone only has foreign language on it and does not show icons. How do I get the icons up

Thank you !! Bought Samsung Galaxy J5 and all in Chinese,Including instructions.Was able to change with ease with the simple directions
Android Central Newsletter
Get the best of Android Central in in your inbox, every day!
Thank you for signing up to Android Central. You will receive a verification email shortly.
There was a problem. Please refresh the page and try again.