Harry Potter books coming to Android in October via Pottermore and Google Books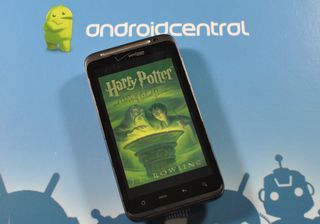 Calling all Muggles -- JK Rowling's Harry Potter series will finally be hitting e-readers this fall, and it'll be available on Android. There's a bit of a catch, as you'll actually be buying the books from the new Pottermore site in October. When you purchase, you'll have the option to save the book to your Google Books library. And from there, you can read on any Android smartphone or tablet (or any non-Android or iOS device that has a browser).
Google also announced that Google Checkout is the preferred third-party checkout for Pottermore. So if you've got an Android phone and have ever purchased an app from the Android Market, you're already set. More details are set to unfold leading up to the launch this fall.
Source: Google Books Blog
or you could have already read the books and not need to buy them... but buy them anyway :D

Eh, I've had them on my phone for months.

funny that I have also had them and read them on my android device E-book reader with calibre pairing ftw.

Android sales will be up thanks to hipsters!

Hipsters don't hate harry potter due to it being popular. Damn people need to quit using the term if they don't know what it means. If you were taking the divine comedy then it would be hipster. Anywho this will sale gangbusters and i get she wants to control her property but wouldn't amazon be the smarter route. Most people won't migrate to google books for one series.

Actually, she's selling them on her own sight called Pottermore, that way there's no middleman and more profit for her. Google is just another way to pay for them but you would still get them from the pottermore site. Pretty smart on her part to do instead of using amazon.

How about on NOOK (original, e-ink)? Will they be able to be put on it?

Yes, I believe so. The Nook accepts a lot of different types of ebooks.

from google books, you can download your ebooks in a few different formats, nook being one of the compatible formats listed.

To the people who have it, where can i download it?
Android Central Newsletter
Get the best of Android Central in in your inbox, every day!
Thank you for signing up to Android Central. You will receive a verification email shortly.
There was a problem. Please refresh the page and try again.