Google's Instant Apps rolling out to some and Wish is first out of the gate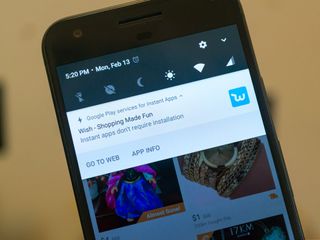 Some folks are starting to see Google's Instant Apps feature roll out to their phones and it seems like Wish (opens in new tab) is the first company to use them.
Back at Google I/O 2016 Google told us about Instant Apps. The idea is that you would find an app in your Google search results and be able to tap a button and start using it, much the same way you would use a web page. They are "real" apps with a component that installs on your phone and not a web-optimized or HTML5 app that lives completely in the cloud. This should be a great way for companies to expose people to what they have to offer from a native app without having to get us to leave the search and open the Play Store to download it. For us, it means we can get instant access to something like a shopping app instead of using a web page that might not be designed for a small touch-based screen. Everyone wins.
Up until now, everything about Instant Apps has been in a slow testing phase while everyone outside just watches. But we've heard several reports from folks saying they can install and use the Wish instant app on their phones with Android 7.0 installed. We're seeing the same thing here, and our pals at Audroid are, too. This is what the process is like.
Image 1 of 3
Open your settings and find Google Settings.
Find the Instant Apps setting and tap the switch to enable it.
Read the terms and agree.
Now when you're searching for something (in this case the Wish website) you might see a search result for an Instant App version. If you open it, you'll be able to install a tiny part of the app and jump right in.
Shopping sites and news websites will be able to benefit from these, and other companies are thinking about how they can leverage giving a user access without taking them away from their search. The idea is pretty cool, and we're excited to see how companies use it to lure us to them.
Anyone else out there seeing Instant Apps? Give a shout in the comments!