Google reminds us App Inventor shutting down at end of year, download your projects now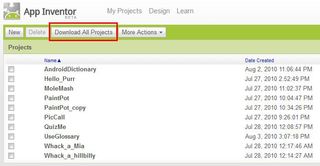 Google overnight sent out e-mails reminding users of its expiring App Inventor that it will no longer support the project on Dec. 31, 2011. As you'll recall, App Inventor was a tool that allowed anyone with arguably no programming skills to create Android apps, though it certainly wasn't quite as easy as that sounds. Google's shutting things down but open-sourcing the project to MIT, and you can migrate your projects over if you want to keep them. Head to App Inventor and hit the "Download all projects" button and you'll get a handy zip file.
Full text of the e-mail's after the break.
Wow was that even open for a year?

not trying to be that guy, but is it supposed to be,
"Google reminds us App Inventor shutting down[...]" or... i remember jumping into this & making horrible apps that were gigantically over-sized in comparison to the smaller size that they would have been if i had actually learned how to code. but it probably did help out a ton of people.
Android Central Newsletter
Get the best of Android Central in in your inbox, every day!
Thank you for signing up to Android Central. You will receive a verification email shortly.
There was a problem. Please refresh the page and try again.