Samsung launches Galaxy Home Mini beta testing program in South Korea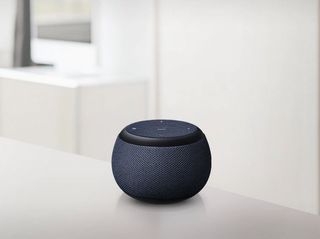 (Image credit: Samsung)
What you need to know
Samsung has opened a beta program for the Galaxy Home Mini in South Korea.
The smaller version of the unreleased Galaxy Home smart speaker had passed through the FCC in May.
Samsung's Galaxy Home Mini comes with the company's Bixby voice assistant and AKG sound technology.
In May this year, a smaller version of the Galaxy Home Mini had passed through the FCC. Three months later, Samsung has finally confirmed the existence of the "mini" smart speaker. As reported by TizenHelp, Samsung has introduced a beta program for the Galaxy Home Mini in South Korea.
The Galaxy Home Mini has a rounded shape with a flat bottom, which allows it to be easily placed on flat surfaces. While the shape is quite different, it still has a similar blue mesh as the Galaxy Home.
The info page for the beta testing program on Samsung's website confirms the smart home speaker will be capable of controlling home appliances as well as IoT devices with the help of the Bixby voice assistant. The smart speaker will also include AKG sound technologies.
Consumers in South Korea will be able to register for the beta testing program until September 1. In order to apply for the beta program, one must own a Galaxy smartphone and have the Samsung Members app installed.
Since the beta program has now been announced, we can expect the Galaxy Home Mini to be launched in at least a few markets by the end of the year. The bigger Galaxy Home, as confirmed by a company spokesperson recently, is also slated to be launched sometime in the near future.
Best Alexa-enabled Speakers of 2019
I wonder what sets this apart from the Echo or Google Home devices? I can't quite picture a need for this in the home automation market. I don't even use Bixby on my Samsung phones, let alone on a device like this. Maybe it will catch on if it works even better than the competition (and no, not just with SmartThings) and/or cost significantly less. One thing I find sorely lacking in smarthome gizmos is a master device (voice controlled) to rule everything, with some seriously powerful software above and beyond Alexa/Google routines. Delving into anything more complex than automating a few lights the need for such in a mixed device environment would be a game changer. I wish Samsung had thought along those lines and not just another 'same ol' device ... but I doubt it.
Android Central Newsletter
Get the best of Android Central in in your inbox, every day!
Thank you for signing up to Android Central. You will receive a verification email shortly.
There was a problem. Please refresh the page and try again.