Deal: HTC Bolt available for just $200 with coupon code (60% off)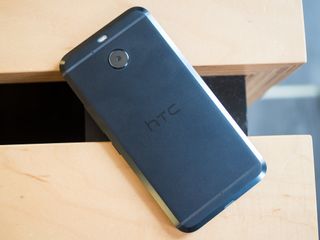 We're currently in the best time of year for buying new tech thanks to the numerous savings and promotions that are being run in preparation for the holiday season, and one of the latest companies to follow suit with this is HTC. However, the savings being offered are on a phone you might have forgotten about.
The HTC Bolt (opens in new tab) was released just about a year ago, and it was one of the most peculiar phones of 2016. It featured a great, metal build, respectable cameras, and shipped with Android Nougat. On the other hand, it also came equipped with a heap of Sprint bloatware, lacked a headphone jack, and used a processor from 2015 (the Snapdragon 810 to be exact).
Of all the issues with the HTC Bolt, one of the biggest was with its price of $600. HTC has since lowered that to $500, but if you buy the phone right now and use the coupon code BOLT200 at checkout, you'll be able to pick it up for just $200.
$200 is a lot more reasonable than $600 or $500, but even so, make sure to shop around a bit before hopping right on this deal. Devices like the Moto G5S Plus can be purchased for as little as $240 right now (opens in new tab), and for $40 extra you're getting a newer processor, dual-cameras, better chance of being updated to Oreo, and compatibility on all major carriers in the U.S.
With that said, if you're an HTC fanatic and the Bolt sounds like the phone for you, you can check it out at the link below.
See at HTC (opens in new tab)
Joe Maring was a Senior Editor for Android Central between 2017 and 2021. You can reach him on Twitter at @JoeMaring1.
For the love of god, do not get this phone. Whatever HTC did right with the HTC 10, it got completely wrong with the Bolt. Horrible quality, display problems, etc. Google for 5 minutes and you will see. I will second the recommendation that if $200 is your price range check out the Moto G series.

Definitely not going for anything with an SD 810, no jack, and on Sprint?

Jeez I would have written an article saying don't buy this crap even if it's discounted.

The Bolt sucks, maybe for free. The worst phone they ever produced! HTC, they should thank God Google has their backs! Let's see how they blow that 1 billion in reserve! Yikes!

Hot garbage is hot garbage at any price.
I don't want a bucket of garbage even if it's free.

If you are on Sprint, pick up an Essential Phone for 5 dollars per month on the lease now. You can pay it off by paying the 18 months of payments along with a thirty buck payoff price. It's less than this piece of junk and much better.

i had the bolt even at no down and only 5 .00 a month it wasnt worth it. it gets hot and then lags or locks up. I hated it so much i payed 250 down and 10.00 a month for the HTC U11. the u11 is so totally worth it. its tjhe pixel 2 without the burn in oled screen or the complications.
Android Central Newsletter
Get the best of Android Central in in your inbox, every day!
Thank you for signing up to Android Central. You will receive a verification email shortly.
There was a problem. Please refresh the page and try again.