BlackBerry KEYone now on sale at Sprint for $528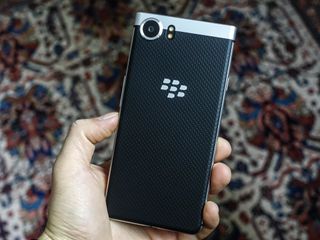 Update: The deal is now live! You can get the BlackBerry KEYone for 24 payments of $22, or $528 outright.
Although we had a little bit of a heads up on the release date thanks to comments posted on the Sprint Community Forums, TCL and Sprint have now officially announced that the BlackBerry KEYone will go on sale at Sprint starting July 14.
Orders can be placed via Sprint.com or by calling Sprint customer care. Additionally, the KEYone will be available in Sprint stores later this month. When it comes to pricing, Sprint notes the KEYone can be picked for as low as 18 monthly payments of $22, which comes out to $528 in full.
Press release:
AWARD-WINNING BLACKBERRY® KEYONE AVAILABLE AT SPRINT BEGINNING TOMORROW
OVERLAND PARK, Kan. and IRVINE, Calif. – July 13, 2017 – TCL Communication, a leading global smartphone manufacturer and global smartphone licensing partner of BlackBerry Limited, is today announcing that Sprint (NYSE: S) will be the first carrier in the U.S. to offer the award-winning BlackBerry KEYone. This all-new BlackBerry smartphone will officially be on-sale beginning tomorrow, July 14, at www.sprint.com or by calling 1-800-Sprint1 for 18 monthly payments of $22.00 (SRP - $528 USD). It will also be available at Sprint stores across the country later this month.
"This is a highly anticipated launch as we partner with Sprint who is among the first U.S. carriers to offer the award-winning BlackBerry KEYone," said Steve Cistulli, President and General Manager of TCL Communication, North America. "Expanding the availability of the BlackBerry KEYone is a significant milestone for BlackBerry Mobile, furthering our commitment to offer the best in mobile security and a distinctly different communication experience to customers across the U.S."
"BlackBerry has a long-standing reputation for providing one of the most accurate and easy-to-use keyboards and incredible security features," said Roger Sole, Sprint Chief Marketing Officer. "We are pleased to bring BlackBerry back into our device portfolio and we believe the BlackBerry KEYone will be a hit with our customers. It pairs perfectly with Unlimited Freedom, giving Sprint customers the convenience of unlimited data on an incredibly powerful and security-conscious smartphone."
BLACKBERRY KEYONE PRODUCT HIGHLIGHTS
Built to last with a durable and sleek aluminum frame with a soft textured back for extra grip. Includes a 4.5-inch touch display featuring impact and scratch resistant Corning® Gorilla® Glass 4 offering the best in resilience and durability.
Reimagined communication experience thanks to an innovative Smart Keyboard that allows you to set up to 52 customizable shortcuts and transform each letter key for quick access to your favorite apps and most important contacts. Includes the world's first keyboard-embedded fingerprint sensor conveniently located in the spacebar and provides added device security and convenience.
Distinct BlackBerry smartphone powered by Android, with the familiarity and functionality of Android™ 7.1 Nougat giving users access to the entire Google Play™ store and over one million apps.
Includes the largest battery (3505mAh) ever found in a BlackBerry smartphone, offering up to 26+ hours of mixed use, and Qualcomm® Quick Charge™ 3.0 technology enables up to 50 percent charge in roughly 36 minutes.
Pre-loaded with DTEK™ by BlackBerry, offering constant security monitoring and protection of your operating system and apps by letting you know when your privacy could be at risk and how you can take action to improve it. The BlackBerry KEYone will also receive regular monthly Android security updates, ensuring you have the safest and securest Android smartphone experience.
Features a 12MP rear camera with an industry leading camera sensor (Sony IMX378) that captures sharp, crisp photos in any light. The wide aperture lens with large 1.55μm pixels and dual-tone flash ensures your photos will have superior color and clarity.
At the core of this new BlackBerry smartphone is the Qualcomm Snapdragon 625 mobile platform with the Qualcomm® Adreno™ 506 GPU. This means BlackBerry KEYone users will enjoy a powerful combination of optimized battery efficiency and usage, plus fast LTE speeds for super-fast file sharing.
For more information and additional details on the BlackBerry KEYone, please visit www.BlackBerryMobile.com.
SPRINT'S UNLIMITED FREEDOM
For a limited time, when a customer switches to Sprint, they can get four lines of unlimited data, talk and text for $22.50 per month per line with Unlimited Freedom. Plus for a limited time, your fifth line is free! This offer includes HD streaming for videos, gaming and music enjoyment and 10GB/month per line of mobile hotspot data.
Unlimited Freedom is the nation's best value for unlimited among U.S. national carriers. T-Mobile charges extra for these HD and mobile hotspot perks. Verizon and AT&T unlimited plans cost 50 percent more
For more information on Sprint's Unlimited Freedom, visit sprint.com/unlimited or your local Sprint store.
They can't keep Verizon or the GSM in stock hopefully sprint purchased enough.

Cheaper than the unlocked model oh man let me go to Sprint to save $54.99 /s KEYᵒⁿᵉ

Not sure how much their coverage has improved but at least they're seemingly going the extra mile when it comes to handset selection. First the U11, now this.

That`s still no way for BlackBerry to be top one

these phones are so sexy. if only they'd drop the physical keyboard already.

Blasphemy! The physical keyboard is one of the main selling points!

_mmm..Are you high? The whole point in this phone is the keyboard

I thought that the whole point was consumer choice and not being boxed into a sea of candy bars. Beyond the unique form factor for android, the keyboard's shortcuts lend themselves to a totally customizable experience at the touch of a button.

Does anyone know if the KEYone aggregates the various bands to speed up the data delivery??

lol drop physical keyboard that was funny! There are plenty of non keyboard phones for you to choose from on the market.

Cleveland, Ohio, You CANNOT buy a keyone @ Sprint. They don't even know what I was talking about.

I went to a local Sprint store on Friday and they had no clue that Sprint was getting the k1 . I then went to Best Buy and they had no idea. I still ended up with a lgg6 for the wife before they do away with instalment plans and try to lease out all their phones..
Android Central Newsletter
Get the best of Android Central in in your inbox, every day!
Thank you for signing up to Android Central. You will receive a verification email shortly.
There was a problem. Please refresh the page and try again.