Best Replacement Thumb Grips for PlayStation 4 Controllers in 2022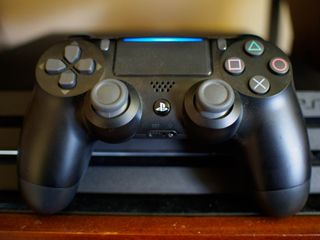 (Image credit: Android Central)
It's no secret that the DualShock 4's weak point is its analog sticks. The surfaces are slippery and domed, and the grip material isn't very durable. Some players also find them to be too stiff. Thumb grips for your PlayStation 4 controller can help with all of that. We've highlighted the best options here, from grips designed to give you an edge in first-person shooters to entire collections of grips that can be used for matching your style — or simply protecting the controller from wear and tear.
Ultimate Control
KontrolFreek Galaxy Performance for PS4
KontrolFreek's Galaxy Performance offers superior grip and security thanks to its clasp-like mounting mechanism and studded surface. Heightened raise also gives you greater control, offering greater accuracy and range of motion.
For FPS Gamers
KontrolFreek FPS Freek Vortex for PS4
Here's something specifically for those who love playing first-person shooters. These grips vary both in height and surface design — one is concave and the other is domed. This setup helps you lock onto your targets faster.
Most accurate
KontrolFreek Inferno for PS4
KontrolFreek's Inferno option provides two concave grips that can be specifically adjusted with 9.9mm of added height, alllowing for better accuracy that won't slip.
Affordable Quality
Insten Silicone Analog Thumb Grips
Insten's grips are very affordable. At the same time, they also look great and offer a bumpy surface to help keep your thumbs from slipping.
Show Your style
BeautyMood Colorful Thumb Grip Caps
BeautyMood's collection of silicone thumb grips won't offer the best control, but you get 40 of them in all. There's a great variety of colors and styles too, a great boon for customization buffs.
Total Control
Pandaren Studed Anti-Slip Package
There are four different pairs of grips in Pandaren's package, each with a distinctive style and design. Mix and match them however you like. Pandaren gets bonus points for the studded controller skin.
A tight grip
Grip-iT Analog Stick Covers
Grip-iT's analog stick covers have been around for some time, and are usually one of the go-to recommendations when it comes to grips. Thanks to their tight fit on the analog sticks, it makes keeping a tight grip much easier, and their affordable price makes them one of the best buys out there.
Go for the best
Why you can trust Android Central Our expert reviewers spend hours testing and comparing products and services so you can choose the best for you. Find out more about how we test.
There are tons of thumb grips out there to consider, with many of them fitting like loose-fitting socks or not quite getting the "grip" part right. However, we're confident that these are the best thumb grips you can buy for your PlayStation 4 controller. KontrolFreek offers the best of the best, though. While pricey, the raised design and tight grip of the KontrolFreek Galaxy Performance give you all the control and comfort you need, all the while protecting the material on the original analog sticks from wear and tear.
If you're looking for a cheaper fix, though, then the Insten Silicone Thumb Grips might be your best bet. Not only are they affordable, but they also offer a tactile, bumpy surface on their analog sticks, which provide a better grip for those especially intense moments of gaming.
Sign up for Black Friday email alerts!
Get the hottest deals available in your inbox plus news, reviews, opinion, analysis and more from the Android Central team.