Best Cases for Honor View 20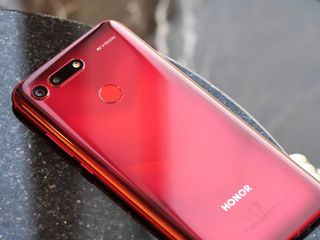 The View 20 is Honor's latest "affordable flagship," with dual cameras and a hole-punch display. Combined with the bold colors and chevron pattern along the back, it's a gorgeous phone with a design that's worth protecting — that's why we've sought out the best cases that'll keep it safe.
Show off those chevrons
(opens in new tab)
The FlexiShield isn't a complicated case. It's a clear cover that adds a bit of grip and protection to the View 20, with all the necessary cutouts for the camera, ports, and fingerprint sensor. You get peace of mind without having to cover up that beautiful glass back.
Faux leather
Another case from Olixar, the Attache is a durable TPU case with leather-like stylings. Though it covers the View 20's chevron pattern, the leather texture adds grip to the phone, and the case is backed by a two-year warranty.
No party like the first party
If you prefer to buy a case made directly by the manufacturer, Honor offers a simple silicone case that covers the back and sides of the phone, while leaving the bottom open for easy access to the charging port and speaker. As a bonus, it should add a bit of grip to the phone, too.
Card slot
Just like the standard silicone case, the wallet case is made by Honor itself, with the only major difference being the added card slot for your ID or credit card. Interestingly, the volume and power buttons are left uncovered this time, though otherwise it's basically the same case.
Shockproof and mountable
Armor-X's case allows you to mount your phone to anything from your car to your bike, a tripod, or even a boat using a magnetic mount that doubles as a kickstand. You can also attach a hand strap or carabiner, making this a unique case for someone who's constantly on the go.
Thin and colorful
(opens in new tab)
We've featured Anccer cases a number of times here on AC, so we're thrilled to see the company's supporting the Honor View 20. Anccer's cases stick out for a couple reasons — They're incredibly thin and are available in a multitude of striking colors. You'll also find accurate cutouts and get a no hassle warranty to give you some peace of mind.
There aren't many cases available for the View 20 just yet, but the ones in this list should serve you just fine. If it were my money, I'd buy the Honor wallet case so I could keep a card or two with my phone at all times, but the Olixar FlexiShield (opens in new tab) is a more cost-effective option.
Hayato was a product reviewer and video editor for Android Central.
Android Central Newsletter
Thank you for signing up to Android Central. You will receive a verification email shortly.
There was a problem. Please refresh the page and try again.