Acer officially says A100, A500 tablets get Ice Cream Sandwich in April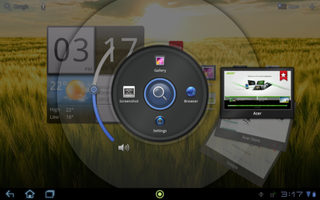 Acer today officially announced the timing of Android 4.0 updates to its Iconia Tab line of Android tablets. Here's the skinny:
The A200 (read our full review) is in the midst of getting its update to Ice Cream Sandwich., and the roll-out should be completed in the coming week.
The A500 -- Acer's lead 10.1-inch tablet (read our full review) and the lower-end 7-inch A100 (our review) will be updated in April.
Acer says with the ICS update, the A500 and A100 will receive the Acer Ring launcher (seen above) that's already on the A200. The Ring is a customizable launcher that gives quick access to apps, bookmarks and volume controls. There's also an updated weather widget, and you'll have quick-launch app access from the lockscreen (again, like on the A200). There are improvements to photos and videos as well, including the ability to take still images while recording video.
We've got Acer's full presser after the break.
ACER ICONIA TAB TABLETS UPDATED TO ANDROID 4.0
Acer Transitions Popular Iconia™ Tab Line to Android 4.0 to Give Customers More Features and Capabilities
SAN JOSE, Calif., Feb. 17, 2012 – Acer America is now updating its award-winning Acer Iconia™ Tab line of tablets with the latest version of Android 4.0 OS (Ice Cream Sandwich).
The update is being pushed to Acer Iconia Tab A200 customers over-the-air now in the United States and will be completed over the following week. The Acer Iconia Tab A100 7-inch tablet and Acer Iconia Tab A500 10-inch tablet will both be updated in April.
With Android 4.0, the Acer Iconia Tab line will provide new features to give customers more usability and enjoyment from their tablets. Customers will notice the improvements right away – including the faster browser, enhanced app and folder management options, more intuitive navigation, and a completely reimaged design that is more polished with enhanced holographic effects. Plus, customers can more easily customize their Acer tablet and will enjoy improved multitasking and switching between tasks. They will also appreciate improved integration with Gmail's email and calendar functions.
"The many enhancements in Android 4.0 OS complement the sleek, powerful and well-designed Acer Iconia Tab tablets to give customers an all-around first-rate experience," said Paul Tayar, Director Product Marketing – Connected Devices, Acer America. "Customers will experience greater entertainment and productivity with the new capabilities and features on their tablets."
Features and Enhancements Unique to Acer Tablets
The new update of Android 4.0 also includes several new features that are unique to Acer tablets. The updated tablets will now feature the highly-customizable Acer Ring, making it incredibly natural and easy to get instant access to favorite apps and features. The Acer Ring can be launched with a single touch and lets customers have quick and easy access to apps, surf the web, capture screen images, post photos and status updates to their social networks, and more.
Customers will also enjoy an improved weather widget and will be able to access their favorite apps even when the screen is locked.
Photos and Video Enhance Memories
Acer Iconia Tab customers will be able to do more with their photos and video thanks to the Android 4.0 update, including improved zoom and the ability to take snapshots while recording video. Customers will also be able to capture better still images and do more with them due to greater image stabilization and improved integration with third party apps. Both video clips and photos can be enhanced on the fly, stored and searched for based on various tags, and conveniently stored on Google+.
About Acer
Since its founding in 1976, Acer has achieved the goal of breaking the barriers between people and technology. Globally, Acer ranks No. 2 for total PCs and notebooks.(1) A profitable and sustainable Channel Business Model is instrumental to the company's continuing growth, while its multi-brand approach effectively integrates Acer, Gateway, Packard Bell, and eMachines brands in worldwide markets. Acer strives to design environmentally friendly products and establish a green supply chain through collaboration with suppliers. Acer is proud to be a Worldwide Partner of the Olympic Movement, including the Vancouver 2010 Olympic Winter Games and London 2012 Olympic Games. The Acer Group employs 8,000 people worldwide. Revenues for 2010 reached US$19.9 billion. See www.acer-group.com for more information.
© 2012 Acer America Corp. All rights reserved. Acer and the Acer logo are registered trademarks of Acer Inc. Other trademarks, registered trademarks, and/or service marks, indicated or otherwise, are the property of their respective owners. All offers subject to change without notice or obligation and may not be available through all sales channels. Prices listed are manufacturer suggested retail prices and may vary by location. Applicable sales tax extra.
1. Source: Gartner data, FY2010
:(
I don't want to wait that long, I also want ICS close to what Honeycomb was on the A500, no modifications and only a few apps.

I kinda wish they'd leave out the extras, and then maybe we'd have ICS already.

Good news since I just picked up an A500 this morning. My first Android tablet. We will see how it goes.

April? I bought the A100 for my wife and before I did I contacted Acer and asked their support team if it would be getting ICS and they said yes that they were working on it right then. I didn't think it would take that long though.

Wait, so the A200 gets ICS yet my Nexus S 4G is still waiting? Not impressed.

Read the Article for Nexus S owners

I'm running a custom ICS ROM on my A500 and I'm loving it. Very speedy, stable, only downside is the cameras don't work but not a deal breaker. Can't wait to see the awesome custom ROMs after the official updates come out. The Ring launcher looks really interesting too. With the Iconia A500 being pretty affordable now, I'd highly recommend it for anyone looking for a Tablet. Its a bit on the heavier side as far as tablets go, but it has plenty of connectivity options and a full USB port, plus its a Tegra device so it has access to the Tegra specific games. Acer has been fairly reliable and quick about updates, very excited about this!

I totally agree with you Fumetsu, I've have a stock A500 since launch, waiting now with baited breath on the official ICS update, this tablet has been awesome and Acer have been great with regular updates and no bugs in the official updates unlike my poor old, now out of date Evo4g that has bugs in the updates. Well, I still love HTC but have to wait a while for a new phone, that's fine it's still a great phone and tethers to the A500 nice!
Android Central Newsletter
Get the best of Android Central in in your inbox, every day!
Thank you for signing up to Android Central. You will receive a verification email shortly.
There was a problem. Please refresh the page and try again.