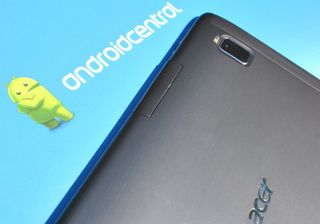 What would you give up to pack more features into an Android tablet? Would you be willing to sacrifice thinness? Accept a little more weight, or a design that's not quite as svelte as another tablet?
That's the ring in which the Acer Iconia Tab A500 has found itself. On the one hand, it's done much to differentiate itself from other Android Honeycomb tablets, which thus far all have the same internals, by packing on the ports and offering an interesting user interface. But these added features mean tradeoffs. But while the Acer Iconia Tab A500 (henceforth the Iconia Tab) might not be the smallest or lightest Android tablet around, that doesn't mean it should be overlooked.
The hardware - just the same, only different
The basic internals of the Iconia Tab are the same as other Honeycomb tablets -- 1GHz NVIDIA Tegra 2 processor and 1GB of RAM. It's also got a 10.1-inch touchscreen. Same ol', same ol'.
Design-wise, the Iconia Tab definitely sets itself apart from the likes of the Galaxy Tab 10.1 and Motorola Xoom. It's 10.24 inches wide, 7 inches tall and 0.52 inches thick. Compare that to the Galaxy Tab 10.1, easily the most svelte Honeycomb tablet available, and the Iconia Tab's noticeably bigger. On paper, the Iconia Tab's only 18 hundredths of an inch thicker. But the difference feels greater than that. The Iconia Tab's also a tad wider and taller, but you're less likely to notice that. It's the thickness and heft -- the Iconia Tab at 25.75 ounces is nearly 6 ounces heavier than the Galaxy Tab -- that make a difference.
But the Iconia Tab isn't thicker and heavier for a reason -- this thing comes packed with ports and switches you won't find on the Galaxy Tab 10.1, or even the Motorola Xoom. Let's list 'em in handy bullet point form:
Power button
Volume rocker
Rotation lock switch
MicroSD card slot (and SIM card, where available)
3.5mm headphone jack
microUSB port
Full-size USB port
Reset pinhole button
Large dock connector
Mini HDMI port
Proprietary charging port
The ports, switches and buttons all ring the Iconia Tab, on the sides, top and bottom. Save for the dock connector, which gives a pretty unsightly bulge to an otherwise sleek tablet, all those ports, buttons and switches are tucked into the tablet quite nicely. But we're a little worried about only the microSD/SIM card slots being covered, while the other parts are all left exposed. You know dust and lint will work their way into the gaping full-size USB port.
The front of the Iconia Tab is all touchscreen (with the 2MP front-facing camera thrown in for good measure). The rear of the tablet is done up in a slate gray with brushed metal look. There is a pair of stereo speakers back there, plus a 5MP camera and flash.
The power button's on the left-hand bezel (if you're holding the Iconia Tab "normally"). That makes it easy to get to when it's flat on a desk. The volume rocker, rotation lock and microSD/SIM card slots are up top. The door that hides the microSD card and SIM card is easy to remove, but it also looks pretty horrible from an aesthetics standpoint, really breaking up the lines of the tablet.
The screen is 10.1 inches in diagonal, same as nearly every other Honeycomb tablet. Same goes for the resolution -- 1280x800. The display is decent enough, but it does seem to be recessed a little further than other tablets we've used, giving you a more detached experience. And, like every other big piece of glass, it's a fingerprint magnet.
Let's face it: the A500 isn't the prettiest tablet we've seen. But like other tablets that have a half-dozen ports crammed into them, it's definitely going for the that niche crowd who wants to be able to plug in anything imaginable.
Under the hood
So, again, like nearly every other Honeycomb tablet out there, the Iconia a500 is rocking a dual-core Tegra 2 processor (system on a chip, actually) at 1 GHz. We've got a total of 727 megabytes of usable RAM with which to run apps.
But the bottom line is this: the a500 runs and feels just like every other Honeycomb tablet -- which is to say, very, very well.
Battery life also is comparable to the other 10-inch tablets we've used. That's not to say there won't be some fluctuation (especially depending on what you're doing at any given time). But the pair of 3260mAh batteries tucked in there should definitely last you most of the day with sporadic (read: normal) use.
The software
So this is where things get a little more interesting. Acer's done a fair amount of work in customizing its Honeycomb experience. That's not to say the user interface is a skin -- it's definitely not. Instead, there's a bit of a UI within a UI going on here.
The main home screen is pretty empty, with a date/clock widget, browser bookmarks, and a series of icons at the bottom. One is the Android Market, another is clear.fi for sharing music, photos and video over a DLNA connection.
The other four icons are the UI-within-a-UI bit. They are: eReading, Games, Multimedia and Social. Tap one, and you're taken to a cool little bookshelf area with categorized apps. You can swipe left and right to move between them, or use the arrow buttons.
Game Zone has Let's Golf, NFS Shift and Hero of Sparta HD, with the Android Market, TegraZone app and a shortcut to Gamelog's website at the bottom.
eReading has the LumiRead, Nook and Google Books apps.
Multimedia sports Youtube, the MusicA music recognition app, Photo Browser 3D, AUPEO personal radio, nemoPlayer (a multimedia player) and the aforementioned Clear.fi.
Social has the SocialJogger aggregation app (all your social feeds in one place), Facebook Web and Google Talk.
We can't help but smile at Acer at least attempting to do something a little different with Honeycomb -- lord knows one you've reviewed four or five Android 3.x tablets, things start to look alike. But the UI-within-a-UI trick is a bit forced. Why would we want to use a secondary home screen when we're just going to get dumped back into the stock UI the first time we hit the home button?
A couple other software items of note:
Docs to Go is on board
As the a500 comes with Android 3.1 (the 3.2 update is on the way), Google Movies work just fine.
The camera(s)
So the Iconia a500, like nearly every other Honeycomb tablet, has a front-facing camera along with a rear facing camera. Not that we're stoked about using a 10-inch, 26-ounce tablet as a point-and-shoot, but it's better to have them than not, we suppose. (And it's not like Acer was skimping on features here, right?) We're talking a 2MP shooter for the front and 5MP for the rear.
Images below open in full resolution in a new window
One odd (or at least different) feature is is that instead of being centered along the long edge, the a500's front-facing camera as along on the short edge, meaning you need to tilt the tablet a little bit when taking self shots.
Other odds and ends:
Bluetooth: It's got it. Works fine.0
GPS: There, too. Ditto.
Phone calls: Nope.
Speaker quality: Not horrible. There's very little bass, but that's not surprising.
Comes with a VGA adapter for monitors. Nice.
The wrap up
It's not the prettiest. It's not the lightest. But the Acer Iconia a500 makes up for being a little beefy by throwing in just about every port imaginable. Problem is, that largely relegates it to niche status. That's not to say having a full-size USB port isn't useful -- it certainly can be. But we'd rather suffer the indignity of using a dongle and instead have a thinner, lighter tablet.
To each his own, though, and the Acer Iconia a500, with its dual-core Tegra 2 processor and Android Honeycomb OS certainly is leaps and bounds better than last year's tablets. And a sub-$400 price tag makes it might attractive compared to the likes of the Samsung Galaxy Tab 10.1. If you're willing to look past -- or if you're looking forward to -- the hardware considerations, there's no reason why the Iconia a500 couldn't be the right tablet for you.
Android Central Newsletter
Get instant access to breaking news, the hottest reviews, great deals and helpful tips
Just wondering why it has taken so long to get a review on the Iconia.

Exactly.
It's sold more tablets than anyone but Apple, with working usb and microSD right out of the box, but only Late Love from AC. Phone Calls Nope? In a tablet review? Really?
Word: Csipsimple. I use mine for calls. It even has its own phone number.

Ditto. The Iconia Tab has probably sold more units than any other tablet after the iPad...even more than the Asus Tranformer and Galaxy tab. Make sure to stop visit http://IconiaTabForums.com - The largest Iconia Tab news and forum site on the web.

Forgot to mention that the built-in microphone is quite poor. I tried to use it for video calls (Skype). The front camera is not great, but that's to be expected. Overall it's a decent machine. The pricing of these things can definitely improve. If an x86 netbook with similar specs can sell for a retail price of $249, then a machine with the same display size, and memory, no hard drive and no keyboard should be able to sell at a similar price.

I had no problem with the mic in Google Talk video chat. Agreed about the tablet pricing in general. These things are all $100 to $150 bucks too high. Smaller always costs more. Novelty costs more for a while. But all tablets should be going down in price. Expect that on December 26th.

I have really liked mine and find the weight, shape and size to be ideal. Also of not, the Acer has DDR3 RAM vs most other tablets DDR2.

The official acer site says it's DDR2. https://www.androidcentral.com/e?link=https2F2Fcli... Not sure who started that rumor, but engadget said the same thing. Although their benchmarks implied it did indeed have DDR3.

Okay wait a second and stop right there... "Comes with a VGA adapter for monitors. Nice." Really? Mine didn't and I need one desperately please elaborate. Is it HDMI to VGA or is it from the dock or what?

Mine didn't come with one either. He either got a loaner or some bundle deal, because its not standard, and its not on Acer's site. But you can't be THAT desperate since Google found this one in 3 seconds. I suspect this review was done with a borrowed tablet, and he didn't have time to review it well because he spends a great deal of space to the Add in "UI within a UI" stuff which every Acer user gets rid of (totally un needed), ignores one of the better eReader apps (LumiReasd) and also because he said Google Movies works fine, but as soon as you try to play one it says "Content not available on a rooted device"... (It thinks an un-rooted Acer is rooted for some reason. Google knows about this and will refund your movie purchase.)
He dismisses it as a niche market tablet (ignoring sales figures) because it has ports his pet Transformer and Galaxy tab only dream of.

Given the support nightmare we've had since purchasing our A500 in July (two visits back to Acer so far, horrible customer support), I'd warn anyone considering Acer to think twice before giving them your money.

I love my iconia. I have the 32 gb version. I don't mind the thickness of it. I am also using a targus truss case for it which makes and tablet thicker so not a big deal to me. Also the full sized usb port come in handy for flash drive, portable hard drives and other things.

A far as the size and weight I look at it like this, I'm not going to be putting it in my pocket anytime soon so I can live with it. One of the cool things I can do with the full size usb is use a wireless mouse (not just a bluetooth mouse).

I love mine. Fits in my backpack just fine and is a great note taker. I'm one of those who'd rather have a heavier more useful and cheaper tab so it's perfect for me.

UI within a UI? UICeption!

I just bought this tablet a few days ago. I used it for 2 days and returned it. It's a decent piece of hardware and software is decent to for the average consumer, I am a power user of Android. But, it was laggy(Tegra sucks)and just didn't feel all that good in daily/heavy use. This is just My Opinion so don't have fit Iconia owners. I would rather have the Transformer if any. But, I am going to wait for something rocking TI OMAP or Snapdragon Quad Core. I will just stick with original Galaxy Tab 7 rooted with Overcomes Kratos v3.1.0(JPA base/ext4) Rom O.C'd to 1.45GHz, I can live with that till the day comes;)If you have a P1000 G-Tab check this out, http://p1000.teamovercome.net/

Laggy? Who are you kidding!! On 3.1, as long as you don't run third party (poorly written) active wall papers this tablet is snappy as any on the market.

I bought this tablet the day it came out. It's been 5 months and there is still not another tablet I would rather have. Having a full usb is great. I lift weights daily so all tablets seem light to me. In my opinion this is way better than the Galaxy tab, didn't that come without expandable memory.

Sorry I stopped reading critically once the reviewer was hung up on the weight. These tablets are alot lighter thn my laptop. Well maybe for the ladies but this weight is not uncomfortable. The fullsized use is great for me to hook up my tiny USB keyboard and use Bluetooth for my mouse. I actually like the look of my iconia and the micro SD card cover doesn't bother me . Like it should since I use the other side.

"It's the thickness and heft -- the Iconia Tab at 25.75 ounces is nearly 6 ounces heavier than the Galaxy Tab -- that make a difference." That's all he said about the weight. You call that being "hung up?" Gotta cry about something I guess, don't ya?

Go back and read the whole thing. He ragged on weight 6 times.

I started off with the Acer Iconia, then moved to the Samsung Galaxy 10.1 I do like the weight and slimness of my Samsung, but I do miss the ports the Iconia had to offer. I was able to use my portable external hard drive with it, because it's USB port could provide power to the external drive. My Samsung has a USB dongle, but it does not provide power to my portable external drive. Therefore, I can't use it with my Samsung. I can only use a hard drive that can provide it's on power. Therefore I have to settle on using thumb drives.
It also has a micro SDcard card slot for increasing the amount of storage space for your device.
For those that don't mind the weight factor of the Iconia, it's definitely a tablet worth checking out.

I've had this tablet for a few weeks now. It was $100 less than anything comparable and has performed great. Why should I spend $100 extra to lose a microsd card slot and full USB port? I've plugged a 500 gb external hard drive into this. It sure beats just having 16gb onboard and having to rely on a special adapter.

Ive had my iconia for a few months now and i love it, mine is rooted so im running a galaxy tab rom and i love the ui, weight and thickness arent an issue for me but having the extra ports are...

This is one of the few Honeycomb tablets that have haptic feedback (vibration). Most of the others don't. I don't mind the thickness or weight. I do mind having haptic feedback, usb port, micro SD slot, hdmi port. It's also the easiest tablet to root. You can have it rooted and custom recovery in less than 5 mins. Highly recommend Acer Iconia A500. Don't understand why haptic feedback is so overlooked on a touchscreen device.

i just can't listen to this site anymore on reviews of tablets. You are so skewed by the "thinnest and lightest is best" mantra that you can't give a good review to anything different. You did the same thing for the Thrive (which I own). It's sites like this one which help the iPad and Galaxy Tab more than any other.

Phil has a point though. If weight & thickness don't matter to you AND you want lots of ports, a laptop is FAR superior. People buy tablets for a bigger screen experience than their phone but similar mobility...not to have all kinds of peripherals hanging off them. I'm still not convinced that I need or even want a tablet but if that day ever comes, it'll be the thinnest and lightest one I can get my hands on. I'm not going to carry around something that makes me wish I had brought my more powerful laptop instead.

I, thankfully, have a Thrive too. Practicality weighs more than physical weight!

I had a xoom and liked it ok, but when newer tabs came out with newer features and lighter weights I sort of wished I had waited. Then my xoom was stolen. When seeking a replacement, I took a long hard look at the Galaxy tab 10.1 and had intended it as my first choice, but when I saw the price and features of the Acer Iconia a500 I just could not resist. In my opinion the weight verses features comparison in this case favors the features by a long shot and because of this I am very happy with my choice of the Iconia that can read my 360GB HDD and numerous other devices, awesome!

A tablet review and no benchmarks? Also, numerous other sites have complained about almost unusable camera stills and video yet no mention here. GPS is there but does it work? Acer had to release hotfixes for the GPS issue so was curious if it works now. Does HDMI mirroring work? Netflix? I read product reviews to get a more in-depth analysis of the product, not to read about a tour of the basics. Heck I can do that myself at a local Best Buy. Initially I was excited about the AC review when I saw it b/c I'm looking at getting either an A500 or Transformer. I would rather read newer reviews of the two since there have been several bug fixes released for both products. Yet this review was pretty useless in testing some of the features that have been fixed and/or improved.

Shout to all Iconia Tab owners. Make sure you've stopped by http://IconiaTabForums.com - the largest Iconia Tab forum on the web with news, discussion and more.

I had this tab for about a couple weeks right when it came out; it was great. I plugged in my desktop computer usb keyboard and it worked right away. Very cool. Now I suppose it can connect to Bluetooth keyboards wirelessly, but still nice to be able to plug in ANY usb keyboard, regardless of your location. Also got to mention I loved the way it felt in my hands. I would never buy a tablet without holding it first - such a difference between manufacturers' finishes. And great styling (imho). I ended up returning it because 10 inches was too big for me. I now have the 7 inch Iconia tab, which is excellent build quality and internals for the price. Very happy, just waiting for 3.2 honeycomb to get more polished . . .

I love my Iconia a500. Bought it for $300, which was the right price for a tablet, for me. The full size USB was one of my wanted features, and the size and weight seem fine for that trade off. I plugged in a usb hub with keyboard, mouse, and thumb drive and was editing files on the thumb drive with ease. I got the Targus leather case which adds a little thickness, but I like the notebook feel it brings. I can tilt it at 3 different levels, which makes it comfortable watching shows, typing, or surfing. The flash on the camera is a plus as well, as it comes in handy as a flashlight. Using it for the camera washes out nearly every picture I tried. Camera quality is surprisingly decent. I use the rear facing with Bazaar to post Craigslist items. Works really well, and I love using the tablet to type with. Use Hacker's Keyboard though.
Front facing camera is good quality, and I thought it performed well with Google Talk. I didn't get a VGA adapter either, so I'm not sure how he got one. HDMI out is really nice though. I plugged into the TV, connected a Wii controller and rocked out some SNES roms. HDMI + full USB makes this a VERY versatile machine. Also, the HDMI port is MICRO, not MINI. Important if you're ordering a cable. :)

I love mine. Got it for $325 at staples (100 off coupon + Cali Tax). I bought sketchbook pro and a Dagi 504 stylus and have been selling my art! It's just a great tablet all around. Oh, and I don't seem to be having the problems with the mic being too soft that others around the internet have talked about. I owned the Archos 70 before that. My mom is loving that one now!

I too got mine for $299 + tax thanks to the Staples coupon. I thought 10" would be too big but it's perfect. So much faster than firing up my computer or lugging the laptop on trips (just took the A500 to Germany where I think it got the update due in the U.S. September 10). A great performer, solid internet access, love the metallic feel to it. The weight doesn't bother me at all. Did try reading on it via Kobo but a little too hard on the eyes. I was one of those disbelievers whether I would truly ever use a tablet. the A500 has convinced me I do.

Visit http://IconiaTabForums.com - The largest Iconia Tab community on the web with news, articles and discussion only on the Iconia Tab line of Tablets by Acer.

I have this tablet when it was on sale. It a very good tablet for the price but 1 annoying issue is the weak wifi signal. I have one and tested a friend's different build, they both have weak antennae. OT I got the same blue pool too with two beer holders. I like how you have the kiddie pool and then the not so kiddie pool.

I got the A500 for my dad its pretty neat. The only thing complaint i have would be battery life. But everything else on it is great and plus i got it only foe $299.

Oct. 6, 2011 After about a week of using my new Acer Iconia A500 the unit developed an issue where the battery would not charge. This was an intermitent trouble whereby at times the unit would charge the battery for a few seconds or maybe a couple of minutes before stopping the recharging process. I used multiple power adapters with the same results from each. I performed a factory reset and a hard reset on the unit but, the resets did not correct the issue. I contacted Acer Support and sent the unit in for repair. I received the A500 back from the repair facility 8 days later still with the battery charging issue. They returned it to me without repairing or correcting the issue. I contacted Acer Support this morning and again returned the A500 for repair. After searching some of the Acer A500 forums, I found that other users were experiencing the same issues with their A500 tablets. If the power adapter is connected the battery status indicator indicates 'Discharging' but, the battery percentage stays the same. When the power adapter is removed, the battery percentage indicator begins to decline. When the power adapter is connected, the A500 battery does not charge. Based on my experiences with this product and the Acer Repair Service, I would not purchase an Acer Iconia A500 again and I would not reccomend this product.

It is great to read old articles to see the progress of Acer.
Thanks for the Great post!! http://www.braziltech.co/search/label/Acer

I have an A500, I've had it for a few years now and it never missed a beat. Then one day it just didn't work anymore, I thought it may have needed a new battery but I didn't have a spare $50 to waste if it wasn't the problem. So many times I've nearly gone to throw it out but just couldn't bring myself to do it. It finally dawned on me tonight that hopefully it's the charger that's the problem. I tried the charger running through the docking station (another reason I didn't want to dispose of tablet as dock would need chucking too), anyway the power light didn't come on. So I tried charging via USB port but no joy. Googled and found you can still buy a charger, so I bought one, can't wait for it to be delivered. My grandson who has a quite a few games on it is over the moon, even though we have iPad and another android tablet. Anyone else still use A500 these days?
Android Central Newsletter
Get instant access to breaking news, the hottest reviews, great deals and helpful tips
Thank you for signing up to Android Central. You will receive a verification email shortly.
There was a problem. Please refresh the page and try again.