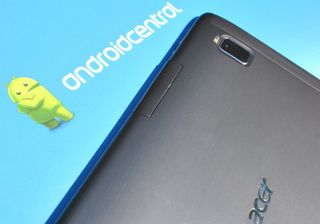 What would you give up to pack more features into an Android tablet? Would you be willing to sacrifice thinness? Accept a little more weight, or a design that's not quite as svelte as another tablet?
That's the ring in which the Acer Iconia Tab A500 has found itself. On the one hand, it's done much to differentiate itself from other Android Honeycomb tablets, which thus far all have the same internals, by packing on the ports and offering an interesting user interface. But these added features mean tradeoffs. But while the Acer Iconia Tab A500 (henceforth the Iconia Tab) might not be the smallest or lightest Android tablet around, that doesn't mean it should be overlooked.
The hardware - just the same, only different
The basic internals of the Iconia Tab are the same as other Honeycomb tablets -- 1GHz NVIDIA Tegra 2 processor and 1GB of RAM. It's also got a 10.1-inch touchscreen. Same ol', same ol'.
Design-wise, the Iconia Tab definitely sets itself apart from the likes of the Galaxy Tab 10.1 and Motorola Xoom. It's 10.24 inches wide, 7 inches tall and 0.52 inches thick. Compare that to the Galaxy Tab 10.1, easily the most svelte Honeycomb tablet available, and the Iconia Tab's noticeably bigger. On paper, the Iconia Tab's only 18 hundredths of an inch thicker. But the difference feels greater than that. The Iconia Tab's also a tad wider and taller, but you're less likely to notice that. It's the thickness and heft -- the Iconia Tab at 25.75 ounces is nearly 6 ounces heavier than the Galaxy Tab -- that make a difference.
But the Iconia Tab isn't thicker and heavier for a reason -- this thing comes packed with ports and switches you won't find on the Galaxy Tab 10.1, or even the Motorola Xoom. Let's list 'em in handy bullet point form:
Power button
Volume rocker
Rotation lock switch
MicroSD card slot (and SIM card, where available)
3.5mm headphone jack
microUSB port
Full-size USB port
Reset pinhole button
Large dock connector
Mini HDMI port
Proprietary charging port
The ports, switches and buttons all ring the Iconia Tab, on the sides, top and bottom. Save for the dock connector, which gives a pretty unsightly bulge to an otherwise sleek tablet, all those ports, buttons and switches are tucked into the tablet quite nicely. But we're a little worried about only the microSD/SIM card slots being covered, while the other parts are all left exposed. You know dust and lint will work their way into the gaping full-size USB port.
The front of the Iconia Tab is all touchscreen (with the 2MP front-facing camera thrown in for good measure). The rear of the tablet is done up in a slate gray with brushed metal look. There is a pair of stereo speakers back there, plus a 5MP camera and flash.
The power button's on the left-hand bezel (if you're holding the Iconia Tab "normally"). That makes it easy to get to when it's flat on a desk. The volume rocker, rotation lock and microSD/SIM card slots are up top. The door that hides the microSD card and SIM card is easy to remove, but it also looks pretty horrible from an aesthetics standpoint, really breaking up the lines of the tablet.
The screen is 10.1 inches in diagonal, same as nearly every other Honeycomb tablet. Same goes for the resolution -- 1280x800. The display is decent enough, but it does seem to be recessed a little further than other tablets we've used, giving you a more detached experience. And, like every other big piece of glass, it's a fingerprint magnet.
Let's face it: the A500 isn't the prettiest tablet we've seen. But like other tablets that have a half-dozen ports crammed into them, it's definitely going for the that niche crowd who wants to be able to plug in anything imaginable.
Under the hood
So, again, like nearly every other Honeycomb tablet out there, the Iconia a500 is rocking a dual-core Tegra 2 processor (system on a chip, actually) at 1 GHz. We've got a total of 727 megabytes of usable RAM with which to run apps.
But the bottom line is this: the a500 runs and feels just like every other Honeycomb tablet -- which is to say, very, very well.
Battery life also is comparable to the other 10-inch tablets we've used. That's not to say there won't be some fluctuation (especially depending on what you're doing at any given time). But the pair of 3260mAh batteries tucked in there should definitely last you most of the day with sporadic (read: normal) use.
The software
So this is where things get a little more interesting. Acer's done a fair amount of work in customizing its Honeycomb experience. That's not to say the user interface is a skin -- it's definitely not. Instead, there's a bit of a UI within a UI going on here.
The main home screen is pretty empty, with a date/clock widget, browser bookmarks, and a series of icons at the bottom. One is the Android Market, another is clear.fi for sharing music, photos and video over a DLNA connection.
The other four icons are the UI-within-a-UI bit. They are: eReading, Games, Multimedia and Social. Tap one, and you're taken to a cool little bookshelf area with categorized apps. You can swipe left and right to move between them, or use the arrow buttons.
Game Zone has Let's Golf, NFS Shift and Hero of Sparta HD, with the Android Market, TegraZone app and a shortcut to Gamelog's website at the bottom.
eReading has the LumiRead, Nook and Google Books apps.
Multimedia sports Youtube, the MusicA music recognition app, Photo Browser 3D, AUPEO personal radio, nemoPlayer (a multimedia player) and the aforementioned Clear.fi.
Social has the SocialJogger aggregation app (all your social feeds in one place), Facebook Web and Google Talk.
We can't help but smile at Acer at least attempting to do something a little different with Honeycomb -- lord knows one you've reviewed four or five Android 3.x tablets, things start to look alike. But the UI-within-a-UI trick is a bit forced. Why would we want to use a secondary home screen when we're just going to get dumped back into the stock UI the first time we hit the home button?
A couple other software items of note:
Docs to Go is on board
As the a500 comes with Android 3.1 (the 3.2 update is on the way), Google Movies work just fine.
The camera(s)
So the Iconia a500, like nearly every other Honeycomb tablet, has a front-facing camera along with a rear facing camera. Not that we're stoked about using a 10-inch, 26-ounce tablet as a point-and-shoot, but it's better to have them than not, we suppose. (And it's not like Acer was skimping on features here, right?) We're talking a 2MP shooter for the front and 5MP for the rear.
Images below open in full resolution in a new window
One odd (or at least different) feature is is that instead of being centered along the long edge, the a500's front-facing camera as along on the short edge, meaning you need to tilt the tablet a little bit when taking self shots.
Other odds and ends:
Bluetooth: It's got it. Works fine.0
GPS: There, too. Ditto.
Phone calls: Nope.
Speaker quality: Not horrible. There's very little bass, but that's not surprising.
Comes with a VGA adapter for monitors. Nice.
The wrap up
It's not the prettiest. It's not the lightest. But the Acer Iconia a500 makes up for being a little beefy by throwing in just about every port imaginable. Problem is, that largely relegates it to niche status. That's not to say having a full-size USB port isn't useful -- it certainly can be. But we'd rather suffer the indignity of using a dongle and instead have a thinner, lighter tablet.
To each his own, though, and the Acer Iconia a500, with its dual-core Tegra 2 processor and Android Honeycomb OS certainly is leaps and bounds better than last year's tablets. And a sub-$400 price tag makes it might attractive compared to the likes of the Samsung Galaxy Tab 10.1. If you're willing to look past -- or if you're looking forward to -- the hardware considerations, there's no reason why the Iconia a500 couldn't be the right tablet for you.
Get the Android Central Newsletter
Instant access to breaking news, the hottest reviews, great deals and helpful tips.