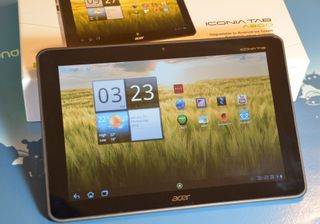 Meet the Acer Iconia Tab A200. We've seen a lot of Android tablets in the past year or so. A lot of Honeycomb tablets. And let's be perfectly frank here -- after a while they can start to look a lot alike. And so we're a wee bit surprised that we're as enamored as we are with the Iconia A200. On one hand, it's more of the same. The specs are familiar. The form factor's familiar. The software is relatively unchanged.
But Acer's tweaked and nipped and tucked, and it's produced a solid tablet that looks good, feels good and, most important, doesn't do a number on your wallet.
So join us after the break for our Acer Iconia Tab A200 review.
Pros
Feels great in the hand, includes a full-size USB port and HDMI out. Gets rid of the rear camera.
Cons
Gets rid of the rear camera, and the front camera is horrific. Door hiding the microSD slot is nearly impossible to open. Awaiting an update to Ice Cream Sandwich.
The Bottom Line
See what we did there with the camera thing? Maybe you'll miss it. Maybe you won't. Either way, Acer's come up with a tablet that falls in the middle of its Iconia range, but it just as easily feels like it could sit at the top.
Swipe to scroll horizontally
The video hands-on
Youtube link for mobie viewing
The hardware
So the A200 is your basic 10.1-inch tablet. On the front you've got a large screen, and a front-facing 2MP camera.
Up top is a pinhole mic, screen rotation lock switch and the volume rocker. The latter is nicely done, with telltale dots helping you change volume by feel. One dot for up, two dots for down.
The right-hand bezel has the hole for Acer's proprietary charger. The left-hand bezel's got the power button (with embedded charging light), 3.5mm headphone jack, HDMI out and a full-size USB port. These three ports are left exposed all the time, so beware of dust.
Hidden, however -- and damned near impossible to remove -- is a door that hides the microSD card slot, and a reset button. There's a handy arrow showing you which way to insert the microSD card. Nice.
The side bezels are done in plastic, but the entire rear of the A200 is done in a textured soft-touch material. It's really nice and gives just thew right amount of grip. You'll find the Acer logo and a pair of stereo speakers here, and that's it.
There's no rear-facing camera. And we're OK with that. While we'd normally argue that it's better to have a feature and not use it than to need it and not have it, we're not missing the camera here, and it's interesting to see a manufacturer finally get rid of it.
What's under the hood?
Like we said, not a lot here we haven't seen before. The A200's running a NVIDIA Tegra 2 system on a chip at 1GHz, with 1GB of RAM. Been there, done that. The A200 comes with either 8GB of storage, or 16GB. Frankly, you'd be daft to not go for the latter, as it's only an extra $20.
As we're not (always) daft, we bought the 16GB version, and we've got about 12.5GB of actual usable storage space.
Moving on ...
The software
This is where the A200 finally starts to separate itself a little bit. It's still running Android 3.2, so you've got the usual Honeycomb features. Homescreens, app drawer, and all that.
Starting on the home screen, Acer's included a stylish widget with clock, weather and calendar. The back, home and multitasking buttons have been lightly redesigned.
But what really stands out is that little dot that rests just above the screen bezel. Touch it, and up pops what's called "the ring."
The ring is a fun little launcher that gives you quick access to a volume slider, browser bookmarks, search button and four quick-launch icons. By default, you've got gallery, browser, settings and screenshot set up as quick-apps. (The screenshot tool, strangely enough, doesn't actually manage to catch the ring in the screen shot. Go figure.) The quick-launch apps
The other major tweak Acer's done to to the A200 is in the lock screen, adding quick-launch icons as an unlocking option. It's not unique -- HTC's done it, and it's partially built into Ice Cream Sandwich -- but it's nicely done here.
Acer's included a number of third-party apps on the A200, including:
Aupeo! (streaming music)
clear.fi (media server)
Docs to Go
Evernote
Facebook Web (just a shortcut to the Facebook website. Odd, but whatever.)
HW Solitaire SE
SocialJogger (combines social networking services)
SoundHound
TegraZone
McAfee VirusScan
The camera
The A200 only has one camera -- a 2-megapixel shooter on the front of the tablet. Some of you will pass on the A200 because it's lacking a rear camera. Others won't care. It's just one of those things.
That said, the front-facing camera is downright awful.
Youtube link for mobile viewing
Other odds and ends
The stero speakers work, but we've heard better. The volumes a bit lacking, and we managed some speaker cracking.
GPS found us without a hitch.
Every now and then we'll get some UI lag with the ring. Not a deal-breaker, but noticeable.
Whereas the Acer A100 had some horrid viewing angles (as in, none other than straight on), the A200 is just fine.
For keyboards, you've got the stock Honeycomb version, and XT9.
The wrap-up
No two ways about it: The Acer Iconia A200 is one of the better tablets you'll get for the price, around $350 at the time of this writing. We're digging the look. We're digging the feel. We're digging the software customizations. And while we're OK with not having a rear-facing camera, the front shooter -- which we'd arguably use more anyway -- is abysmal for video. It's unusable. Know that going in.
But you can find a mostly comparable Android tablet for $50 or so more, and with that you get a front-facing camera that works as well as a rear-facing camera. So that might well be the way to go. If you don't need the cameras? The A200's capable.
Get the Android Central Newsletter
Instant access to breaking news, the hottest reviews, great deals and helpful tips.
I couldn't care less about the rear camera in a tablet. The front camera had better be adequate though...

Pretty nice tablet. Still rather get the Droid Xyboard :)

Did they fix the horrible Mic level Phil? Using a simple voice recorder, or Google Talk, the A500 had mic volume set so low you could never make a good recording. Its really the only complaint I have about the A500.

I don't care about cameras on a tablet. Too freaking big of a device to use AS a camera, and I don't video-chat anyway. For my purposes, the only reason to get something else is if I want one with 32G of storage rather than 16.

Hey Phil, so for $50 more - which has a better front facing camera? For the price range the Acer 200 is in - which is better that you would recommend or where is a review on another?

It could be I'm just not fully understanding, but everywhere else I look, it seems the A200 doesn't have HDMI. It instead has 2 USB connectors, a micro USB and full sized USB. Is there something I'm not understanding?

I just got this tab a few days ago.... It definitely doesn't have hdmi port rather a full and micro usb...

How could you review a tablet and not review the quality of the display?

My concern about the camera would be for barcode scanning. You might not be using this for snapshots but more and more apps use barcodes. For example, I might want to use it to inventory my library or DVD collection or to look up a QR or Tag code that seems to be on everything I see these days. Will the front facing camera work for these and is it good enough quality?

Hate to be a stick in the mud but when are you going to give it away? I want a tablet badly just can't justify 400 when I got a truck note ;(

My Wife just purchased the Acer a200. I noticed the weak sound and went searching for a mixer control. I found a free one on The Market. It was called Audio volume mixer. Anyway, after installing it I noticed it had a slider labeled Voice that was not at 100% like all the rest. I moved it to 100% and the sound is now acceptably loud.

Just got it in mail yesterday. Quite alright, nothing really to complain about. Some of the issues raised above: 1. Getting rid of the rear camera. Well, honestly, how often are you going to walk around and take pictures with that rear camera? If out on a walk or a trip, you do have a mobile, right? And that one has a rear camera, right? And it's at least 5 Mpix, right? :-) Reading barcodes? Well, maybe... But your phone can still do it... 2. Quality of the front camera. Actually, it's not that bad. I use my front cam for Skype and, while in a call, I monitored the current video and audio characteristics. Despite having 10-15 Mbit/s broadband, the quality of the video adjusted itself to 640*480 and 320*240 to keep the picture moving (Skype knows better what's best for it). And these resolutions are not a problem for the cam at all. Still waiting for someone to come up with a good MSN messenger with video (does anyone know of any?)... 3. Sound. Seriously, has Acer already come up with a patch or my hearing is above average, but I had no problems with the sound on the gadget. I even downloaded the "Audio Volume Mixer" as per advice above, but I don't think I needed it (a nice one single piece of control anyway). 4. I had some trouble playing streaming video from my favorite broadcaster's webpage. I even downloaded tons of other browsers, flash players, etc. But all I needed to do is switch the settings of the original browser from tablet to desktop, and voilà! One thing most tablets are missing is the support holder (leg or whatever you call it) that Archos has. It is extremely convenient in order to put the tablet on a table for video calling or watching a video. Acer does not have anything like that either. With iPad, you can use the smartcover, with Archos - the leg, with Acer - nothing :-( So you would hold it in your hands or on your lap at all time. And considering its superb battery time (watched video for like 5 hours and it still had lots of "juice" left), your hands will be tired of holding it... If you are considering A200 and have any questions, hit me!

Just got an Acer A200 from my wife for Valentines Day! Was a nice surprise. Been shopping for a tablet for a while, doing alot of research. It's a good bang for the buck. So far I like it. I wanted to get one for quick logins into the web instead of waiting for the long load up on a laptop computer. Of course to fool around with some games once in a while. But, I'm in the Architectural field, so I wanted a tablet to keep alot of photo's of project that I have designed to show potential clients, like custom homes, shore home designs, etc. It's pretty cool so far. Only frustration is figuring out the order of photo's because when I set the front picture of the house as the first photo, it seems to put it at the end instead...so still figuring that out. But, all in all, a great tablet. Love that I can extend the file storage with the SD card, unlike Apple I-pads fixed storage. I have a Droid X cell phone, which is great since I used my Google account, it put all the apps I had on my phone onto my Tablet. Only other frustration... seems like I'm going to wait forever for a cover since this thing is so new, they're out of stock on Amazon... Ughh So if your in the market and don't want to spend a huge amount, it's a great buy!

with great equitment make you smart

discounted big time
http://1saleaday.com/wireless/ around 200 bucks

i have a
problem with this a200. my cam is not working for video call either in skype nor in others, is there anyone who can help me with this?

and it's using ice cream sandwich version

I recently bought an Acer Iconia A200 8GB (A200-10g08w). I decided to save some money and buy a refurbished one. I must say, I am very happy with this decision. I was able to get it for less than $200 and it does everything I could ask. Great for email, surfing the web, and even streaming video. You can usually find refurbished ones on eBay for ~$200. See https://rover.ebay.com/rover/1/711-53200-19255-0/1?ff3=4&pub=5575095911&...