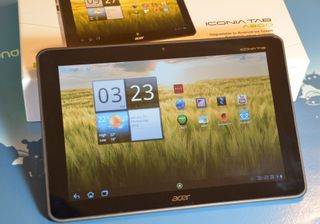 Meet the Acer Iconia Tab A200. We've seen a lot of Android tablets in the past year or so. A lot of Honeycomb tablets. And let's be perfectly frank here -- after a while they can start to look a lot alike. And so we're a wee bit surprised that we're as enamored as we are with the Iconia A200. On one hand, it's more of the same. The specs are familiar. The form factor's familiar. The software is relatively unchanged.
But Acer's tweaked and nipped and tucked, and it's produced a solid tablet that looks good, feels good and, most important, doesn't do a number on your wallet.
So join us after the break for our Acer Iconia Tab A200 review.
Pros
Feels great in the hand, includes a full-size USB port and HDMI out. Gets rid of the rear camera.
Cons
Gets rid of the rear camera, and the front camera is horrific. Door hiding the microSD slot is nearly impossible to open. Awaiting an update to Ice Cream Sandwich.
The Bottom Line
See what we did there with the camera thing? Maybe you'll miss it. Maybe you won't. Either way, Acer's come up with a tablet that falls in the middle of its Iconia range, but it just as easily feels like it could sit at the top.
Swipe to scroll horizontally
The video hands-on
Youtube link for mobie viewing
The hardware
So the A200 is your basic 10.1-inch tablet. On the front you've got a large screen, and a front-facing 2MP camera.
Up top is a pinhole mic, screen rotation lock switch and the volume rocker. The latter is nicely done, with telltale dots helping you change volume by feel. One dot for up, two dots for down.
The right-hand bezel has the hole for Acer's proprietary charger. The left-hand bezel's got the power button (with embedded charging light), 3.5mm headphone jack, HDMI out and a full-size USB port. These three ports are left exposed all the time, so beware of dust.
Hidden, however -- and damned near impossible to remove -- is a door that hides the microSD card slot, and a reset button. There's a handy arrow showing you which way to insert the microSD card. Nice.
The side bezels are done in plastic, but the entire rear of the A200 is done in a textured soft-touch material. It's really nice and gives just thew right amount of grip. You'll find the Acer logo and a pair of stereo speakers here, and that's it.
There's no rear-facing camera. And we're OK with that. While we'd normally argue that it's better to have a feature and not use it than to need it and not have it, we're not missing the camera here, and it's interesting to see a manufacturer finally get rid of it.
What's under the hood?
Like we said, not a lot here we haven't seen before. The A200's running a NVIDIA Tegra 2 system on a chip at 1GHz, with 1GB of RAM. Been there, done that. The A200 comes with either 8GB of storage, or 16GB. Frankly, you'd be daft to not go for the latter, as it's only an extra $20.
As we're not (always) daft, we bought the 16GB version, and we've got about 12.5GB of actual usable storage space.
Moving on ...
The software
This is where the A200 finally starts to separate itself a little bit. It's still running Android 3.2, so you've got the usual Honeycomb features. Homescreens, app drawer, and all that.
Starting on the home screen, Acer's included a stylish widget with clock, weather and calendar. The back, home and multitasking buttons have been lightly redesigned.
But what really stands out is that little dot that rests just above the screen bezel. Touch it, and up pops what's called "the ring."
The ring is a fun little launcher that gives you quick access to a volume slider, browser bookmarks, search button and four quick-launch icons. By default, you've got gallery, browser, settings and screenshot set up as quick-apps. (The screenshot tool, strangely enough, doesn't actually manage to catch the ring in the screen shot. Go figure.) The quick-launch apps
The other major tweak Acer's done to to the A200 is in the lock screen, adding quick-launch icons as an unlocking option. It's not unique -- HTC's done it, and it's partially built into Ice Cream Sandwich -- but it's nicely done here.
Acer's included a number of third-party apps on the A200, including:
Aupeo! (streaming music)
clear.fi (media server)
Docs to Go
Evernote
Facebook Web (just a shortcut to the Facebook website. Odd, but whatever.)
HW Solitaire SE
SocialJogger (combines social networking services)
SoundHound
TegraZone
McAfee VirusScan
The camera
The A200 only has one camera -- a 2-megapixel shooter on the front of the tablet. Some of you will pass on the A200 because it's lacking a rear camera. Others won't care. It's just one of those things.
That said, the front-facing camera is downright awful.
Youtube link for mobile viewing
Other odds and ends
The stero speakers work, but we've heard better. The volumes a bit lacking, and we managed some speaker cracking.
GPS found us without a hitch.
Every now and then we'll get some UI lag with the ring. Not a deal-breaker, but noticeable.
Whereas the Acer A100 had some horrid viewing angles (as in, none other than straight on), the A200 is just fine.
For keyboards, you've got the stock Honeycomb version, and XT9.
The wrap-up
No two ways about it: The Acer Iconia A200 is one of the better tablets you'll get for the price, around $350 at the time of this writing. We're digging the look. We're digging the feel. We're digging the software customizations. And while we're OK with not having a rear-facing camera, the front shooter -- which we'd arguably use more anyway -- is abysmal for video. It's unusable. Know that going in.
But you can find a mostly comparable Android tablet for $50 or so more, and with that you get a front-facing camera that works as well as a rear-facing camera. So that might well be the way to go. If you don't need the cameras? The A200's capable.
Sign up for Black Friday email alerts!
Get the hottest deals available in your inbox plus news, reviews, opinion, analysis and more from the Android Central team.