The folks behind Pornhub just created their own VPN called VPNhub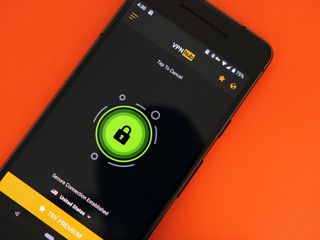 We live in a very strange world. Some people her an audio clip saying "Yanny" when it clearly says "Laurel", Elon Musk made a flamethrower and then let people buy it, and now Pornhub created its own VPN. Welcome to 2018, everyone.
Called "VPNhub", Pornhub's VPN actually sounds kind of great. You can download the Android or iOS app right now and the service is free to use. There is a paid version for $11.99/month ($6.25/month if you pay upfront for an entire year) that removes ads, increases your browsing speeds, and allows you to select the countries you want to connect to, but even free members have access to unlimited bandwidth.
VPNhub also has desktop apps for Windows and macOS, but those require the premium membership.
Per Pornhub's Vice President, Cory Price —
While the addition of unlimited bandwidth will certainly be a huge plus for those using VPNhub to watch videos on Pornhub, you can use it for all of your other browsing needs you'd use any other VPN for. It remains to be seen how this will stack up to Android's current best VPNs, but it's off to a good start.
If you're interested, you can download VPNhub from the Play Store right now.
Download: VPNhub (free) (opens in new tab)
We test and review VPN services in the context of legal recreational uses. For example:
1. Accessing a service from another country (subject to the terms and conditions of that service).
2. Protecting your online security and strengthening your online privacy when abroad.
We do not support or condone the illegal or malicious use of VPN services. Consuming pirated content that is paid-for is neither endorsed nor approved by Future Publishing.
Joe Maring was a Senior Editor for Android Central between 2017 and 2021. You can reach him on Twitter at @JoeMaring1.
Haha, nice! Installed for Lulz. Edit: I actually really like the UI.

For Lulz...surrrre. ha ha

This is something I can get behind.

A stroke of genius! Hope it isn't too hard for them to penetrate the market.

I see what you did there.

They will use double penetration method

This is what I love about 'merica! I hope they don't hit the market with a hard sell! Then again they could tap into a huge hole in the VPN market.

Wonder who is ACTUALLY powering it.

I saw somewhere that a lot of their servers are operated by IPVanish.

If you couldn't hear yanny, you can't hear at high frequencies ;)

Well well well, pornhub have recently introduced their own vpn app, I mean seriously, do they really need to do this. There are tons of reputable vpn providers like Expressvpn or FastestVPN in the market and pornhub developers think they can compete against them. and what about user cookies? Pornhub fetches user info through cookies, will their vpn stop their own sites from using cookies? I don't buy this. I have fastestvpn and it does everything I want form a vpn service access porn and other sites, hide my ip address, anonymity and security everything is there.

I totally agree with you! VPNs market have a lot of reputable providers! I also use one of them - NordVPN
Android Central Newsletter
Thank you for signing up to Android Central. You will receive a verification email shortly.
There was a problem. Please refresh the page and try again.