Two-sided YotaPhone goes on sale in a handful of countries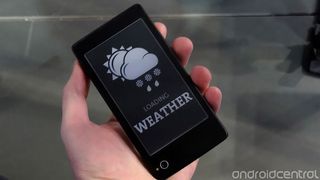 It seems like an eternity ago that we got our first look at the YotaPhone, a quirky little Android handset with a regular LCD display on the front and e-ink on the back. Our interest was piqued by our time with the device at Mobile World Congress back in February, and now the phone is available to buy in five European countries, with 15 more European, CIS and Middle Eastern territories following in the first quarter of 2014. In addition to the online launch, the YotaPhone will go on sale in retail stores in Russia and Germany this month, according to today's press release, priced at 19,990 RUB and €499.
The YotaPhone features a 4.3-inch 720p LCD display on the front, with swipe gestures being used in place of regular Android buttons. Around the back is a similarly-sized e-ink panel at 360x640 resolution, which can be used to display secondary information, such as the weather and calendar alerts. It's also possible to send images to the rear display with a two-finger gesture.
The device powered by a dual-core 1.7GHz Krait processor with 2GB of RAM and 32GB of internal storage, with support for the main HSPA and LTE bands used in Europe. There's also a 13-megapixel rear camera, an 1800mAh battery, and on the software side it's Android 4.2.2 Jelly Bean running the show.
For more on the YotaPhone, check out our hands-on feature from Mobile World Congress.
Hands-on with the YotaPhone at MWC 2013
Also see: YotaPhone official site
Press Release
World's First "Always-On" Dual-Screen Phone Available in December in Russia, Austria, France, Spain and Germany
By the end of Q1 2014, YotaPhone will be sold in 20 CIS, European and Middle East markets
4 December 2013
Moscow, Russia — YotaPhone, the first "always-on" premium Android smartphone with a liquid crystal display on one side and an electronic paper display on the other, goes on sale today in Russia, Austria, France, Spain and Germany in YotaPhone's online store (www.yotaphone.com). It will be available in December in retail stores in Russia and Germany. By the end of Q1 2014, YotaPhone will be available in 20 markets in the CIS, Europe and the Middle East.
YotaPhone is a totally new concept in mobile communications, designed to solve users' frustrations with their current smartphones' "always-dark" screen. By including a second screen that uses electronic paper display technology, users have access to the information they want and need on a continual basis without having to wake up their phone. The technology also preserves smartphone battery power. In fact, in reading mode, YotaPhone has 7-10 times the battery life of other smartphones.
YotaPhone: Answer to the "always-dark" display
"The typical user picks up and activates their smartphone more than 150 times a day," explains Yota Devices CEO Vlad Martynov. "Why? Because users worry that messages or information they need or want are hidden behind their phone's black screen. This is a huge distraction and can impede meaningful interaction with our friends, families and colleagues."
Yota Devices realized three years ago that electronic paper display (EPD) technology could make information available and visible without draining battery life and began working with E Ink to adapt their proprietary technology for a dual-screen smartphone.
"Once we determined that an electronic paper display would work as a second screen, an array of new and improved user experiences became obvious," said Martynov. "For example, YotaPhone combines a smartphone and e-reader into one device for those who enjoy reading on-the-go. You can save images and information on the second screen, and it stays there, even if you lose battery power. You can save anything on the always-on display from a map to a boarding pass. Information, like a missed call or meeting reminder, stays on the always-on screen until it is no longer needed."
Special hardware and software developed for YotaPhone
Yota Devices worked with some of the world's leading suppliers and manufacturers to adapt their technology for YotaPhone. For example, YotaPhone is the first smartphone to use Corning's Gorilla 3 shaped glass. E Ink had to adapt its technology for a 4.3" screen and OEM Hi-P of Singapore worked with YotaPhone's hardware engineering team to develop a special chassis to house YotaPhone's six antennas on the outer rim.
Yota Devices developed patented software to allow information to be shared and used between YotaPhone's two screens. It has also developed a number of innovative applications that come preloaded onto YotaPhone. Yota Devices worked with Bookmate to improve the reading experience for books, ABBYY to adapt its multilingual dictionary Lingvo for learning purposes, Vedomosti for delivery of the newspaper in a more readable format and MapsWithMe for dynamic maps.
YotaPhone will be sold online in December in Russia and four European markets and eventually rolled out to 15 other CIS, European and Middle East markets by the end of Q1 2014. Yota Devices has signed contracts with leading distributors: Ingram for European markets, Jumbo for the Middle East and Brodos for Germany. YotaPhone will also be available in Yota, Svyaznoy and Evroset retail outlets throughout Russia starting in December. YotaPhone will retail for 19,990 RUB in Russia and €499 elsewhere.
Award-winning YotaPhone facilitates more "emotional" communication
Since its unveiling one year ago, YotaPhone has received numerous awards and accolades, including Best of CES 2013 by CNET, PC Mag and Time magazine.
"YotaPhone isn't just a new phone, it's a new way for people to communicate and use information. Communication is more emotional and real with YotaPhone," explained Martynov. It was this feature that caught the attention of the jury of the Cannes Lions International Festival of Creativity when it gave YotaPhone an Innovation Lion award in July 2013.
YotaPhone sends emotional text messages from your friends and loved ones, such as a heart or flowers. A "Smile for the Camera" message appears when taking a photo. Reminders with entertaining images appear on the always-on screen, like a cake for birthdays. YotaPhone can be a personal coach, keeping track of exercise regimes or reminding you of personal goals. When YotaPhone's morning alarm rings, your custom daily RSS news feed appears. YotaPhone also has dynamic location-based wallpapers to keep users updated on their location, the time and the weather.
"We are a start-up company that had a big idea and we've executed on that idea. We looked at the smartphone from another side, literally, and created YotaPhone. We have many people and partners to thank, not least of which are tech enthusiasts around the world who have embraced the YotaPhone philosophy," said Martynov. "This is YotaPhone 1.0. Expect other big and new things to follow."
Alex was with Android Central for over a decade, producing written and video content for the site, and served as global Executive Editor from 2016 to 2022.
The world has changed since this phone was shown off. It's kind of redundant now.

You're using the wrong word, here. Redundant means that it's been done before, which it hasn't. You mean to say irrelevant, which I could see why you would say that. But, I like the idea. I hope enough people buy it to keep Yota trying new things =) Posted via my "Gift from God" Nexus 5

Frankenphone Posted via Android Central App

I hope this comes to the UK, yes it is running an older version of Android (I hope it gets updated) but I love the concept - useful for so many things... Posted via Android Central App on my Motorola XT890 RAZR i

I think that this company will create much better phones than this in the future. Posted via Android Central App

A toast to wishing that it never gets dropped! .. Descent specs, I wonder how long the battery lasts, cause unless you're using the ink side to read android central, that battery won't last much. (Yes I'm aware is dual core)

And you probably couldn't find a case for it. Posted via Android Central App

Some sort of bumper case...

It's good to see a company take a chance and make something unique. While this may not appeal to the majority of phone users, hopefully enough people will get a chance to buy it to keep YotaPhone trying new things. I like the idea of the EPD, I'm an avid reader. It'll be interesting to read some reviews on this.

I don't get the 1800MaH battery?? Seems like it's going to be a short lasting phone..

Those ink type screens use very very very very little power look at an e reader that uses that type of screen batteries smaller and they tend to hold a charge for a long time. And those are 7+ inches and better resolution Posted via Android Central App

Alright maybe you're right I'd still try and put more in there... The more the better.

Such a novel Idea. Want. But with traditional buttons on the front. Posted via Android Central App

Do you think Yota Phones are pretty nice? Then I'd buy it.
I really forecast my contry's economic won't depend on oil in the distant future if our western colleages will help to develop our country. We have enough prospects for economic progress. For example, we have knowledges, technologies and good scientific foundation in Moscow Institute of Physics and Technology.
My government can give you investments to new business and you don't have pay taxes during 5 years since your company was established. It's a good chance.
Android Central Newsletter
Get the best of Android Central in in your inbox, every day!
Thank you for signing up to Android Central. You will receive a verification email shortly.
There was a problem. Please refresh the page and try again.