Ditching your cable company doesn't have to leave you without a way to watch news, sports, and your favorite shows live. Sling TV is a live TV streaming service that gives you the power to watch wherever you want using a multiude of devices, from your computer or smartphone to streaming devices and more. Once you're a Sling subscriber, you'll never have to miss a moment of your shows — even when you're not at home.
For those who've never tried Sling before, now is an excellent time to join as you'll score your first month of Sling for only $10 thanks to a new deal being offered for a limited time. That saves you $25 off the regular monthly cost, and Sling is even throwing in its DVR Plus service for free during that month. After your first month has ended, Sling will auto-renew at its regular price though you can easily cancel your membership at any time.
Over 70% off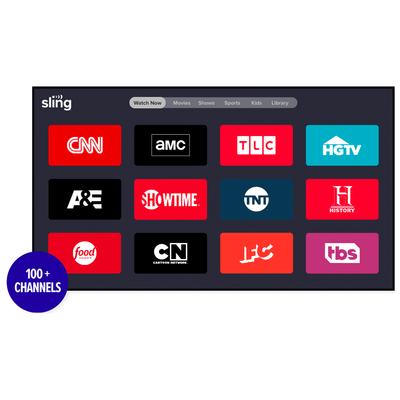 Sling TV
With a Sling subscription, you'll gain access to over 30 live TV channels of news, sports, and more. Today's deal saves you $25 off your first month of Sling and even includes 200 hours of DVR storage for free.
$25 off your first month
Sling has two base plans to consider, Sling Blue and Sling Orange, both of which normally cost $35 per month and include over 30 live TV channels. There is some variation in which channels these plans offer; for instance, Sling Blue has NFL Network and USA while Sling Orange has ESPN and Disney Channel. Sling also has a combined plan called Sling Orange + Blue that includes all of the channels in both packages for $50 per month.
For even more to watch, Sling gives you the ability to add on various packages of channels for an additional fee per month. This is extremely helpful in keeping the price low while allowing you to still stream additional channels should you choose to do so.
While Sling doesn't have a free trial available at this time, you can visit the Sling Free page on Sling's website to stream a few live TV channels and on-demand content for free without even signing up for an account.
We may earn a commission for purchases using our links. Learn more.