Sirius XM app coming to Google TV this year, will get shown off at I/O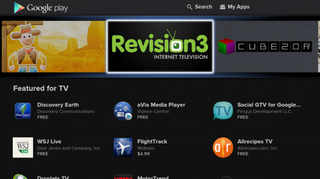 Google I/O is upon us and that means the announcements will start coming fast. Sirius XM Radio announced that they will have an official app for the Google TV platform coming out this year. It is the first time Sirius Radio will be offered on any web-connected TV.
The app will be free (but you still have to be a subscriber) and will be available from the Google Play Store on Google TV devices. Here are the main features of the app that subscribers will be able to take advantage of:
Tune Start, which will allow you to tune in to a station that will automatically restart the current song so that you don't have to miss it
Start Now, by which you will be able to go back 5 hours into archived programming
Pause, resume, fast forward and rewind
Organize your favorite channels
If you're not a subscriber and would like to try it out, Sirius XM offers free trials, which can be found on their website. This new app will be shown off at Google I/O today at 3:00PM PDT.
This is great news as it further adds premium content to the Google TV platform.
There is already an app out for Android phones and tablets that can be downloaded for free. Please find links after the break as well as the full press release.
SiriusXM Coming Soon to Google TV
SiriusXM Internet Radio App to launch on Google TV devices coming in 2012, giving easy access to SiriusXM's commercial-free music, premier sports, live news, comedy, talk, and entertainment for the first time ever on any connected TV
SiriusXM Internet Radio App for Google TV demoing at Google I/O today in San Francisco
NEW YORK – June 27, 2012 – Sirius XM Radio (NASDAQ: SIRI) today announced its SiriusXM Internet Radio App will launch on Google TV devices coming in 2012, giving new and existing subscribers easy access to SiriusXM's commercial-free music, premier sports, live news, comedy, talk and entertainment at home.
With the launch of the SiriusXM Internet Radio App on Google TV, SiriusXM programming and Sirius XM 2.0 features will be available for the first time on any connected TV. SiriusXM Internet Radio for Google TV will be available as a free download from Google Play soon to consumers in the United States.
"Working closely with Google, we developed the SiriusXM Internet Radio App for the new Google TV, giving subscribers another platform to listen to their favorite SiriusXM programming at home," said Sean Gibbons, Vice President, Product Management, SiriusXM. "SiriusXM Internet Radio is currently available online and on smartphones and other connected devices. With SiriusXM on Google TV, we are giving even more consumers the ability to get the premium audio entertainment they enjoy from SiriusXM on their televisions."
SiriusXM will participate in the Google TV Developer Sandbox and demonstrate its SiriusXM Internet Radio App on Google TV at Google's developer conference, Google I/O 2012, today, June 27, at approximately 3:00 pm PDT at San Francisco's Moscone Center.
Subscribers will get access to these key features of SiriusXM Internet Radio on Google TV:
· Start Now allows subscribers to go back up to 5 hours to hear previously broadcast programming on many channels.
· Tune Start™ automatically starts the current song from the beginning so listeners will hear the whole song when tuning to any music channel.
· Pause and resume live programming.
· Fast Forward and Rewind on many channels.
· Show Finder™ is an easy-to-use electronic programming guide offering a complete list of what's on, with the ability to set reminder alerts when favorite shows are broadcast.
· Organize favorite channels and shows on one easy-to-access screen.
· View SiriusXM programming information and schedules on compatible HDTVs, including channel and album artwork, artist biographies and an electronic program guide.
SiriusXM Internet Radio is also currently available on Android-powered smartphones and mobile devices. The Android operating system is also used on the SiriusXM Lynx Portable Radio, the first SiriusXM 2.0 radio that offers new features and delivers an expanded channel lineup via satellite and Internet.
Listeners can register for a trial to listen to SiriusXM Internet Radio and get access to commercial-free music, premier sports, live news, comedy, talk, and entertainment from SiriusXM. For more information on SiriusXM and a full channel lineup, please visit www.siriusxm.com.
Google I/O returns to San Francisco's Moscone Center from June 27-29, 2012.
The Developer Sandbox, first introduced at I/O 2009, is a demo area where a wide range of developers who have built applications based on technologies and products are featured at I/O. Representing large and small companies, individual developers, and a diverse collection of apps, these developers will be participating in the Sandbox to demo their applications, answer questions, and exchange ideas.
###
About Sirius XM Radio
Sirius XM Radio Inc. is the world's largest radio broadcaster measured by revenue and has more than 22 million subscribers. SiriusXM creates and broadcasts commercial-free music; premier sports talk and live events; news and comedy; exclusive entertainment; and the most comprehensive Latin music, sports and talk programming in radio. SiriusXM is available in vehicles from every major car company in the U.S., from retailers nationwide, and online at siriusxm.com. SiriusXM programming is also available through the SiriusXM Internet Radio App for Android, Apple, and BlackBerry smartphones and other connected devices. SiriusXM also holds a minority interest in SiriusXM Canada which has more than 2 million subscribers.
This communication contains "forward-looking statements" within the meaning of the Private Securities Litigation Reform Act of 1995. Such statements include, but are not limited to, statements about future financial and operating results, our plans, objectives, expectations and intentions with respect to future operations, products and services; and other statements identified by words such as "will likely result," "are expected to," "will continue," "is anticipated," "estimated," "believe," "intend," "plan," "projection," "outlook" or words of similar meaning. Such forward-looking statements are based upon the current beliefs and expectations of our management and are inherently subject to significant business, economic and competitive uncertainties and contingencies, many of which are difficult to predict and generally beyond our control. Actual results may differ materially from the results anticipated in these forward-looking statements.
The following factors, among others, could cause actual results to differ materially from the anticipated results or other expectations expressed in the forward-looking statements: our competitive position versus other forms of audio entertainment; our dependence upon automakers; general economic conditions; failure of our satellites, which, in most cases, are not insured; our ability to attract and retain subscribers at a profitable level; royalties we pay for music rights; the unfavorable outcome of pending or future litigation; failure of third parties to perform; and our substantial indebtedness. Additional factors that could cause our results to differ materially from those described in the forward-looking statements can be found in our Annual Report on Form 10-K for the year ended December 31, 2011, which is filed with the Securities and Exchange Commission (the "SEC") and available at the SEC's Internet site (http://www.sec.gov). The information set forth herein speaks only as of the date hereof, and we disclaim any intention or obligation to update any forward looking statements as a result of developments occurring after the date of this communication.
I kinda have a thing against being a paying subscriber, and having to pay an extra $3.50/m just to listen to the "internet radio" version. Oh sure, the app may be free, but the subscription isn't. I don't mind paying to have access to it in my car, but I feel like if I want to listen to it on my PC or smartphone, I shouldn't have to pay for it again...

I agree. I have two radio subscriptions with Sirius. I'm not paying yet another fee to listen on my phone too.
Android Central Newsletter
Get the best of Android Central in in your inbox, every day!
Thank you for signing up to Android Central. You will receive a verification email shortly.
There was a problem. Please refresh the page and try again.