Samsung's Galaxy Fold 2 leak reveals a hole-punch camera, 120Hz display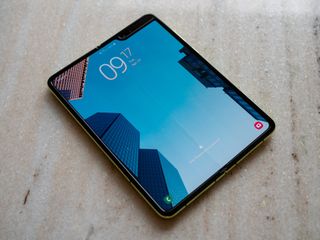 (Image credit: Andrew Martonik / Android Central)
What you need to know
More leaks of the Samsung Galaxy Fold 2 have emerged months before an expected release.
The outer screen of the Fold 2 is said to be much bigger and capacious compared to the initial release, and the inner screen will jump in size as well as shift up to 120Hz.
The Fold 2 is also expected to debut with an S-Pen, improving its productivity focus.
Samsung's Galaxy Fold 2 has been rumored to be making its way down sometime this year, and now we have a bit of an idea of what kind of specs will drive this experience.
In a series of tweets, industry analyst Ross Young shared the display specs of the upcoming foldable, tweeting:
Other specs confirmed include the S-Pen which earlier reports had already pegged as being on the table.
Providing a visual aid to these numbers, concept designer Ben Geskin has shared an image showing us what that the updated Fold could look like.
These specs herald a Samsung which has paid attention to critics of the first iteration of its Fold. The small screen has been fixed, it's adding 120Hz to provide a smoother experience, and the S-Pen coming along for the ride elevates the Fold as a productivity machine.
The Galaxy Fold impressed us when we reviewed it, with Android Central's Nirave Gondhia commenting:
It's not clear when the Fold will launch, earlier rumors pegged it at Q2 2020. Though with supply chains and economies under disruption, it's currently unknown whether that is still the plan.
Samsung Galaxy Fold
The first iteration of Samsung's Galaxy Fold was a peek into a potential future for smartphones and tablets. While flawed, it remains an experience worth having — if you can afford it.
I will definitely keep my eyes open. I have the first fold and I liked the flip, but I am part of the fold audience. To me the biggest numbers or maxed specs are really that important. If you can make it run and usable for a daily driver, while grabbing attention and make me enjoy it everyday, then you have my vote. So I'll wait for this Fold2

MUCH better design. The big screen doesn't even need a cam to be honest. Looks like a winner now.

Rumour has it that its the note 20 ultra

This is the first phone of 2020 to actually interest me.

"closest a smartphone has come to a laptop"? Wtf? Was this guy born yesterday? There has been various that were close to laptop replacements before the fold... One phone that comes to mind was the Nokia n900.. Multi-tasking.. It could do way more that 2 screens in real time multitasking (not the take a picture usual Android crap)... Slide out keyboard so your screen would not be hidden... Etc etc.. Is he comparing a laptop replace because the size of the screen? It must be because the note 10 does the same thing as the fold/fold2.. Albeit way smaller screen.
Android Central Newsletter
Thank you for signing up to Android Central. You will receive a verification email shortly.
There was a problem. Please refresh the page and try again.