Samsung confirms Galaxy Gear support coming to Galaxy S3, S4, Note 2 and other devices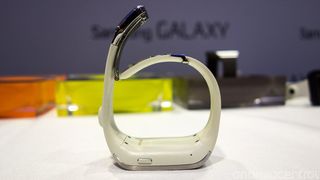 Depending on where you live, you may have already received a software update enabling support for the Galaxy Gear smartwatch for your Galaxy S4. Nevertheless, today brings an official news release from Samsung confirming as much.
The Galaxy S4, S3 and Note 2 will get Galaxy Gear compatibility along with their Android 4.3 updates — an update the S4 is already getting in some countries — while the Galaxy S4 Mini, S4 Active, Mega 5.8, Mega 6.3, and S4 Zoom will get Gear support in another software update starting at the end of the month.
Samsung notes that the Android 4.3 updates for the Galaxy S4, Note 2 and some Galaxy S3 models will also bring the KNOX enterprise security platform, SmartSwitch for transferring content from other phones, Samsung HomeSync support and the Group Play 2.5 app with video sharing capabilities.
As always, the timing of these updates will vary from country to country, so don't get too excited just yet.
Source: Samsung
Alex was with Android Central for over a decade, producing written and video content for the site, and served as global Executive Editor from 2016 to 2022.
S3 getting 4.3! That's good support from Samsung Posted from the ONE

Great to hear this Posted via Android Central App on my VZW 4G LTE GS4

I'm selling my GS3 and getting a nexus 5 tho.....

Don't really think the gear is something to make you reconsider that decision. Posted via Samsung Gs3 Wishing it Was a N5

It must not be selling well if Samsung NOW decides to add support for the other phones. Either that or they're just incompetent to not include those other phones from the start.

The reason they weren't supported right away probably had to do with a lack of necessary software on the phones and they always said that older phones would be supported at some point. Posted via Android Central App

What r u talking about?? Samsung stated that these phones would be compatible before the Galaxy gear launched. It just wouldn't be at launch. And that to increase sales for the note3 Posted via Android Central App

Bluetooth 4.0 it was software from the start friend Posted via Android Central App

Can't wait for 4.3 on the T-Mobile US Note 2. Had the phone since last December and it is still nice. Also want the capability to move apps to the microSD card as was done for the S4. 16GB internal doesn't cut it anymore.

I hear ya.... Only thing I hate about Android.. Why have a feature then take it away then Release it again in a future version Posted via Android Central App

I want to know when it will hit T-Mobile US, I've had the gear watch for a a week waiting on update but it doesn't hit and I want it now Posted via Android Central App

I'll believe it when I see it, and even if I do ever see it, I bet it won't be anytime soon.

Verizon? Come on Big Red, do it before the end of the year... Posted via Android Central App

As soon as the price drops to something more reasonable, I'll get one.

Wow, they still didnt say anything about the Note 10.1 phone model that is carried in a bag, but they are going to add Gear compatibility to phones carried in a pocket. Total sh*t from Samsung again... Posted via Android Central App

And the 4.3 update will surely screw something up as it did with the 4.2 update on Note 8. Posted via Android Central App

I have the Note 8 and the update didn't cause me any problems at all. Obviously it only affected your device or else you just need to reset your note 8. I did not have to reset my Note 8, however. It is so fast compared to other tablets like the Nexus 7 and it has a better camera.

I did reset it after the update but the battery life still sucks compared to pre-update Posted via Android Central App

I still want to know if support will be added for the S4 GPE. I know my S4 GPE has support for the S-View Flip Cover. So they can add support to the GPE for Samsung products. But will they?

Anyone have a date on when it will hit T-Mobile? Posted via Android Central App

I really want to get this smartwatch as a Christmas present for my dad, who uses a Galaxy S3, so I hope Gear becomes compatible with that device soon. Otherwise, I'll have to think of another gift. Posted via Android Central App, HTC One

When can I expect 4.3 on my s4

Wondering if support for the Google Edition S4 will get support for the Watch/? kinda of an oversight if not...

Awesome samsung Posted via Android Central App
Android Central Newsletter
Get the best of Android Central in in your inbox, every day!
Thank you for signing up to Android Central. You will receive a verification email shortly.
There was a problem. Please refresh the page and try again.