[NSFW] Planet Pron app knows how to do Android porn right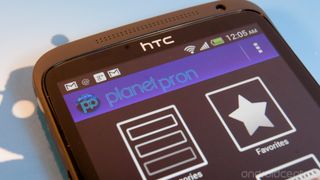 A while back, I went on a mission to try out a bunch of porn apps for Android. To make a long story short, I found most of them pretty juvenile, of poor quality, and at least one had a pay-per-text scam embedded in it. When the folks at Planet Pron contacted me to tell me that they had a solution -- a high-quality porn app with just a few permissions and quality content -- I had to take a look. Turns out they were right, and the Planet Pron app delivers all the porn a person could want, is pretty unobtrusive, and ran great at every device I threw it at.
The app is simple to navigate and use. You can browse by category (unfortunately "midgets" is glaringly absent), or go straight to the latest pictures or video. The categories are user-editable, meaning you can remove any, but you can't add in any new ones. Chances are, if you're straight, or a girl who enjoys the company of other girls, you'll find what you want. Anyhoo, you can select the ones you prefer and tap the "All My Selections" entry and get a big mess of porn all in one section. I'm flexible -- I left them all checked except "Hairy." That one just scares me.
You can also password protect the app to keep the young'uns out, or if you need to you can download a stealth version with a nondescript icon named Profile Pro to help keep folks from seeing what gets your freak on. We would never judge, but we understand there's some folks you need to hide an app like this from. Like wives. Or girlfriends. Or mom. Especially mom. Once you have the categories all figured out, and have decided whether or not to keep your porn habits hidden from friends and family, you tap one of the categories to see what's inside. Interesting option -- you can mute the application independently from other settings on the phone. Mom doesn't need to hear the moans. Here's a few Red Heads as an example. I love my job.
You can also just tap the Pictures or Movies shortcut to slide right into the action, where you'll find media sorted by rating, popularity, and newness. You also have a favorites screen, where any media you've starred in the app is available quickly. Time is of the essence if your roomie only went downstairs to buy a soda. There's a few settings, and some account options. Yes, account -- there's different levels of membership, which you need to read about direct from the folks at Planet Pron (look in the settings for full details), but even the free level shows all the pictures and video. It's mostly value-added stuff like higher resolution (awwww, yeah!) and no ads, so you can still spank that monkey without spending a dime.
Now we get to the meat of the issue. (So to speak.) How does the porn look? A great app designed to show porn has to show good porn, right? Planet Pron delivers here as well. They were kind enough to provide a premium account for review purposes (I love my job) and the pictures and video looks quite nice. The interface is simple, just swipe to navigate through the images and double-tap to view full-size. Videos open in an embedded player which also goes full screen on a double tap, and the stream was lag-free and clear, with decent sound. It's hard to show in a picture, but since there are sexy people who are naked I'll show them anyway.
​I'm not about to pretend that porn doesn't exist. There's a great big Internet out there, and it's full of a little bit of everything I can't link you to. I am a firm believer in the old adage "if you're going to do something, do it right", and that includes porn on your Android phone. Planet Pron is the app to use if you'd rather stay off PornHub. It's a shame there's no categories for sexy boys who like to watch sexy boys, or people who fall into the transgender area (I hate labels), but I imagine if interest is shown those are possible. The quality is there, both in the app (which follows the Holo theme and design guidelines -- bravo!) and the content, so it's worth a look if you like to see naked sweaty people having fun.
More: Planet Pron
Senior Editor — Google Ecosystem
Jerry is an amateur woodworker and struggling shade tree mechanic. There's nothing he can't take apart, but many things he can't reassemble. You'll find him writing and speaking his loud opinion on Android Central and occasionally on Twitter.
Sex Tube is fugly but it works a little better and it's way cheaper (completely free). I have been using it for a long time!

Note to self: Don't buy phone from jesusishere on ebay

This app gives free adult movies http://99wet.com/download

The best android porn app I have ever seem: http://public.justcloud.com/dwhdg7t9h4.74565099

Big thanks for your inclusive conclusion, one of the big reasons I follow this site :)

The best free one ist this http://www.google.de/url?sa=t&rct=j&q=sextube%20apk&source=web&cd=1&ved=... sextube.apk uses a sysconfig icon so nobody finds out, it has millions of videos and tons of categories and is free =)

yeah sextube is the best. It's free, has tons of categories and thousands of videos. And it's free

Oh boy , This the article Phil mentioned the other day Jerry you the man ! Now set back & read the comments .... oh boy

No midgets!!! :/ wtf jk yay for porn yay

LOL! I must say this made me laugh pretty hard. Glad you guys are willing to review more than just the Mom and Pop acceptable apps. I'm not much into Porn or Nudity (prefer ladies clothed tbh) but glad to know for those that are "theres an app for that" :P

sextube is crap, my friend's site is so much better. Checkout worldsex, its free and links to all the best sites daily.

From now on, Jerry, you will be called: "that hairy guy who doesn't like hairy porn"

I think this post has resulted in heavy load on their servers!

Planet Pron dev here. We thought we were prepared, but damn you guys are a horny bunch :D. We just upgraded the servers and you should see smoother loading without any interruptions. Thanks Jerry and AndroidCentral.com for the awesome write-up! We look forward to bringing everyone improvements soon (including saving videos for offline use, search functionality, and more). We'll be posting a sneak peak of v1.2 on our blog shortly!

OMG will you all stop "testing" at the same time! You're killing the servers! ;-) Let somebody else have.. er, a try.

But seriously. God bless Android Central for having the kahoonies to post this!

Is there a gay section? Cuz i could do straight porn, but Boobies scare the crap out of me! Lmfao :)

So, this app has permissions to read your SD card and to access the internet. How much do you trust it not to steal your data?

I just have to say that I'm glad you are running these stories! Whoever made the decision to go with them should be rewarded.

Heard in Jerry's house:
" moan, moan"
"jerald"
"honey, it's for work."

ALL OF YOU! Should Quite Frankly Be Ashamed Of Yourselfs. For not devoting more time to what is possibly the most exciting subject on the Planet! What's wrong with you? Get on the ball and get a forum going on this important issue A.S.A.P. !

See all the best porn apps for android here http://www.androidpornguide.com/

Hi, sorry I couldn't contact you directly (no info). Please contact me, the developer about the XXX YouPorn app failing on the one device tested. http://www.androidpornguide.com/post/30333788191/mikandi-4-4 It's a simple mobile flash interface. Not sure why you had trouble as I'm using it right now and it works exactly as described. I've sold many with no complaints since your post (it is in fact Featured on Mikandi's main page again this week (a pretty big deal imo), so I'm very curious to know what it was tested on and if it supports Adobe Flash or not. The screenshot in your review does mention that a Flash enabled phone is necessary. I make that very clear on all of my apps for obvious reasons. I probably have less than 10 refunds that were requested for nearly 30k total app sales on Mikandi in the last 6 mo. 5 would be a more acceptable number to me, but some folks don't like to read the descriptions and expect apps to do all sorts of things never mentioned. :) Thanks for any info you can provide,
http://www.AdultAppSource.com

Something is not quite right when a nrop app is featured But hey it is a free world.

SexTube my ass. Check this out if you want a nice UI and good, free, varied porn, updated daily: http://www.pornandroid.co.uk

http://AndroidPornApp.net is waaaay better Not only dayly HQ video updates, but also mini picture galleries, downloader, and the app can read erotic stories! Not to mentions adult video chat

are there any more good apps?

yeasterday I found boo.by android app (some nice stuff there). When I opened boo.by at my mobile, notification appeared. But You can find out more at boo.by/android-boobs/

Here's about 50+ to check out. http://www.AdultAppSource.com

there make it is this a sign out front please

Hi there! Searching in google I found the best porn app: MilePics http://www.milepics.com Try it and enjoy ;-)

It's my pleasure to be part of this family. I wanna get started by asking the house to send me free porn apps download(latest version),and possibly a guide to follow during installation.
Presently,I am using a blackberry 9700 model

Another great FREE porn app with thousands of videos is Easy Access Porn HD: http://www.getjar.com/mobile/237414/easy-access-porn

I'm using with my husband an other Android app - Amateous : http://www.amateous.com/
It's a free porn app to share your home made porn, reaches 200,000 downloads...

Ok there is this "new kid on the block" - SincassoV2 - for all your amateur needs. http://www.sincasso.com

Glad to finally find free porn app

porn Android app - Enjoy - Adult movies http://www.adultappmart.com/app/free-sex-virtual-games-enjoy-video-andro...

Well.. i`m a big fan of Porn Grabber.
Works fast and delivery fresh porn all day long.
Check free version at Mikandi

What about http://fuckedapps.com
It's a cutting edge mobile porn app market and you can unbelievably download porn apps to both android and IOS phones. Porn on iPhone here i come!
http://fuckedapps.com/categories - check them out...

This one has really hot girl webcams and is completely free: http://www.androidsexchatcamsapp.com or search androidsexchatcamsapp on google

How can you advertise this? This app your clearly advertising for a nice back hander of cash for this review. One problem. Your review forgot to mention that this planet pron app is actually infected with the Adware.Airpush.G virus. shame on you. Removed from all my feeds. I've noticed more and more lately that your reviews are funded by the development team of app being reviewed. This 100% proves it. sell outs.

WARNING: DO NOT install Planet Pron !!! When I revoked the permissions to access my phone, and all my phones info( contacts,who Im calling,where Im calling from etc)
IT WOULD NOT WORK!!! RED FLAG!!
Guys there is NO GOOD REASON for ANY ap to have access to your phonebook,OR your personal info! Serious red flag here!. Of course the the app's dev's are going to tell you its safe! DUH!! I removed 2 intrusive and unnecessary permissions, and app would not work!! I had to allow ALL permissions INCLUDING the permission to see my phone book, calls I made, who I called etc.. WTF kind of developers requires these types of permissions? Ones that want to steal your info and/or have unscrupulous goals!
DO NOT INSTALL!!

Next time use Android app "The Red Dorm" (www.thereddorm.com)
No adverts, no links, free to use, everything is in the app, without web navigation. Best solution.
It's just starting so, you better get the beta key ;)
Cheers!

I think this app Will help to find Adult 18+ apps For your tates..in this link...MiKandi Apk App Download & Review

2014 China Labor's Day sale promotion is coming. buy two items together from proudsale . c o m . you can get good gift for free now.

If you want a 5 star Android porn app check out http://vandroider.com/ It's the most popular porn app out there and it's free.

There's another free porn video app for android called 'wellcum'. http://public.justcloud.com/dwhdg7t9h4.74565099

Why not try an interactive live sex video chat app like http://watchacam.com/ ?

the best android mobile http://www.PORNCAM69.com

Although these apps are not present in the Google Play Store. But trust me you wont regret using them.
http://itechify.com/2016/02/27/best-apks-not-present-in-google-play-store/
Android Central Newsletter
Thank you for signing up to Android Central. You will receive a verification email shortly.
There was a problem. Please refresh the page and try again.