Philips Hue lights are some of the most versatile smart home lights on the market, with options ranging from standard light bulbs to light strips like the Philips Hue Lightstrip Plus. These dimmable LED smart light strips can be controlled using an app on your phone and can change from over 16 million colors at your command. They're not the most inexpensive light strips out there, and you need a Hue Hub for them to work properly in your home, but thanks to a sale at Amazon offering nearly 30% off the regular cost, now's a better time than most to make the purchase. At just $58.12, today's sale brings this product lower in price than it's been all year long; it usually sells for up to $80.
Any Color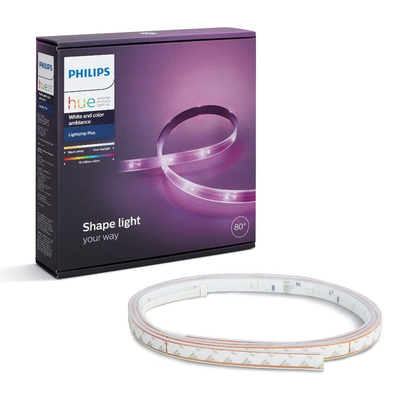 This dimmable light strip can be voice-controlled with Amazon Alexa, Google Assistant, and more. Install it wherever and choose from 16 million colors to set the mood to your liking with its best price on Amazon in nearly a year!
$58.12 $79.99 $22 off
Once the Lightstrip Plus is set up in your home, you'll be able to control it using a free app on various devices including smartphones and tablets. It even works with voice and smart home assistants like Amazon Alexa, Google Assistant, Apple HomeKit, SmartThings, and IFTTT so you can begin voice controlling the strip. Up to 50 Hue lights can be controlled simultaneously thanks to the Hue Hub, so the Lightstrip Plus can easily integrate with any Hue products you may already own.
The strip is flexible and 80 inches long, featuring an adhesive tape on the back that makes it easy to place this strip wherever you want it in your home. It can be trimmed to size too, or extended with the 40-inch Hue Lightstrip Extension. It's more than 25% off today as well.
We may earn a commission for purchases using our links. Learn more.