Oculus Quest 2 vs. Oculus Go: Should you upgrade?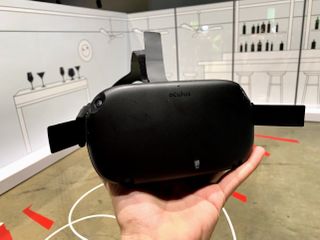 Oculus Quest 2
The Oculus Quest 2 is an immersive and untethered VR headset. Its combination of six degrees of freedom and Oculus Guardian tracking means you can run around, jump up and down, and maneuver throughout games without any wires or a PC to slow you down.
Oculus Quest 2
Full roomscale tracking and movement
No cameras or base stations required
Supports six degrees of movement
Huge library of games and apps
Can be played anywhere
2-3 hour battery is a bit short
Requires Facebook login
Oculus Go
The Oculus Go was a great way to watch 360-degree videos and play simple VR games at a low cost, but its time on the Earth has ended.
Oculus Go
Lightweight and simple to use
Great for viewing videos
Discontinued
Doesn't support six degrees of freedom movement
Only supports one motion controller
Controller only has limited movement tracking
If you've been an Oculus Go user for a few years and weren't fully convinced that the original Oculus Quest was a good enough upgrade, it's time to re-assess that sentiment. The Oculus Quest 2 is the follow-up to the Oculus Quest and improves upon the original's experience in every single way. The biggest downside? You won't be able to play any of those Oculus Go games you know and love. Problem is that the Oculus Go has been completely discontinued at this point, so it's just a matter of time before that headset becomes totally useless. Case in point? It's time for an upgrade.
Oculus Quest 2 vs. Oculus Go: Spec it out
Swipe to scroll horizontally
| Category | Oculus Quest 2 | Oculus Go |
| --- | --- | --- |
| Display resolution (per eye) | 1832x1920 | 1280x1440 |
| Display refresh rate | 90Hz | 60Hz |
| IPD adjustment | Yes | No |
| Processor | Snapdragon XR2 | Snapdragon 825 |
| RAM | 6GB | 3GB |
| Hand Controls | 2 hands | 1 hand |
| 6 degrees of freedom | Yes | No |
| Oculus Guardian tracking | Yes | No |
| Passthrough+ | Yes | No |
| Oculus Link | Yes | No |
| Arena-scale tracking | Yes | No |
| Hand tracking | Yes | No |
The Oculus Quest 2 is so powerful it's designed to not only replace the Oculus Go and Oculus Quest, but also the Oculus Rift line on the PC. It's a headset built primarily for standalone VR usage, but it can be easily hooked up to a PC with an Oculus Link cable, which turns it into a full-fledged Oculus Rift. That gives you access to any VR games on the Oculus store or Steam, and significantly opens up possibilities that the Oculus Go could never offer.
Part and parcel to the Oculus Quest 2's superior experience is the sophisticated level of roomscale tracking that's possible thanks to the four cameras on the outside of the headset. Oculus Insight tracking will automatically map the physical space in your room and keep track of where you're standing, how you're positioning your body, and make it feel like you're actually walking around in the virtual world. All you need to do is draw a border around your room when you first start up the Oculus Quest 2, which is easily done through the headset by using the Oculus Touch controllers.
This type of tracking is known as six degrees of freedom (6DoF). That means it can track your actual movement in 3D space, including ducking, dodging, and movement in any direction. The Oculus Go was restricted to three degrees of freedom (3DoF), which only tracks the left/right and up/down movement of your head — not even forward and backward movement. The Oculus Quest 2 controllers also support the same freedom of movement, making it possible to use them almost like hands in real life. Holding a sword, pointing a gun, or just grabbing something in virtual space makes it feel like you're actually there.
Throughout the 18 months the original Oculus Quest was on the market, Facebook regularly added significant new features and has included all of these features on the Oculus Quest 2. Things like Passthrough+ and hand tracking are only available on the Quest family and are even better on the Quest 2 because of the faster processor. Oculus Link has officially replaced the need to buy a separate Oculus Rift headset just to play PC VR games, and there are plenty of other ways to play wirelessly, as well.
Oculus Quest vs. Oculus Go: Simplicity isn't long-lasting
In contrast, the Oculus Go is a much more basic headset. It's an inexpensive entry-level device that was geared more towards watching videos and light gaming. It's very similar to using a Gear VR, but it doesn't require a phone to be inside. Aside from being much more limited in scope, the Oculus Go has now been officially discontinued and will no longer be receiving updates or new games. Many existing apps and services will even stop working soon, meaning it's just time to upgrade already.
If you've already got an Oculus Go and just want to hold on to it for easy video viewing or for hanging out with friends in apps like Bigscreen, there's still some time to do that before things will stop working. It's likely that the Oculus Go will continue to live on in some other commercial or industrial sectors due to its lightweight and inexpensive nature but, for consumers, its time is winding down.
Oculus Quest 2 vs. Oculus Go: It's time for an upgrade
The Oculus Quest 2 represents the future of the VR industry. At $300, it's more affordable than the original Oculus Quest and, on top of that, it's far more powerful too. We've seen developer support for the Quest 2 grow exponentially since its release, and that's likely going to continue as adoption rates skyrocket this holiday season. If you want the best in VR, you need to get an Oculus Quest 2.
So what do you do with your old Oculus Go? For now, it's OK to hold onto it if you're using it all the time or just need a second headset around the house. While it's not going to be supported in the future, it could still prove useful for hanging out with friends remotely in apps like Bigscreen or Oculus Venues, and it could be a great way for someone else in your home to experience these types of virtual events alongside you.
Truly immersive
A full-VR experience that doesn't require a PC
The Oculus Quest 2 supports six degrees of freedom and tracks both you and your environment. You can play a wide range of games and also enjoy VR and 360-degree video content.
Now discontinued
Use it while you can
The Oculus Go has been a great, inexpensive way to view VR videos and 360-degree content for years, but it's now discontinued.
Get the Android Central Newsletter
Instant access to breaking news, the hottest reviews, great deals and helpful tips.