NVIDIA announces Tegra 4i with integrated LTE modem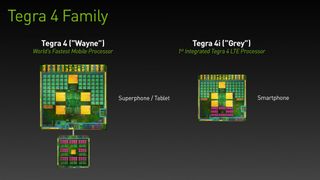 NVIDIA this morning took the wraps off the Tegra 4i, the next iteration in its recently announced Tegra 4 family. In a nutshell, Tegra 4i is smaller package than its Tegra 4 cousin. It's got 60 GPU cores instead of 72, but it's also got NVIDIA's new i500 LTE modem built into it. The processor is an ARM Cortex A9-R4, which was specially designed and optimized for the Tegra 4i. The processor clocks out at up to 2.3 GHz, for what that's worth. (OK, a lot of cycles is what that's worth.)
Before you get too hot and bothered by all this CPU/GPU talk, NVIDIA says we likely won't see any production devices until the toward the end of the year. So for now you'll just have to whet your appetite with the "Phoenix" reference platform NVIDIA's seeding. NVIDIA plans to show off Tegra 4i next week at Mobile World Congress in Barcelona.
We've got NVIDIA's full presser and complete specs of Tegra 4i after the break.
Swipe to scroll horizontally
4+1
4+1
ARM Cortex-A15
ARM Cortex-A9-r4
1.9 GHz
2.3 GHz
72
60
Yes
Yes
DDR3L & LPDDR3
LPDDR3
4GB
2GB
3200 x 2000
1920 x 1200
4k (Ultra HD)
1080p
Optional LTE Chipset
Integrated i500 LTE
Cat 3/Cat 4+CA 100-150 Mbps DL (50 Mbps UL) FDD and TD-LTE, TMs 1-8
Cat 3/Cat 4+CA 100-150 Mbps DL (50 Mbps UL) FDD and TD-LTE, TMs 1-8
Cat 24/6 42 Mbps DL (5.7 Mbps UL) Plus cats 6, 8, 10, 14, 18
Cat 24/6 42 Mbps DL (5.7 Mbps UL) Plus cats 6, 8, 10, 14, 18
Cat 24/6 4.2 Mbps DL (2.2 Mbps UL) Including TD-SCDMA
Cat 24/6 4.2 Mbps DL (2.2 Mbps UL) Including TD-SCDMA
23x23 BGA
14x14 FCCSP
12x12 POP
12x12 FCCSP
28 nm
28nm
NVIDIA Introduces Its First Integrated Tegra LTE Processor
Tegra 4i Delivers Highest Performance of Any Single-Chip Smartphone Processor
SANTA CLARA, Calif.—February 19, 2013— NVIDIA today introduced its first fully integrated 4G LTE mobile processor, the NVIDIA® Tegra® 4i, which is significantly faster yet half the size of its nearest competitor.
Previously codenamed "Project Grey," the Tegra 4i processor features 60 custom NVIDIA GPU cores; a quad-core CPU based on ARM's newest and most efficient core— the R4 Cortex-A9 CPU— plus a fifth battery saver core; and a version of the NVIDIA i500 LTE modem optimized for integration. The result: an extremely power efficient, compact, highperformance
mobile processor that enables smartphone performance and capability previously available only in expensive super phones.
"NVIDIA is delivering for the first time a single, integrated processor that powers all the major functions of a smartphone," said Phil Carmack, senior vice president of the Mobile business at NVIDIA. "Tegra 4i phones will provide amazing computing power, world-class phone capabilities, and exceptionally long battery life."
Tegra 4i's new 2.3 GHz CPU was jointly designed by NVIDIA and ARM, and is the most efficient, highest performance CPU core on the market.
"Tegra 4i is the very latest SoC solution based on the ARM Cortex-A9 processor and demonstrates the ability of ARM and our partners to continue to push the performance of technology and create exciting user experiences," says Tom Cronk, executive vice president and general manager, processor division, ARM. "ARM and NVIDIA worked closely to further
optimize the Cortex-A9 processor to drive performance and efficiency in areas such as streaming and responsiveness. This is an example of the collaboration and innovation that enables ARM technology-based solutions to be market drivers through multiple generations of SoC solutions."
Utilizing the same architecture as Tegra 4's GPU, Tegra 4i features five times the number of GPU cores of Tegra 3 for high-quality, console-quality gaming experiences and full 1080p HD displays. It also integrates an optimized version of the NVIDIA i500 software-defined radio modem which provides LTE capabilities, and makes networking upgradability and scalability fast and easy.
''NVIDIA's Tegra 4i appears to outperform the leading integrated LTE chip significantly, and also benefits from an integrated 'soft-modem' that can be re-programmed over-the-air to support new frequencies and air interfaces – something other modem vendors can only dream of," said Stuart Robinson, director, Handset Component Technologies Program at
Strategy Analytics."
Tegra 4i mobile processor's camera capabilities include the NVIDIA Chimera™ Computational Photography Architecture recently announced in Tegra 4. This delivers many advanced features, including the world's first always-on high dynamic range (HDR) capabilities, first tap to track functionality and first panoramic photos with HDR.
NVIDIA also introduced its "Phoenix" reference smartphone platform for the Tegra 4i processor to demonstrate its unique mobile technologies. Phoenix is a blueprint that phone makers can reference in designing and building future Tegra 4i smartphones to help get them to market quicker.
Get the Android Central Newsletter
Instant access to breaking news, the hottest reviews, great deals and helpful tips.