Nokia 8 Sirocco, Nokia 7 Plus, and Nokia 6 2018 launch in India: Everything you need to know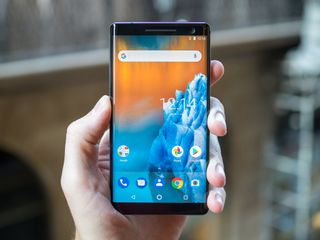 (Image credit: Android Central)
HMD Global revived the Nokia brand last year, and the first wave of devices — the Nokia 3, Nokia 5, Nokia 6, and the Nokia 8 — featured classic designs from Nokia phones of yesteryear, but with Android under the hood.
HMD announced earlier this year that it was committing to the Android One platform for all of its phones going forward, and in doing so it should be able to roll out updates even faster. If there's one thing that made Nokia devices stand out in 2017 and the first quarter of 2018, it's how fast they've received updates.
HMD promised that it would deliver timely updates to all phones in its portfolio, including the entry-level Nokia 3, and the manufacturer kept up its word.
Coming back to HMD's strategy, the manufacturer rolled out three phones back at MWC — Nokia 8 Sirocco, Nokia 7 Plus, and the Nokia 6 2018 — and the devices are now making their way to the Indian subcontinent. HMD says that India is one of the top three markets worldwide, and the Nokia brand still has a loyal userbase in the country.
With that out of the way, it's time to take a look at the devices on offer. Here's what you need to know about the Nokia 8 Sirocco, Nokia 7 Plus, and the Nokia 6 2018.
Nokia 8 Sirocco
The Nokia 8 Sirocco is HMD's flagship for the first half of 2018, and unlike a majority of devices in this category, it retains a 16:9 form factor. Under the hood, you'll find a Snapdragon 835, along with 6GB of RAM and 128GB of internal storage.
The phone has dual 12MP cameras at the back, with the secondary telephoto lens offering 2x optical zoom. There's a 5MP camera up front, and like Nokias of previous years the Nokia 8 Sirocco features Carl Zeiss optics. Oh, and the front and back glass panels are layered with Gorilla Glass 5.
Other specs include Wi-Fi ac, Bluetooth 5.0, USB-C Gen 3.1, IP68 dust and water resistance, and a 3260mAh battery with Quick Charge 4.0 and Qi wireless charging.
The Nokia 8 Sirocco has a lot going for it, and with the phone slated to debut at ₹49,999 in India, it will go up against the likes of the Honor View 10, the upcoming OnePlus 6, and the Mi Mix 2S.
Nokia 7 Plus
The Nokia 7 Plus sees HMD switching to the 18:9 form factor, with the phone featuring a 6.0-inch panel with a resolution of 2160 x 1080 (FHD+). The display is backed by a layer of Gorilla Glass 3, and under the hood there's a Snapdragon 660 along with 4GB of RAM and 64GB of storage.
The Nokia 7 Plus comes with the same dual 12MP camera setup as the Nokia 8 Sirocco. Up front, there's a 16MP camera.
Rounding out the specs, you get Bluetooth 5.0, Wi-Fi ac, USB-C Gen 2.0, and a 3800mAh battery with Quick Charge 3.0. Like other HMD phones, the Nokia 7 Plus is machined out of series 6000 aluminum, and there's a ceramic coating at the back.
The Nokia 7 Plus is available in black and white, and the phone retails for ₹25,999.
Nokia 6 2018
I liked the design of last year's Nokia 6, but the one thing that let the device down was the underwhelming Snapdragon 430 chipset. HMD is being more sensible this time around, with the Nokia 6 2018 powered by the Snapdragon 630.
The phone has a 5.5-inch 16:9 Full HD panel, 3GB/4GB of RAM, 32GB/64GB of storage, a 16MP primary camera, 8MP back camera, Bluetooth 5.0, USB-C, and a 3000mAh battery with fast charging. HMD says you'll be able to top up to 50% in just 30 minutes.
The Nokia 6 2018 is positioned in the budget segment — with the phone going on sale for ₹16,999 — and there's no shortage of competition. The best option right now is Xiaomi's Redmi Note 5 Pro, and with Motorola set to offer the Moto G6 series sometime this quarter, there are plenty of decent options if you're in the market for a budget phone.
The one thing in the Nokia 6's favor is its durability. Just like Nokia phones of old, the Nokia 6 continues that tradition. The phone is machined out of series 6000 aluminum, and the 2018 variant features a two-tone anodized finish.
Android One and new HMD features
Software has been a key focus for HMD last year, and in 2018 the manufacturer is building on that with new features. All three phones are running Android One, and they come with face unlock, an AI-assisted camera features and a pro mode.
HMD is continuing to deliver fast updates, and by collaborating with Google and Android One, the phones will be able to receive platform and security updates at the same time as Google's devices.
Pricing and availability
Pricing is what ultimately decides how a phone does in India, and HMD is cognizant of the same. Here's how much the latest Nokia phones cost in the subcontinent:
Nokia 8 Sirocco: ₹49,999
Nokia 7 Plus: ₹25,999
Nokia 6 2018: ₹16,999
Nokia 1 (Android Go): ₹5,499
The Nokia 6 2018 will be available starting April 6 for ₹16,999, and the Nokia 7 Plus will be up for pre-order starting April 20. Sales kick off from April 30, and the phone will be sold on Amazon India as well as elect retail outlets.
As for the Nokia 8 Sirocco, the flagship will also go on sale at the same time as the Nokia 7 Plus, but it will be sold on Flipkart.
With its latest devices, HMD Global is doubling down in India. Nokia phones are already available at over 100,000 retail stores across the country, and HMD is building on that this year. Essentially, you'll be able to pick up a Nokia phone wherever you are in the country.
What do you think of Nokia's latest phones? Share your thoughts in the comments below.
Harish Jonnalagadda is a Senior Editor overseeing Asia at Android Central. He leads the site's coverage of Chinese phone brands, contributing to reviews, features, and buying guides. He also writes about storage servers, audio products, and the semiconductor industry. Contact him on Twitter at @chunkynerd.
Was waiting for 7 plus...
But 26k seems little too much..
Thought it would be around 22k

I've been waiting for the Nokia 6 2018. Sounds like a great phone. It's really a midrange speced device but fits in the upper budget segment price wise. If i got the conversion right about $250 US dollars. Speaking of which I sure hope it will be available stateside. This is one phone I can see myself using for a full 2 or 3 years.

The new Nokia 6 will be available in the US in May or June.

26k for nokia 7 plus ,no thanks.. it was launched at 23k in China

Please stop using the awful, in-your-face phrase "all you need to know". No one NEEDS to know this stuff. Please say "all there is to know,' or "all we know", or "what we know so far". Not so arrogant.

I wonder when it will come out in the us

TIme for Nokia to step up and out do the p20 pro.

I don't think they are trying to compete with a phone that exceeds $1,000 including the iPhone x and Galaxy Note 8.

I cannot wait for what comes next from Nokia! Damn if the 8 sirocco had a larger screen I'd be all over it. This company's got me so excited for their next high- end flagship!! I could see myself becoming a huge fan of Nokia. Between them, Google with the pixel line, and OnePlus' growth, stock Android is going to be a very popular flavor of android in the coming years!! 👍

I'm glad vanilla Android is gaining traction. I'm ok with skinned android too but vanilla will always be my preference. Agreed that Nokia is probably the most exciting phone manufacturer right now.

Shame the 7 plus isn't coming to the US. After the April Fool's Prank Lineage just pulled I'm getting a Nokia 6 and leaving them behind.

I think the 7 plus will be available in the US. I know the new 6 will be. May or June I believe

Their spec sheet absolutely betrays that pricing; and I'm not hopeful that even Nokia's masterful design and Android One can bridge the gap between price and value

I like what Nokia or HMD Global are doing, but I decided a while ago that I will get the Pixel 2 XL.

The 8 Sirocco seems awesome. I have to wonder, though, why HMD went with a downgrade dual camera setup on the 7 Plus, rather than a single camera with OIS.

It doesn't. This is just bad reporting.
The camera on the Nokia 7 Plus and the camera on the 8 Sirocco are the same. They BOTH lack OIS.

That's is really good smartphones but personally i like the Nokia 8 Sirocco that is really outstanding smartphone. www.one10hd.com

"Oh, and the primary lens offer OIS, and the front and back glass panels are layered with Gorilla Glass 5." No, the primary lens of the 8 Sirocco does NOT offer OIS. You might want to fix that wrong info.

Thought I read that it had OIS. Anyway, I don't see it mentioned on Nokia's site. Fixed it now.
Android Central Newsletter
Thank you for signing up to Android Central. You will receive a verification email shortly.
There was a problem. Please refresh the page and try again.