New York Times partners up with Google to deliver another 300,000 Cardboard viewers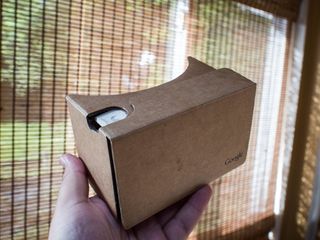 The New York Times and Google have teamed up once again to fire out more Google Cardboard viewers. The companies plan to roll out 300,000 new units to digital subscribers of the news outlet. This move is in conjunction with "Seeking Pluto's Frigid Heart," a VR experience set to be published on the NYT.
This particular film enables viewers with the headset to fly over Pluto, stand on the surface and view its moons on the horizon.
The subscribers selected for this batch of Cardboard viewers were chosen based on the duration of their memberships. The joint move by the New York Times and Google aims to help get people involved with virtual reality using nothing more than their smartphone. Seeking Pluto's Frigid Heart will be published on May 19 on the NYT VR app, which is available for both iOS and Android.
Press Release
THE NEW YORK TIMES TO DELIVER 300K GOOGLE CARDBOARD VIEWERS TO DIGITAL SUBSCRIBERS
Distribution to Coincide with Release of VR Film, "Seeking Pluto's Frigid Heart"
NEW YORK, April 28, 2016 -- In partnership with Google, The New York Times will distribute 300,000 Google Cardboard viewers to its most loyal digital subscribers next month in conjunction with the publication of "Seeking Pluto's Frigid Heart," a stereoscopic virtual reality experience that brings viewers to Pluto.
The New York Times's film allows the viewer to fly over Pluto, soaring above never-before-seen rugged mountains and bright plains, and stand on Pluto's unique surface as its largest moon hovers over the horizon.
The New York Times worked with the Lunar and Planetary Institute and the Universities Space Research Association to build accurate three-dimensional virtual worlds from data collected last year by NASA's New Horizons spacecraft.
The film was narrated by science reporter Dennis Overbye and produced by Jonathan Corum, Graham Roberts, Yuliya Parshina-Kottas and Evan Grothjan from The New York Times graphics desk. The original music was scored by Graham Roberts and performed by Jessica Ferri, Mio Kanehara, Daniel Ambe and Nobuki Momma, who were recorded using a 360° microphone to allow the sound to travel with the viewer's movements.
Digital-only subscribers selected for this distribution were chosen based on the duration of their subscriptions. As part of the collaboration with Google, The Times delivered one million Google Cardboard viewers to home delivery subscribers in November 2015. The cardboard viewers are simple to use and allows anyone to experience virtual reality with a smartphone.
"Seeking Pluto's Frigid Heart" will publish on May 19 in the NYT VR app, which is free and available for download in the Google Play and iOS App Stores. The app now supports video streaming. The NYT VR app has had more than 600,000 downloads since it debuted in November 2015. Users can also go to the NYT YouTube channel to view the video or visit youtube.com/360 for other immersive virtual reality content.
Get the Android Central Newsletter
Instant access to breaking news, the hottest reviews, great deals and helpful tips.