MoviePass vs. Sinemia vs. AMC A-List vs. Cinemark: Which movie subscription service should you get?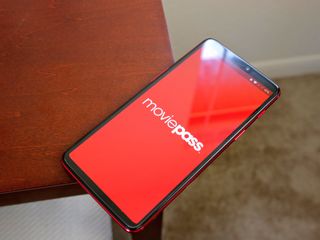 So it's peak summer season, which means prime time for going to the movies. But with ticket prices the way they are, along with the cost of concessions, moviegoing gets fairly pricey.
So what are you supposed to do without spending an arm and a leg to enjoy the latest summer blockbusters? Fortunately, movie theater subscriptions have become a rising trend lately, and it seems there's a new option popping up every few months now.
But with so many choices now, which movie subscription service is the best for you? Let's dive into some of the more popular choices and find out!
MoviePass
Let's start with the one that everyone's probably heard of by now due to making plenty of headlines recently: MoviePass.
Pricing
There are two levels of membership: MoviePass and MoviePass Unlimited.
The regular MoviePass subscription starts at $7.95 a month and gives members three movies a month. If you go with MoviePass Unlimited at $9.95 a month, you get one movie a day for the month, although there are some caveats that we'll discuss in a bit.
Membership cards
With MoviePass, unfortunately, you can't use the service until you receive the physical card in the mail. This process can take up to two weeks after you sign up for a plan.
The physical MoviePass card works like a debit card, and it's even branded as a MasterCard. Once you check-in to a movie, just use your MoviePass card to pay for the ticket at the box office or kiosk, just like you would with any other credit card for payment. This works because after you check in, your card gets about $15 of credit loaded onto it to "pay" for the ticket.
It's important to keep track of your MoviePass card at all times, though, because if you lose it, getting in touch with their customer service department for a replacement can be a doozy.
Features and Limitations
The most enticing thing about MoviePass is the fact that you can go to any participating movie theater once a day to watch any movie that's playing. So if you go by that, you can potentially see 30 movies each month for just $10! This was the case when the company first started, and through their jaw-dropping price drop announcement back in 2017.
However, there have been plenty of major changes since then that make MoviePass less appealing.
First off, MoviePass limits you to standard 2D viewings only. That means no IMAX, Dolby Cinema, Digital 3D, or anything fancy, just plain old 2D film. If you prefer premium movie experiences, you're going to have to pay for those separately. It's also limited only to participating theaters, so you have to check to make sure your local theater even takes MoviePass.
While MoviePass does have some e-ticketing options for reserving your tickets, the theaters that utilize this feature in MoviePass are far and wide. For most people, you need to use the standard "check-in" method with MoviePass to get your tickets. This means being within 100 yards of the theater, finding the movie and showtime you want to check into, and then going to the box office or kiosk to get your tickets.
This proves to be rather troublesome when you want to get good seats for big releases, or even seats next to each other on busy days. With this system, you'll need to plan ahead and get to the theater early.
Previously, MoviePass allowed for multiple viewings of a single movie. So if you really liked a film, you could go back and watch it again, no problem. However, recent changes limit subscribers to one viewing for each movie, so no double-dipping!
Users also have to submit a photo of their ticket stub after each check-in, and failure to do so could result in suspended accounts. It's just another annoying little thing to remember when using MoviePass.
Lastly, there's now "peak pricing" for popular blockbuster movies if you want to watch them during opening week. This means more money on top of your monthly charge.
All those changes don't even take into account service outages, which are apparently a thing.
Who's it for?
MoviePass is best for the person who wants good value. If you don't mind only seeing standard 2D movies, don't do repeat viewings, don't care about having another physical card to track, or having to check-in manually every time you want to see something, then MoviePass gets you a lot of bang for your buck.
Download: MoviePass ($9.95/month)
Sinemia
Sinemia is another subscription just like MoviePass, but it seems to be lesser known because of lack of marketing. However, it works similarly.
Pricing
Sinemia has several membership tiers, and there are even family plans as well.
The cheapest option, Classic, starts at $4.99 a month and gets you one standard 2D movie a month at any theater with no blackout days and advance ticketing options. A second level Classic tier is available for $7.99 a month and nets you two movies a month.
Then there are the Elite plans, which start at $9.99 and $14.99 for two or three movies per month, respectively. The Elite plans include everything that comes in Classic, but with the addition of 3D and premium movie formats (Dolby Cinema, IMAX, 4DX, and more).
Sinemia also offers family plans. These include one membership owner, and you can bring up to six additional people when getting your tickets. Only the owner of the account can purchase the tickets though.
It seems that the price of Sinemia Elite pays for itself within one visit to the theater if you go with one of the premium format viewings. However, you need to keep in mind that Sinemia only charges annually, so your first payment starts at $60 and you're locked in for a year.
There's currently a summer sale going on, which reduces every plan's cost by $1 across-the-board. If you want to take advantage of this super-low pricing, then you should sign up now.
Membership cards
Similar to MoviePass, Sinemia issues out a physical card to all members. This takes about a week or two, but it's how you'll be "purchasing" your movie tickets as a Sinemia member.
Unlike MoviePass, there are no geofencing limitations when it comes to the process of obtaining your ticket. In fact, you're able to obtain your tickets the day-of by just purchasing them online through the website or mobile app.
There's even the ability to select and purchase a ticket within 30 days, rather than same-day only as with MoviePass. If you do it this way, you have a window of two hours to buy the ticket with your Sinemia card. MoviePass only has a window of 30 minutes since checking in to get your ticket.
And once again, it's recommended to always keep track of your Sinemia card. If it's lost, it can be hard to get a hold of a representative to get it replaced.
Features and Limitations
Though Sinemia doesn't have an unlimited option like MoviePass, there's still a lot to like about it.
For one, you're able to reserve tickets up to 30 days in advance, and there's a two-hour window to do so, meaning it's much more relaxed. All of your tickets can be purchased online, so there's no silly geolocation restriction.
If you opt for the Classic plans, you'll only get the option for standard 2D showings, but at a cheaper price than MoviePass. This makes sense if you don't go to the movies that much anyways, as it still saves you some money from buying a normal ticket.
But Elite plans offer you the most bang for your buck. With 3D and premium offerings available in these plans, it practically pays for itself with one movie (IMAX and Dolby Cinema tickets are about $20 in my area).
Really, the only flaws of Sinemia is the fact that you can only see up to three movies max each month. You also need to pay for your membership annually, or go month-to-month assuming you're okay with a $20 "initiation fee."
Who's it for?
Sinemia's designed for the person who doesn't go to the movies every week, but wants to get the most bang for their buck when they do go. And if you want to be able to watch premium formats at any theater with no blockout dates, then Sinemia is the way to go.
Download: Sinemia (starts at $3.99/month)
AMC Stubs A-List
AMC recently rolled out their own subscription service, which is a new level of their Stubz membership. It's made to compete with MoviePass after the little dispute between the companies.
Pricing
AMC A-List is a bit more expensive than the competition. It costs $19.95 a month and you must commit to at least three full months before you're able to cancel. However, the $19.95 cost is locked in for at least 12 months, so you don't need to worry about any changes during that time.
The pricing for A-List only includes one ticket for each of the three movies per week that you're entitled to. If you need more tickets for someone without A-List, those must be purchased separately.
Membership cards
There's no physical card to use for A-List, so you can start using it as soon as you sign up. Everything can be done online through the app or website as long as you're signed in to your AMC Stubs A-List account.
However, if you were a previous AMC Stubs Premiere member and have your physical membership card, you can continue to use it.
Features and limitations
Even though A-List is one of the pricier options, it has a lot of perks.
Though it's not unlimited, A-List members can see up to three movies each week, with new weeks resetting Friday morning. You can spread these out over the week or see three movies in one day, with at least two hours in-between each viewing.
A-List also doesn't limit you to standard 2D films. With membership, you can see 3D, IMAX, Dolby Cinema, and other premium formats. So even if you just see one premium format screening, the membership already pays for itself.
All ticketing and seat reservations are done online, through the app or website. You don't need to be near the theater to get your tickets, as it's all digital and can even be saved to Apple Wallet. To top it all off, you can reserve tickets and seats in advance.
The final benefit of A-List is that it comes with all perks of AMC Stubs Premiere, which is normally $15 a year. That means you get a free fountain drink and popcorn size upgrades, waived online fees (if you purchase separate tickets), 10 percent back on all concessions, and Priority Lane access.
The only restriction with AMC A-List is the fact that you need to go to AMC theaters only.
Who's it for?
If you love watching your movies on the best screens possible and have AMCs nearby or go there frequently, then A-List is totally worth it. Plus, being able to reserve your tickets days in advance is great.
Download: AMC Theaters ($19.95/month)
Cinemark Movie Club
If Cinemark theaters are where you prefer to go for movie watching, then you may be pleased to know they also have their own subscription plan.
Pricing
CInemark's Movie Club is a bit more expensive than the other three that we've covered so far, since it costs $8.99 a month for one movie only. However, unused tickets roll over into the next month, so if you don't go to the theaters often, you can accumulate rollover tickets after a while.
But it's important to keep in mind that the $8.99 per month cost only accounts for standard 2D movies. If you want to catch a premium viewing, then additional upcharges will apply. Extra tickets can also be bought at a discounted price of $8.99, rather than the standard normal ticket cost.
Membership cards
Like AMC Stubs A-List, Cinemark's Movie Club has no physical membership card, so you're able to use your perks right away after signing up.
All ticket reservations are done online or through the Cinemark app. If you prefer to still go up to the box office to get tickets, that's fine too! Just pull up your Cinemark ID on your phone and have them scan your unique QR code to redeem your Movie Club credit.
Features and Limitations
As already mentioned, Movie Club only gets you one standard 2D movie credit per month. But unused credits roll over into the next month, and these unused credits can continue to roll over until you redeem them — there's no expiration on them. If you cancel your Movie Club account, you'll have six months to redeem any unused credits.
If you go over your credits, you can purchase up to two additional tickets per transaction at the rate of $8.99 each. This is great if you're bringing a buddy along. Movie Club also gives members 20 percent off concessions, which can add up over time if you always have a case of the munchies while watching movies. And all purchases net you Connections points, which you can use for movie swag, digital downloads, and sweepstakes entries.
Since this is Cinemark, your Movie Club membership is valid at all Cinemark, Century, CinéArts, Tinseltown, and Rave theaters.
Unfortunately, if you don't frequent these theaters often, then Movie Club may not be your best option. It's also rather limiting with just one movie per month, and you'll have to pay extra for premium format viewings.
Who's it for?
Cinemark's Movie Club is great for those who only seldom go to the movies, get food and drink often, and want the option of purchasing discounted tickets when needed. And if you don't mind a small upcharge, being able to view a premium movie every so often is a nice option to have.
Download: Cinemark Theaters ($8.99/month)
What's your movie subscription service of choice?
Movie subscription services are a rising trend as of late, and it seems that everyone's using some sort of program these days. But with all of these different options, it's definitely hard to pick the one that's right for you. Personally, I was a MoviePass customer but switched to AMC A-List when it came out because I was tired of the constant changes to how MoviePass works.
We've listed out all of the pros and cons of each one, and hope that it helps you narrow down your choices. Happy movie-going!
Get the Android Central Newsletter
Instant access to breaking news, the hottest reviews, great deals and helpful tips.