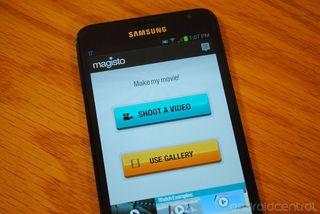 There is a lot of devices out there with great cameras for taking video. Chances are, you've taken some videos on your device and now have a bunch just hanging around. I say hanging around because video editing sometimes isn't always easy to do nor is it all that fun really.
A new but well known app has now made its way to the Google Play Store and it aims to take some of the frustration of video editing for you. Just shoot and upload video from your device, choose a soundtrack and give your movie a title and the Magisto movie maker will automatically edit your movie for you.
Unprecedented AI Technology that analyzes and edits the best parts of your videos
Easily share to Facebook, Twitter, Email and even YouTube
Automatic video stabilization, filters, effects and transitions
Facial recognition detects the important people in your videos
Upload videos from your Gallery or use Magisto as a smart video camera
Add soundtracks from your device or from Magisto's library of licensed music
Access your movies from any device
We've yet to give it a go here but if you're looking to learn more or see it in action, you can jump below to view the video as well as read the full press release from Magisto. If you're having great results with it, drop a comment and let us know.
MAGISTO BRINGS ITS MAGIC TO ANDROID
App Allows Android Users to Create Mini-Movies Directly from Smartphone Cameras and Galleries
Video Service has Edited Seven Million Clips from More than One Million Users
Tel Aviv, IL and NEW YORK – Aug. 28, 2012 – Magisto, recently named by WIRED as one of "Europe's 100 Hottest Startups," today launches its video service for Android devices. Android users are the first to be able to take advantage of the Magisto experience directly from their device cameras and video galleries. After shooting a video with the phone's default camera, users have the option to create a Magisto mini-movie directly from their gallery. The free application, which also features similar components to Magisto's iOS app, works with Android versions 2.3.3 and above and is currently available on Google Play.
Magisto transforms ordinary videos into unforgettable mini-movies—complete with special effects and music—in just one click. In seven months, Magisto has already enabled more than one million people to preserve almost seven million favorite moments into fun, high-quality, shareable video memories.
"In the past few months, we have worked to build an exceptional user experience and have made millions of memorable and emotionally impactful mini-movies for people," said Oren Boiman, co-founder and CEO of Magisto. "The majority of our users have told us they love the results by rating their videos a 5 out of 5. This tells us that we are ready to scale the experience, starting with Android."
Magisto also has been collaborating with Google to further enhance its user experience for phones and tablets running Android 4.1 (Jelly Bean) and, in the next few weeks, will release an updated version of the app that's optimized for high-definition videos.
While the Magisto app is free, premium monthly and yearly services will soon be added to the Android app that allow for longer uploads, more video storage and unlimited downloads. These premium services are currently available for iOS and Web users.
Magisto-made mini-movies can be shared through Facebook, Twitter, YouTube or the Magisto community. In the near future, the company plans to take more aggressive steps in the social mobile video space.
Added Boiman, "Personal video is inherently social and quite personal as it mostly deals with friends and family events. A significant portion of our users use email to share their video memories, but we believe there is a better way and are working on solutions geared towards improving that."
Magisto is available on the Web at Magisto.com and through YouTube Create in addition to iOS and Android devices. Magisto launched on the iPhone in January at CES with conference honors, 4.5 stars in the U.S. iPhone App Store—one of the highest in the video and photography category--and ranked as the top application in a dozen countries.
About Magisto
Magisto, a division of SightEra Technologies, Ltd, launched in 2011 and offers a video editing solution that makes it easy for people to create and share their favorite videos in a click. Magisto is funded by Horizons Ventures and Magma Venture Partners and is headquartered near Tel Aviv, Israel.
Be an expert in 5 minutes
Get the latest news from Android Central, your trusted companion in the world of Android