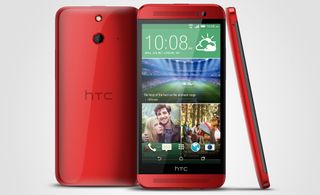 It's an HTC One. Mostly. The HTC One E8 takes most of the specs we've come to know and love in the M8, but replaces the 4-"UltraPixel" camera with a traditional 13MP shooter, puts it all in a plastic body and calls it a day.
The HTC One E8 is destined for China at first, with other regions to be announced.
Following are full specs for the HTC One E8.
Swipe to scroll horizontally
Category
Features
Size
146.42 x 70.67 x 9.85 mm
Weight
145 grams
Display
5-inch, 1080p
CPU
Quad-core Qualcomm Snapdragon 801 at 2.5 GHz in Asia/China, 2.3 GHz in other regions
Software
Android 4.4.2 with Sense 6
HTC BlinkFeed
Storage
16GB (about 10.6GB useable), MicroSD up to 128GB
RAM
2GB
Networks
2G/2.5G — GSM/GPRS/EDGE: 850/900/1800/1900 MHz (SIM1 & SIM2)
3G — WCDMA: 850/900/1900/2100 MHz with HSPA+ up to 42 Mbps (SIM1)
4G — LTE: China: FDD 1800/2100 (FDD-B1/B3), TDD-2600 (TDD-B41) (SIM1)
SIM
Dual nano SIM
Sensors
Accelerometer, proximity, ambient light, gyro, barometer
Connectivity
3.5mm stereo audio jack, NFC, Bluetooth 4.0 with aptX, Wifi 802.11 a/b/g/n (2.4 and 5 GHz), DNLA, HTC Connect, microUSB
Sound
HTC BoomSound
Dual front-facing stereo speakers with dedicated amplifiers
Sense voice
Main camera
13 megapixel resolution, BSI sensor, f/2.2 aperture, 1080p video recording
Front camera
5 megapixel resolution, BSI sensor, 1080p video recording
Audio playback
.aac, .amr, .ogg, .m4a, .mid, .mp3, .wav, .wma (Windows Media Audio 10)
Audio recording
.aac
Video playback
.3gp, .3g2, .mp4, .wmv (Windows Media Video 10), .avi (MP4 ASP and MP3)
Video recording
.mp4
Location
Internal GPS antenna + GLONASS, digital compass
Battery
2,600 mAh non-removable Li-polymer
Talk time
Up to 26.8 hours on 3G
Standby time
Up to 504 hours on 3G
Ac adapter
Voltage range/frequency: 100 ~ 240 V AC, 50/60 Hz
DC output: 5V and 1A
Android Central Newsletter
Get instant access to breaking news, the hottest reviews, great deals and helpful tips
Prefer to the aluminium version Posted via Android Central App with my Nexus 5

Needs to be priced around $350~$400 for this to sell well, wish it would be coming over to north America but it seems that it will be staying in Asia only. Posted via Android Central App

They need to dead that ultra pixel idea. Unless they can find a way to add more pixels for detail in shots. Posted via Android Central App

BUT ITS ULTRAPIXEL™®©!!!!!!!!!!! Posted via Android Central App

Agreed. I'd settle for that 13 MP Sony camera that's being used by a lot of manufacturers or at least a 8 ultra pixel camera. Posted via Android Central App

It's like Sense was - no one liked it for a long time, now it's the preferred skin. Hopefully, the same will be true for the uP camera. IT's not perfect... but some day they'll nail it and it will have all made ssense. I use an M8 - the camera is good, but definitely not perfect. Give it time tho - don't call the verdict before the defense rests!

"it will have all made sense" I see what you did there. That'll be $15.20 plus tip.

Except that they kept refining and improving with each new version of Sense. The camera from the M7 to the M8 is almost no change at all. If the M9 is not vastly improved, and I do mean vastly, HTC will gain a reputation for crap cameras. They are pushing that now.. Ultrapixel should be abandoned Posted via Android Central App

I guess we'll agree to disagree.

I don't know who prefers Sense, but I'd much rather have the HTC One with stock Android. Well, an HTC One with stock, an additional gb of RAM, a better camera, a multi-color LED that works with light flow, and get rid of that ridiculous 'HTC' bezel. Then I'd probably buy one. I wouldn't even care if it was plastic.

ULTRAAAÀAAAAAA PIXEEEEEEL!!! Posted via Android Central App

Awww it "only" has a 13mp camera instead of a 4mp Ultrapixel™®© camera. Haha Posted via Android Central App

UltraPixel camera will be better. Megapixels don't matter. Posted via Android Central App

Mp do not matter, but Up suck Posted via Android Central App

So this fixes what's wrong with the M8 :P Come on, guys! Sure, the aluminum body is cool and all, but you still cover it up with a case anyway! And the camera, well, it loses the dual lens, but adds a real camera, and not a toy one, even if they call it something fancy.

Yes to all of what you just said

Except that 13mp camera won't be as good as the 4up m8 camera. It's the same sensor that's in the one mini 2 and desire 816 Posted via Android Central App

That's a matter of opinion, personally I'd prefer a all around good camera. The HTC ultrapixel fails in just as many categories as many other cameras. Personally I much prefer what LG is doing with optics.
OIS is amazing and the LG G3 camera looks extremely promising. I think Ultrapixel is dead, their are better ways to address low light performance than losing so much detail.

The amount of people who actually use cases is so slim. I never see any one using a case in a wild. Also you don't understand camera technology. Posted via Android Central App

You... never... see ANYONE with a case on their phone? Can I ask where you live? Here in California I see very few people without a case... and more often than not those without will have a cracked screen.

I think I like this better than the M8. I'm still rocking my GPE M7 and dont feel a need to update to the M8. I dont care much for the feel of it. I hope this gets released here in the US.

We need this HERE in the States at an affordable competitive price.

This is what the M8 SHOULD have been. Had this been announced instead of the M8, I would have gotten this instead of a Galaxy S5. Oh well, maybe in 2 years HTC, when my contract is up!

They should have tried Qi charging with the plastic body on this and the 816

Will the battery be removable?

How much ? Posted via Android Central App

According to the other article here on AC; http://www.androidcentral.com/htc-one-e8-brings-plastic-mostly-familiar-... The phone is priced at $450 US. Now, the cost to import might drive the price up a fair amount. I'm not sure, as I've never tried to import a phone.

HTC has officially announced One E8 in June, 2014 which is going to be in the market for sale in June, 2014. The phone is powered by 4.4.2 KitKat android
version. The phone is equipped with 13 megapixel camera, Quad-core
processor, 2600 mAh battery, Bluetooth and Wi-Fi.
http://tech.infopsyche.com/htc-one-e8/

Does anybody know if this will work on Australian frequencies? I've checked the bands and it all seems to match up, but the frequencies have me confused. Is there a difference? Will a phone work on a certain frequency, as long as that frequency is within the supported bands? Please somebody answer my questions, I'd really love it if you could.
Android Central Newsletter
Get instant access to breaking news, the hottest reviews, great deals and helpful tips
Thank you for signing up to Android Central. You will receive a verification email shortly.
There was a problem. Please refresh the page and try again.