HTC EVO 3D, LG Optimus 3D officially coming to Rogers in Canada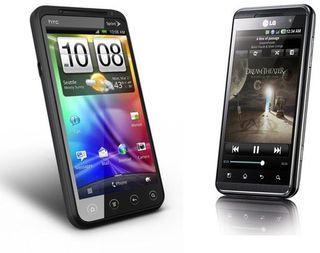 What was previously just a rumor has now been confirmed by Rogers -- it will in fact be launching both the HTC EVO 3D and the LG Optimus 3D this summer with both devices going up for pre-order as early as next week. No pricing has been announced for either device but Rogers has noted that more information will be coming soon on the new micro site they'll be launching for the 3D devices. Rogers also has a upcoming contest for those who pre-order:
We've reviewed both devices already, so make sure you hit up either the EVO 3D review or the Optimus 3D review for device details. I'll be re-reading them as well, so I can figure out which device to pre-order.
Source: Rogers Red Board
Too cold for me to live in Canada. I'll stick with phones destined for the US

Still waiting on the Thrill 4G to get a release date here in the US.

i like the optimus 3d better, more 3D contents... and a 55 inch LG 3d would be awesome. LOL..

Nice Dream Theater reference, by the way.

Definitely the best part of this whole article is the DT.

Well, this gives me quite the dilemma - I was ready to quit Rogers, and go to Virgin, and get the Sensation, now I'm not so sure - the EVO 3D looks pretty nice (the extra memory is enticing).

I'm so glad I'm not the only one happy about the DT reference.
Android Central Newsletter
Thank you for signing up to Android Central. You will receive a verification email shortly.
There was a problem. Please refresh the page and try again.