Google Fi adds multi-SIM support to improve network switching speeds [Updated]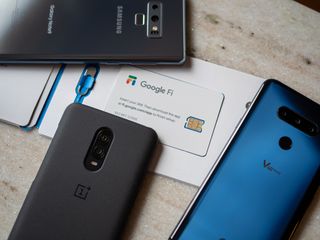 (Image credit: Android Central)
What you need to know
Google Fi is working on enabling faster network switching by adding multi-SIM support.
The "multi-SIM auto switching" functionality is expected to become available sometime in the near future.
Since devices with two physical SIM slots are rare in the U.S., the functionality will be available on devices having an additional virtual eSIM.
Update: October 22 12:23 PM ET:
Google has now officially announced the feature. The new dual connect technology will allow users to get better coverage by connecting them to two LTE networks at a single time with Dual Sim Dual Standby (DSDS) hardware. This, Google says, will ensure users will not experience any delay or pause when Fi switches to a better network. Google Fi's new dual connect technology will be available "over the next few weeks." Initially, however, dual connect will only be available on the Pixel 4 series phones. Eventually, the technology will be expanded to more Designed for Fi devices.
One of the biggest selling points of the Google Fi service is its ability to actively switch between different networks based on which one offers the strongest signal at the time. 9to5Google now reports that Google is working on further improving the network switching time by adding multi-SIM support to its MVNO service.
The folks at 9to5Google found some user-facing strings for the feature in the version 20 of the Google Fi companion app that was released earlier this week. Google will enable "faster network switching" by "having Fi use both of your phone's SIMs." Since most manufacturers do not sell phones with two physical SIM slots in the U.S., Google is more likely referring to devices featuring a physical SIM slot and a virtual eSIM.
While the strings for the feature, codenamed "starburst" are present in the version 20.0 of the Google Companion app, the functionality isn't yet available. Since it is currently being tested by Google, we wouldn't be surprised if it takes several weeks before the capability is rolled out. Once the functionality is added, users will see a "Maximize networks" option under Settings within the Google Fi companion app.
That's an interesting use of the Dual SIM feature. Two SIMs for the same carrier...
I had to read the whole article to understand, since it's the opposite to the norm.

It's not really the same carrier. Fi uses Sprint, T-Mobile and USCellular. It switches between these and WiFi, depending on signal strength. Presumably this would let you be on Sprint, while T-Mobile is also connected, so when you travel into an area where T-Mo is better, the switching is more seamless. I personally haven't noticed seams the way it works now.

Irrelevant. Google has other issues that have been issues since the beginning of Android. Messaging for instance has been an issue since day one. They have made new messaging apps with new features but ignored the features people are going to expect in order to migrate. Over and over again. Meanwhile getting nowhere. The only thing keeping google from having an adequate messenger is google themselves. C.A.D.D. Corporate Attention Deficit Disorder
Android Central Newsletter
Thank you for signing up to Android Central. You will receive a verification email shortly.
There was a problem. Please refresh the page and try again.