Gogo's inflight Wifi Android app is now airborne, and we've got 100 free codes!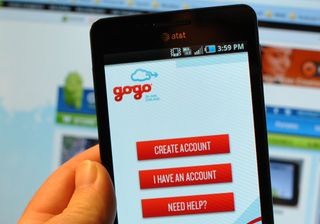 Fliers rocking an Android tablet or phone can now get online above 10,000 feet just a little bit easier. Gogo, the company that supplies in-flight Wifi, has just released its long-awaited Android application. Available for free in the Android Market (you can find links after the break), the Gogo flight streamlines the process of getting online. Just enter your account credentials and you're golden. (The app will also make sure your phone or tablet actually has Wifi turned on, which is nice.)
Now, you don't get something for nothing here -- you'll still have to pony up a few bucks for your Wifis. Short flights -- up to 650 miles -- will cost $4.95. Longer flights will run $7.95 a leg.
Oh, but wait. You can get something for nothing. The fine folks at Gogo have given us 100 session codes to share with you fine readers. Hit up this thread in our contest forums to claim one.
Thanks for the code AC!!! Gogo Rocks! Just in time for my flight tomorrow!

Should help my flight to San fran! Thanks!

This would suck to be 101 in the post

I'll take one, thanks AC!!

I would love one I am traveling Virgin next month this would be great!

I want one... Please... And yes, TY AC! Be great on my EVO 3D..

May I please have one? :) thank you.

Sweet flying next week and rather try before I buy. Don't fly often so again thanks!

I'd like to have one as well. Thanks

Sounds good, Thanks GoGo...

Excellent. I'd love to have an account. I was just on a plane today looking at the GoGo wireless flyer.

Cool looking app I wouldn't mind one

thanks, one code nd i'll be thankful to jerry !

Great. Looking forward to try it next week!

ME please! Thanks in advance

Code PLEASE !!!!!!!!!!!!!!

I want a code... please!!!

Dang this is nice! Would love to get a free code to try it out!

Why is the contest thread closed already???

This is great! Code please

I work for Southwest, could I get a code. Pretty Please?

Am I to late ? A code please

I am probably to late to get a code aren't I
:-(

Yeahhhh I'll take one, please - gogo GO! :)

Excellent! I used GoGo on a flight from Detroit to Austin last Friday. It's a great service!

Could I get a free code too please!

Just fly on Alaska Airlines, they are giving you Gogo free for use on phones or iPod touches this month.

Yes! May I please have one

im flyin in 3 weeks a code will b very useful to me i just got an acer a100

I'd like to have one too please :(

I would love to have one. I am currently in Egypt on business and this would come in handy. Thanks AC in advance!

This would be great for my flight next week. Thanks a bunch!!!

Thank you! This is awesome!

This would be great during my next flight.

Thanks for the code...you guys rock!!!
Android Central Newsletter
Get the best of Android Central in in your inbox, every day!
Thank you for signing up to Android Central. You will receive a verification email shortly.
There was a problem. Please refresh the page and try again.