Fortnite Season X: Where to find Drift-Painted Durr Burger Head, Dinosaur, and Stone Head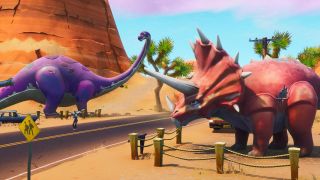 With a brand new season of Fortnite comes brand new challenges, and Season X has changed up the way players will be taking on challenges. Thankfully, things aren't too different when it comes to actually completing them. For the "Road Trip" set of challenges, one particular task will have players going out and finding three specific Drift-Painted objects across the map. The objects in question are a Durr Burger head, a dinosaur, and a Stone Head. Some Fortnite players will know where these items are, but just in case, we've gone ahead and found them for you.
Knowing the challenge
This is a pretty easy one, as all you've got to do for this challenge is simply show up to the object, and the challenge will count as done. If you can't find the objects, make sure to refer to the set of maps below for a rough outline on where to find some.
Where to find the Drift-Painted Durr Burger Head, Dinosaur, and Stone Head
Jump into any mode of Fortnite's Battle Royale. I'd suggest Solo or Team Rumble, as they are the best for challenges like these.
To find the Durr Burger Head, make your way to Towards Pleasant Park, and land just East of it on the mountain ridge marked on the map below.
For the Dinosaur, head over to Paradise Palms, where the dinosaur is directly South of the location, just in front of the bridge.
To find the Stone Head, land Southwest of Neo Tilted and directly north of Polar Peak, where the head can be found just in front of the frozen lake
Simply walk up to the objects, and the challenges will progress.
After finding the three objects, you'll either have to finish the game or back out to complete the challenge. Once you're done, you can begin checking off the remaining challenges for this week.
If you're looking for more challenges to do, you can always check out the full list of Road Trip challenges to see what you've missed, still need to complete, or simply head back to the main menu and prepare to head back out for whatever challenge you might need finishing. There are tons to do this week, so you'll be busy for a bit!
Get the Android Central Newsletter
Instant access to breaking news, the hottest reviews, great deals and helpful tips.
Anthony Nash has been writing about games and the gaming industry for nearly a decade. When he's not writing about games, he's usually playing them. You can find him on Twitter talking about games or sports at @_anthonynash.