First Sony Xperia Z firmware update hitting some devices in Europe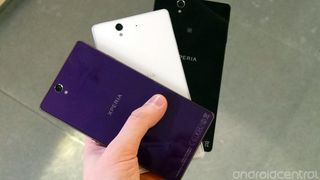 It seems Sony's Xperia Z is in the midsts of its first official firmware update. Xperia Z owners in Europe are reporting receiving the update to version 10.1.A.1.434 through the Sony PC companion app, however it seems the update isn't rolling out for everyone just yet, and it's not yet available directly on the device as an over-the-air update either. For our part, we haven't received any update on the unlocked UK model we've been using.
There's also no firm information on exactly what's new in this update, though there's speculation it might address the recently discovered "sleep of death" issue causing Sony Xperia Zs to randomly die. According to XDA forum reports, the latest firmware doesn't fix the slow camera start-up times we pointed out in our Xperia Z review, which is unfortunate.
If you've got an Xperia Z in Europe, be sure to hit the comments and let us know if you're seeing this latest firmware update.
Source: XDA
Android Central Newsletter
Get instant access to breaking news, the hottest reviews, great deals and helpful tips
Alex was with Android Central for over a decade, producing written and video content for the site, and served as global Executive Editor from 2016 to 2022.
If thats for the "sleep of death" issue..that was pretty quick. Quick is good.

I doubt it's for the 'sleep of death', but if it is, either Sony are suddenly good at fast tracking updates, or Sony already knew of the problem before it shipped, like the x360s RROD. Interesting.

The sleep of death issue was due to the SD card reader. I had several issues with SD cards in the past. I'm glad they're going away.

no updates for my UK phone as well ...

I got the update this morning here in AUS

i brought mine to the dealer for repair here in holland. btwhow u suposed to update it u can'tturn on your phone ?

Kodjo, If you are having the same issue as me where it dies and you cant do anything with the phone then try holding the power and both volume buttons down and the phone at the same time for about 10-15 seconds and the phone should vibrate and perform a hard reset. You may or may not have to then try and power on by holding the power button. Ive had this so many times, on my second Xperia Z and still got the issue. Oh and for everyone else still no update here in the uk on three mobile :(

Sleep of dead wasnt sd issue. IVe never had it and I have got sd installed. My girlfriend XZ died twice and she never had sd card installed.

just updated it last night. other than a build in swipe keyboard, i dont see any new my fren got the SOD issue, i asked her to connect the xperia z to the laptop n see if it can detect the z, apparently the pc companion able to detect the z and after the update, her phone is back to normal.. ps: b4 this her phone ady died, cant on anymore

I'm having an issue at the moment. I turned off my Xperia z this morning and restarted it, as well as my partner, to find that a pin has been requested, for me to access my phone. We have only had the phone for 2 weeks and have both not seen the security settings, or changed the lock screen. Is anybody else having this issue, if so please help. I don't know if this.is a result of a recent software update, I cannot get on my phone at All. Thanks

I have got a friend who is also having this problem! I've helped to debug it to no avail.. Sony need to provide some help, the only way they're going to get back into the phone is doing a factory reset which they do not want to do! Surely a way to input the Google credentials and gain ownership again?

I'm on t mobile UK I've had my phone updated today in the Sony update application, now phone runs faster because of the new android software and bug fixed when you swipe down your phone to unlock it and even before the new update come out I've never experienced this sudden death issue all and all Sony have miner glitches here and there but to its a miner what does every one expect a perfectly running phone we don't get it because phones like iPhone s3 and so on have there own little bugs and software problems as well,
in time all they can do it fix the problem really.
Android Central Newsletter
Get instant access to breaking news, the hottest reviews, great deals and helpful tips
Thank you for signing up to Android Central. You will receive a verification email shortly.
There was a problem. Please refresh the page and try again.